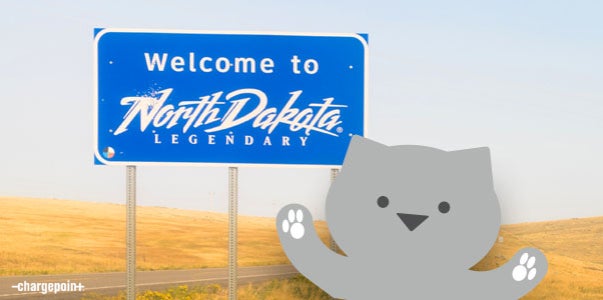 This week, SpaceX launched a Tesla Roadster (Elon Musk's, in fact) into orbit around Mars. While ChargePoint isn't ready to charge cars in space quite yet, we're well on our way to charging the electric vertical take-off and landing vehicles that Uber Elevate aims to let you summon within a few years. But with all this hubbub going on in the skies, we want to take a moment to focus on an underappreciated place a little closer to home: North Dakota.
Ranked 19th among states in area but 47th in population, North Dakota has 757,952 people—more than Alaska, Vermont or Wyoming—in its 70,698 square miles. Some of those people drive electric: there are at least 200 EVs registered in the state by last count. But though North Dakota has beautiful parks, lots of history and plenty of buffalo, it's missing one important element we'd really like to see: a ChargePoint Home owner.
ChargePoint Home owners are happily plugging in, setting reminders and scheduling charging at home in every other state, from Alabama to Wyoming (even though Wyoming has fewer registered EVs than North Dakota). The Peace Garden State is our only holdout, despite having cheap energy and being rated one of the "better" regions to have an EV in terms of pollution reduction (thanks in part to about 25% renewable energy) by the Union of Concerned Scientists. So if you live in North Dakota or know someone who does, we want you to install ChargePoint Home. We'll send some fun ChargePoint gear to the first person in North Dakota to install Home, post a pic on Facebook and tag us. (Milk, the North Dakota state drink, is optional.)
Will you take the challenge?