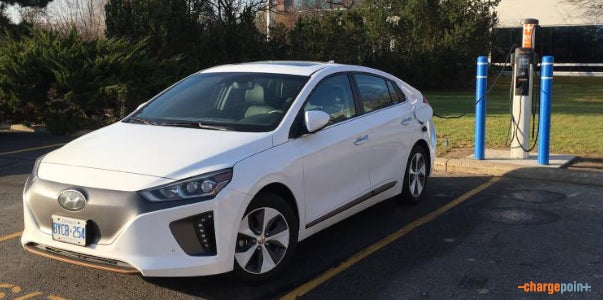 Hyundai Ioniq Electric vehicles will go on sale soon, marking further progress in the EV market with another release from a mainstream automaker. But Ioniq is not just another EV. It represents some major industry advancements: the first model to be made available in a suite of all-electric, plug-in hybrid and hybrid options; the first example of an automaker offering electric transportation as a subscription; and the most efficient EPA-rated EV on the road at 136 MPGe. The subscription model may help more drivers feel like they have the flexibility to adopt electric transportation with less commitment. The Ioniq Electric is the first model in the Ioniq series; the plug-in hybrid and hybrid versions come out later this year.
To make it as easy as possible for drivers to start charging their new EV, every Ioniq Electric comes with a ChargePoint card in the glovebox. With just a few clicks in the ChargePoint mobile app, drivers can create a ChargePoint account and activate their card so they can count on getting a charge everywhere they go. Ioniq Electric drivers can choose from more than 33,000 charging spots on the ChargePoint network, including hundreds of DC fast charging ports and places to charge in all 50 states.
Every Hyundai Ioniq Electric comes with a ChargePoint card in the glove box to get drivers started with charging. The Ioniq is also a great fit for ChargePoint Home. A smart Level 2 charger that connects to WiFi, Home will work with both the plug-in hybrid (25+ miles of range, ~1 hour to charge fully) and all-electric (124 miles of range, 4-5 hours to charge fully) versions of the vehicle. We think it's a smart choice for any EV driver to get their own home charger for speed, convenience and savings—scheduling charging at off-peak rates can save quite a bit of money.
According to Hyundai, each Ioniq model is designed for "efficiency, comfort and handling," and various real-world tests found the Ioniq to be efficient and perform well. What are some of the differences between the models? The grille denotes the hybrid version, while the Ioniq Electric stands out because it has no grille (there's no combustion going on in the electric engine, after all). Ioniq Electric has DC fast charging available with an SAE Combo connector and can charge up to 100 kW, faster than other models on the market. Ioniq Electric also lets you adjust the car's regenerative braking levels to meet your needs (and get a few more miles of range).
Basically, Hyundai Ioniq Electric is a solid EV with great efficiency and more than enough range for daily driving. If you'd like to be able to drive a little farther without charging, Hyundai has said that an Ioniq with 200 miles of range is coming "soon," but the current version will meet most people's everyday driving needs and even work well for road trips with a few fast charging stops. Hyundai is also working on autonomous technology for the Ioniq and hopes to have something production ready in 2021.
We're excited about the Ioniq and eager to take it for a test drive. Follow us on Facebook to find out when we'll take the Ioniq out on the road.