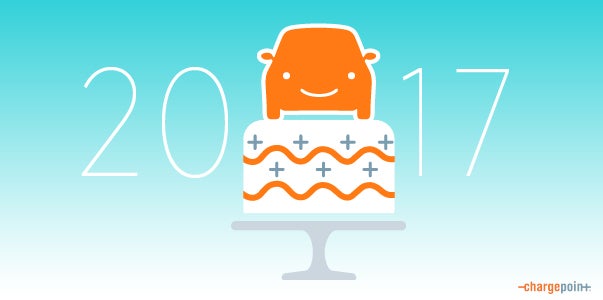 In 2007, when ChargePoint was founded, there were no mass-market EVs on the road and driving electric was far from mainstream. Ten years later, we've reached a major tipping point for electric mobility: a wide variety of EV models are available, charging is more convenient than ever and EVs are truly, dare I say, cool. To celebrate our anniversary, we recently looked back at the last decade in electric mobility and highlighted our achievements along with those of a broad range of ecosystem partners. Now, I want to take a moment to reflect on what happened just in 2017 and what these latest shifts mean for the EV industry going forward.
Mass-Market Long-Range EVs Became a Reality
Just a few short years ago, EV drivers had only two main plug-in vehicle options: the Chevy Volt and Nissan LEAF. Motivated by record consumer demand, automakers are now bringing new electric models to market in a variety of categories, giving EV drivers more choices than ever before. More than 10 new EV models came out, including the Chevy Bolt EV, Honda Clarity Electric, Hyundai Ioniq and even the first plug-in minivan, the Chrysler Pacifica Hybrid. More than 20,000 Chevy Bolt EVs sold in 2017, putting it behind only the Tesla Model S in terms of sales this year. The 400,000 reservations for the Tesla Model 3 demonstrate massive interest in an affordably priced, long-range EV with style.
The growing popularity of EVs shows that people are truly interested in EVs when they can get one that has all of the features they want. With no less than 20 new EV models expected on the market in the next few years, drivers will soon be able to choose an electric vehicle in every category and color, with all of the options and add-ons they're looking for in terms of size, space, amenities, features and price range. From roof racks to pickup beds, EVs are very close to offering it all, and adoption will increase exponentially as EV options cover everyone's needs.
Charging Got Easier Than Ever, Anywhere You Go
I love the convenience of using my phone to start a charge, but the maturity of charging goes far beyond that. Unlike back in the day when owners improvised their own connectors, EV charging is now increasingly standardized and spreading to new places. The number of places to charge grew over 60 percent worldwide this year, there are more ways to find a place to charge and we're offering new ways to charge with your phone or connected devices. Charging is getting easier than ever.
Earlier this year, the spread of charging really became apparent when ChargePoint hit a major milestone: a million charging sessions a month. To me, the number of charging sessions matters as much as the number of EVs sold. It shows that hundreds of thousands of people out there depend on us to get around in their EVs every day: not just now and then, but on a regular basis. In fact, someone plugs into our network about every 2.5 seconds. I'm proud that we've built the only network EV drivers can count on where they live, work and play, and I'm thankful those drivers continue to choose us every day. It shows we're doing something right.
EVs Turned Truly Cool
As driving electric becomes easier than ever, having an electric car is actually becoming a status symbol in some places. Driving a Tesla does more for your personal brand than a gas-guzzling SUV in parts of the country. As more people see how much quieter, more efficient and enjoyable it is to drive electric, coupled with the environmental and practical benefits like lower cost to operate and less maintenance, I'm convinced even more people will shift to driving EVs.
With more options, simpler charging and a cool factor, driving an EV is no longer eating your peas, something you do because it's the "right thing." Now, it's like having dessert, something you do because it's truly enjoyable. So have your cake and drive electric too.
That's 2017 in a nutshell: new models came out, charging took off and EVs became even more appealing. Stay tuned for a look forward to how electric mobility will shift in 2018 and beyond.