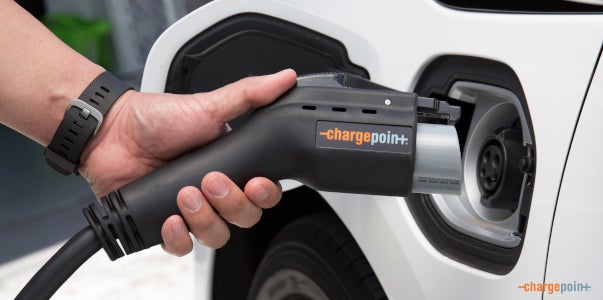 Electric vehicles (EVs) are a powerful, cost-effective and low-emission way to get around, but they also use a lot of energy—potentially as much as the rest of your house. If you charge at home, your EV may become your biggest household energy user. With so much power flowing through them, it's important for home EV charging stations to be safe, as well as energy efficient and convenient to manage.
Safety is a top priority for me personally, and knowing that ChargePoint Home is UL Listed for safety gives me peace of mind. I was curious about how ChargePoint Home and our commercial chargers secured this leading safety mark, so I asked our compliance engineering team about it.
Labs Test to Safety Standards
The best way to make sure your home charger is safe is to look for one with a recognized "safety mark," such as UL Listed. These marks come from independent testing labs that are government certified to test different types of products, from air conditioners to EV chargers, to ensure they meet relevant safety standards. When products pass the tests, they are awarded a safety mark. We decided to pursue UL listing because UL wrote the standards for testing EV chargers and has been doing safety testing for more than 100 years.
Testing Can Get Tough
To get certified, we send our products to UL labs, where experts evaluate them to make sure they meet the appropriate UL standards. Testing might include dropping products from a certain height, seeing how products perform in the rain and generally pushing products to their limits. Safety aspects like shock protection and fire hazards are tested under various conditions, such as different temperatures and humidity. UL representatives also make unannounced visits to our factories to ensure that our products continue to meet applicable requirements. Check out this CNET article for a peek inside UL.
UL Listing Matters for Safety
Without listing from a recognized lab, there's no guarantee that an EV charger has been independently verified to meet relevant safety standards. Because EV chargers deliver a lot of power, it's important for them to be tested against established standards for EV charging, such as connection to the electrical supply, equipment grounding and overcurrent protection. Knowing that your charger passed strict tests can give you peace of mind about the safety of using a relatively high-voltage product in or near your home, like it did for me.
All ChargePoint Products Are UL Listed
All the products we sell in North America are UL Listed, including our ChargePoint® Home residential EV charger and our commercial EV charging solutions for fleet, workplace and other types of public charging. The UL Listed mark is an important way to demonstrate that safety matters to us.
Tip: Getting a listed product is not only important for your safety, but also for making sure that your installation will be approved and your rebate will be provided in a timely manner.
You Might Need Listing for Installation and Rebates
The National Electrical Code provides guidance on installing electrical products and requires all EV charging stations to be listed by a testing lab, so your electrician may refuse to install an EV charger that doesn't have a safety certification. All cities and towns require listing in order for EV charging installations to be approved and permitted. Not only that, but various EV charging rebates require chargers to be listed as well. Getting a listed product is not only important for your safety, but also for making sure that your installation will be approved and your rebate will be provided in a timely manner. (Who doesn't want that?)
Think you have a handle on UL Listing and what it means for safety? Learn more about our UL Listed home charger that's designed and tested for safety. As you research chargers, keep in mind that UL listing is just the beginning: you also want a charger that charges efficiently, works with your EV and is easy to manage.