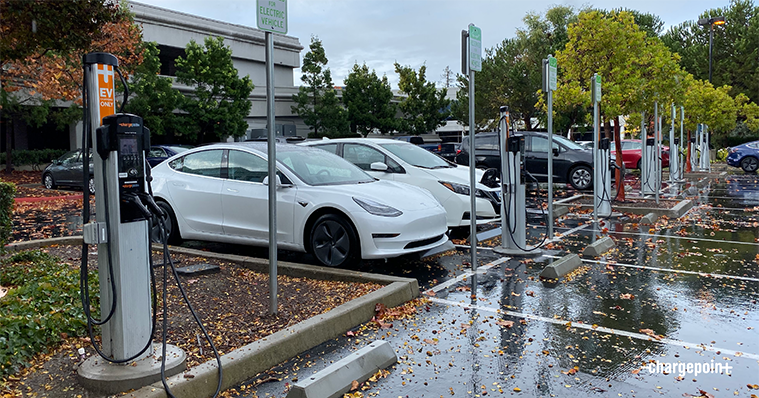 As society makes the transition to e-mobility and more drivers adopt electric vehicles (EVs), the ability to charge at work is becoming essential. In fact, the vast majority of charging happens while people are either at work or home doing something else.
At LinkedIn, sustainability has been woven into the company culture since the beginning. Already well on its way to powering 100% of its operations with clean energy, LinkedIn's ambitious climate goals include being carbon negative by 2030.
In addition, the company is committed to designing and operating sustainable and innovative office spaces — including establishing a robust EV charging program that's helping encourage EV adoption among global employees.
Learn from LinkedIn
In a recent webinar, Danielle Glaser, senior program manager for global transportation at LinkedIn, outlined several reasons for offering EV charging at the workplace along with tips on how to get set up.
Attract top talent
A corporate sustainability stance is no longer a nice-to-have for job seekers but has become an imperative for many. Offering workplace EV charging makes it clear that your company cares about the environment.
Offer EV charging as an employee benefit to differentiate your workplace.
Show your commitment to sustainability.

Create a positive employee experience
At LinkedIn, the decision to offer EV charging dovetailed nicely with the company's policy to enable sustainable commute options that are safe, practical and productive. Before setting up your charging program, consider employee behaviors at each location.
Understand the needs of employees who work in the office full time versus those who have a flexible schedule or work fully remote.
Make sure employees understand how to use the charging stations and accompanying mobile app.
Provide charging stations in convenient locations.
Enable people to easily find an open charging spot or get on a waitlist for charging.
Scale across office locations to provide a consistent and reliable experience from building to building, campus to campus.
Be a sustainability leader
Installing workplace EV charging stations can help reduce your company's greenhouse gas (GHG) emissions, attain corporate sustainability goals and position your company as an environmental leader in your industry and your community.
Stay on top of state regulations and goals to understand how they support the transition to EVs and what that can mean for your program.
Get set up with a comprehensive charging solution that allows you to track your EV program impact and report metrics to stakeholders.
Encourage EV adoption
Many employees will feel more confident making the switch to driving electric if they know they can count on EV charging at work — especially those who may not be able to install a home charger for whatever reason.
Offer workplace charging in regions where EVs have not yet gone mainstream to help fill a charging gap.
Incentivize EV carpooling.
Show leadership you understand
Of course, before installing EV charging infrastructure, it's critical to make sure your leadership team is on board. Consider what is important to your executive leaders along with the overarching problems they want to solve. How can your EV program help address those issues?
Align your EV program with company goals.
Balance commuter needs and leadership concerns such as:

Health and safety
Sustainability
Innovation
Equity
Cost-effectiveness
Flexibility

Understand what your peers are offering in terms of EV charging benefits.
Demonstrate how your company can be an innovator in your region.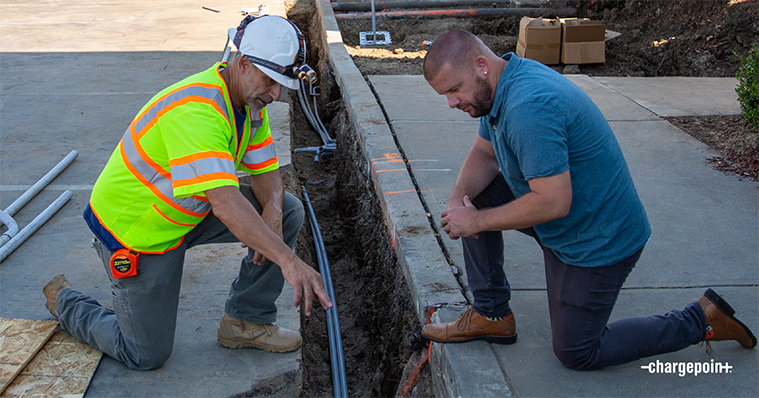 Plan for the future
Before beginning an EV charging project, it's important to forecast the demand for charging among employees. How many people are driving EVs today? How many plan to electrify in two years? Five years? Further down the road?
When it comes to installing charging infrastructure or running additional power for your charging program, it's a much more strategic use of your time and budget to do as much upfront as possible so you can scale as your program grows, rather than need to go back and re-do it (and it will be much more difficult to get leadership to buy-in the second time around).
Understand your existing electrical capacity at each office location.
Consider the layout of each parking lot and where you will want to add charging stations.
Install infrastructure to go beyond what you think you need, even in a few years.
When constructing a new office location or renovating an existing building, set a percentage of parking spaces that will be devoted to EV charging; you can always bag the stations and take them offline until demand increases.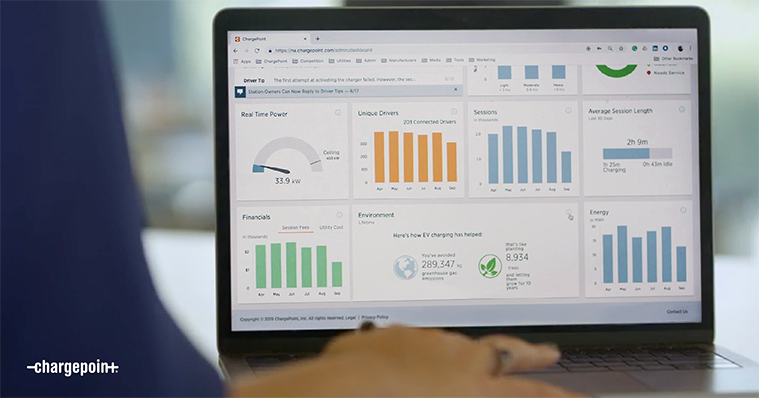 Manage your program with ease
A networked charging solution that includes integrated software, hardware and services will allow you to manage your program across locations and plan for expansion as EV adoption grows among employees.
Use power-sharing capabilities to optimize energy usage and control costs.
Enable employees and guests, as well as the general public, to charge, with preferred pricing for employees.
Track station metrics and energy usage from an intuitive dashboard.
Share charging program analytics with key stakeholders.
Want to learn more about LinkedIn's innovative employee charging program?