Start Charging Today
If you're a ChargePoint member, you can start charging your car the next time you're out and about or follow the steps below.
1
Sign up to get a free card. If you aren't a member yet, sign up.
2
Activate your card. When your card arrives by mail, just log in, go to My Account, and follow the instructions under Set Up ChargePoint card. You can also get more help with ChargePoint cards here.
5
Charging your electric vehicle.
Found a charging spot? Great. Tap your ChargePoint card over the reader symbol, press the handle button to remove the charging connector, and simply plug in. After you're done, tap your card to end the session, then unplug the connector and return it to the station. You can also sign up and start a session all from the ChargePoint mobile app.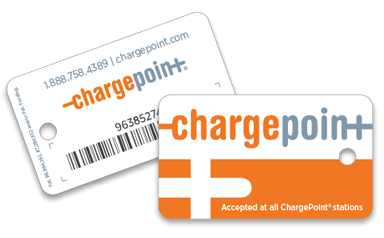 See charging status. Use the ChargePoint mobile app to monitor your car as it charges. ChargePoint will even alert you when your car is fully charged or if your charge is interrupted.
Track usage. Log in to your dashboard to track your sessions. See how much energy your car has used, track how much gas you've saved and check out the positive impact you've had thanks to the greenhouse gas emissions you've prevented.
Add funds to your card. If you need to access a paid station, we make it easy to sync your credit card to your ChargePoint account during sign up. Or if you're already a member, log in and go to My Account to set up payments.