LinkedIn pioneers the future of work with ChargePoint EV charging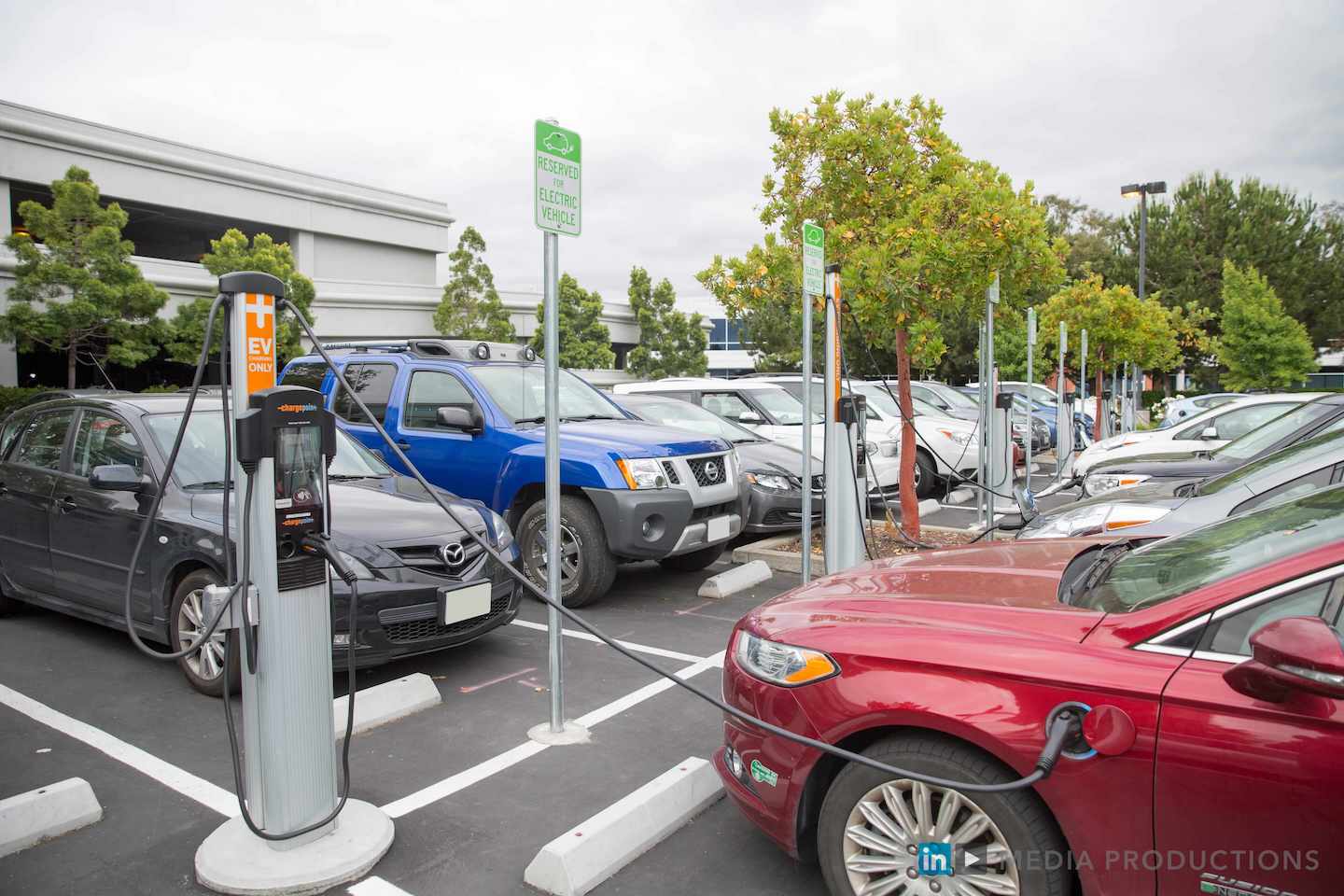 With more than 828 million members across the globe, LinkedIn is, by far, the world's largest professional network. The company's mission is simple: connect the world's professionals to make them more productive and successful, a goal matched by an equally massive commitment to sustainability. Already well on its way to powering 100% of its operations with clean energy, LinkedIn's ambitious climate goals include reducing its total carbon footprint by 75% by 2030. By managing its own operations sustainably, the company hopes to leverage its global network to influence other enterprises to do the same. LinkedIn isn't only reshaping the future of work, it's also showing how to advance sustainability efforts in the workplace.
Meet sustainability's dream team
It would be difficult to find two people more enthusiastic about sustainability than LinkedIn's Peggy Brannigan and Danielle Glaser. As the company's Senior Program Manager for Global Environmental Sustainability, Brannigan leads LinkedIn's initiatives to increase operational efficiency, while supporting green economic growth. Glaser heads up the company's Bay Area Transportation program and works closely with Brannigan to educate and inspire employees to support LinkedIn's sustainability. Not only do the pair share a passion for the environment, they occasionally show up at work wearing the same Go Green team shirt. They even share the same birthday.
Pioneering the future of work
"When Peggy arrived, she started making waves really quickly," says Glaser. One of Brannigan's first acts in her newly established position was to initiate sustainability-focused Go Green employee groups, which now boast more than 1,500 employee members and counting. It was in one of those early Go Green team meetings the pair first forged their LinkedIn bond. Today, they're teaming up to find ways to tie in Glaser's transportation initiatives with Brannigan's ambitious sustainability goals. "The Transportation team tries to encourage behaviour change for employees at home, which includes how employees get to and from work, the gym and the grocery store," says Glaser. One of the ways they do that is by offering ChargePoint workplace EV charging to thousands of LinkedIn employees in the Bay Area. The result has been a massive surge of EV drivers across LinkedIn's campuses, she says. "It is really exciting to see."
"The most important thing long term—and this is what really relates to partnerships with companies like ChargePoint—is that once we've made sure that our own internal operations are being managed responsibly, the bigger opportunity for LinkedIn is how can we help the rest of the world operate responsibly and be greener through our platform."
Peggy Brannigan
Global Program Manager for Environmental Sustainability, LinkedIn
Employees take charge
"Our Sustainability team promotes certain changes in protocols that reduce our carbon footprint," Brannigan says, but notes there are limits to what her team can do on its own to achieve LinkedIn's ambitious targets. To get to that last mile, she not only relies on trusted teammate, Danielle Glaser and colleagues in Operations and Program Management, but she also relies on LinkedIn employees to help the company meet its sustainability goals. Today roughly 12% of LinkedIn's total carbon emissions are due to employee commutes. By sharing data with LinkedIn employees, they are more aware of their carbon footprint. "Our vendor partners are amazing," says Glaser. "ChargePoint gives us great sustainability reporting every month and we try to share that out with employees, so they understand their impact."
Partnerships power change
EV charging is also one of the reasons each of LinkedIn's San Francisco Bay Area locations—including Mountain View, San Francisco and Sunnyvale—were recently recognised as a 2019 Best Workplaces for Commuters. "Our employees who own EVs love having charging on campus and see themselves as meaningfully contributing to carbon reductions in the Bay Area," says Glaser. "We have a lot of people who are very interested in adopting new technologies and being part of that shift." In fact, EVs are becoming so popular at LinkedIn that the Transportation team recently started an Electric Vehicle Council on the site. It's an informal way for employees to share their passion for EVs, discuss innovative ways to manage the program and debate the advantages of their preferred models, says Glaser "I'm trying to foster that culture and building those relationships because they are so passionate. It made sense to give them a platform to share," she says.
"Our vendor partners are amazing. ChargePoint gives us great sustainability reporting every month and we try to share that out with employees, so they understand their impact. "
Danielle Glaser
Head of Bay Area Transportation, MUP, LinkedIn
Why ChargePoint?
Employee culture and engagement
There's no company on earth that understands the importance of building and fostering productive and successful professional relationships better than LinkedIn. "LinkedIn is really focused on the employee cultural experience and building a phenomenal workplace environment," says Glaser. She says that providing ChargePoint EV charging solutions not only supports her mission to improve LinkedIn's culture, it helps the company attract and retain talent. "ChargePoint's product evolution has been really helpful as well," she says. "The screens are easier to read; the app is easier to use. I think the employees appreciate that they're investing in this. It makes their lives a lot easier."
Quality, reliability and service
LinkedIn's engineering team, which manages the EV charging systems on the company's campuses, has a good working relationship with the team at ChargePoint, says Glaser. "The engagement from the ChargePoint team has always been really great," she says, noting that, in the rare instance of an issue, it's been handled seamlessly so she can focus on her job. "I appreciate that a lot," she says.
Sustainability data and reporting
"Half of our carbon emissions come from our data centers, 25% comes from our business air travel and the other 25% is split between employee commutes and office energy reports," says Brannigan. "ChargePoint data is one part of the overall commuting data we look at to see how we're doing," she says. LinkedIn's EV drivers are helping reduce the company's carbon footprint and ChargePoint's advanced reporting features help Brannigan and Glaser's team with their goal to reduce the number of single passenger commutes. Ideally, those carpools are in EVs, says Brannigan. "The data is fascinating and helpful for planning purposes," adds Glaser.
"The engagement from the ChargePoint team has always been really great."
Danielle Glaser
Head of Bay Area Transportation, MUP, LinkedIn
LinkedIn proves that moving the needle on climate change isn't only achievable, but with a positive attitude and a healthy dose of moxie, it can even be downright fun. If you're looking for inspiration for your own sustainability program, there are no better advocates than the dynamic duo of Peggy Brannigan and Danielle Glaser. They're not hard to find—just look for the two people wearing smiles and Go Green shirts (and of course, on LinkedIn!).
At ChargePoint, we believe stories have the power to change the world.
Our customers share their stories because they're passionate about the often-unforeseen ways the electrification of transportation has impacted their organisations. Like many companies around the globe, they've discovered that what's good for the planet can also be good for business.
E-mobility is here to stay. Perhaps it's time to tell your own story. Reach out to us - we'd love to hear it.