Partner Voices: RAW Charging turns properties into yielding assets with charging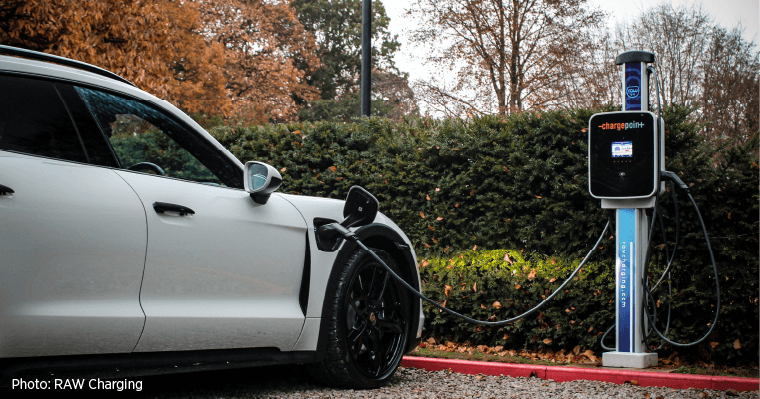 RAW is a leading supplier of electric vehicle charging infrastructure to many of the UK's largest property owners, including McArthurGlen Outlets, Aviva Investors and Greene King pubs. We spoke with Bruce Galliford, CEO and founder of RAW Charging, about the company's evolution from renewables to charging, how charging is becoming a must-have for every property and how ChargePoint has enabled RAW Charging to build a business providing charging to property companies.
Tell me about RAW Charging
We started life as RAW Energy, specialising in energy creation through renewable energy. We developed solar, wind, and biomass portfolios. About four years ago, the business naturally progressed from creating energy to finding ways of passing it through to other sustainable uses. When we got an office Tesla in 2015, it was one of the first in the UK, and it sparked a conversation about charging that spurred us to think, "What role can we play in all this?"
How did you find ChargePoint?
We didn't want to create our own technology, as that's not our expertise. We discovered early on that what was available in the UK at the time was not developed enough to support investment. When ChargePoint started doing business in the UK, we saw a company with the longevity, customer base, engineering prowess and experience to be a fit with our vision.
"It's all-inclusive… We can concentrate on successfully delivering to property portfolios across the UK and leave the technology side of things to ChargePoint."
Bruce Galliford
CEO and founder, RAW Charging
What advantages does ChargePoint offer?
The bit that works well for us with ChargePoint is it's an all-inclusive service. We can focus on successfully delivering to property portfolios across the UK and feel confident ChargePoint will support us with areas such as payment transactions, maintenance and 24/7 phone support. Reliability is absolutely key as well. Once the hardware is in the ground and activated, we rarely need to re-visit the site, which saves costs for us and ensures confidence for our client.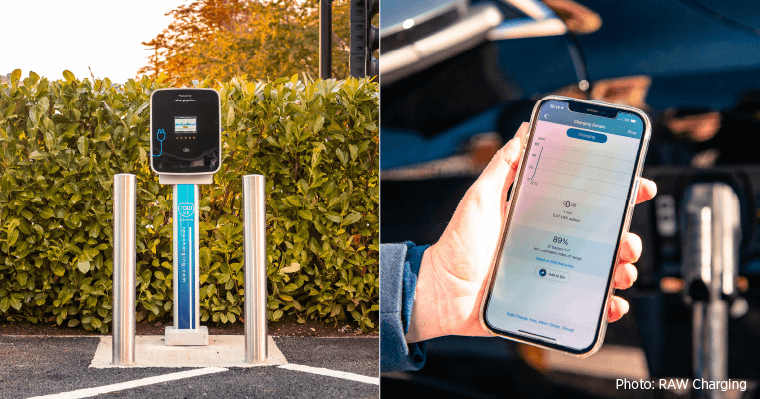 How do you find customers?
From the start, we were thinking, "Who will be our customers? Where will the initial development come?" We knew charging was going to be big in five to ten years, but what would happen in the short term? So, we approached property owners, pension funds, any organisation with a physical property, a car park or a tenant. We asked them, "What are you going to do about EV charging?" This started a relationship-building and education process, which can take a few years. Now we're at the point where we're not just installing at one of their sites, but we're working on the portfolio of sites.
Or it can be even simpler. Recently I noticed a construction job finishing up. There was a scrap of land where the construction workers had kept their equipment. I asked about using it for charging. They were going to have to landscape it, so it was a perfect opportunity for them to lease it to us and get a yield from charging revenue as well.
What attracts customers to charging?
For property owners, charging is a unique opportunity to turn a car park into a yielding asset. An extra service providing a yield like this is a real win-win. For large companies, tens of thousands of pounds are just a rounding error, so initially, charging can be seen as resource intensive for the small energy fees involved. But as we're selling electricity through more and more chargers, pennies and pounds are going to add up in the long term.
This is enhanced by the increase in employees driving EVs and relying on access to charging as a facility at their place of work. Last year in the UK, we saw the largest ever annual increase in the number of BEV registrations, with more than 305,000 registered, up 74% from 2020.
"For property owners, charging is a unique opportunity to turn a car park into a yielding asset. "
Bruce Galliford
CEO and founder, RAW Charging
How do you stand out from the competition?
When our prospective customers called around to EV charging providers, the answer they often get is, "How many chargers do you want to buy?" That's an answer we would never give. We want to find out about the site, the stakeholders, the influencers, the available power. We treat every site as a business plan, and every business has different goals. A customer could have 300 properties, but not one property is the same as another.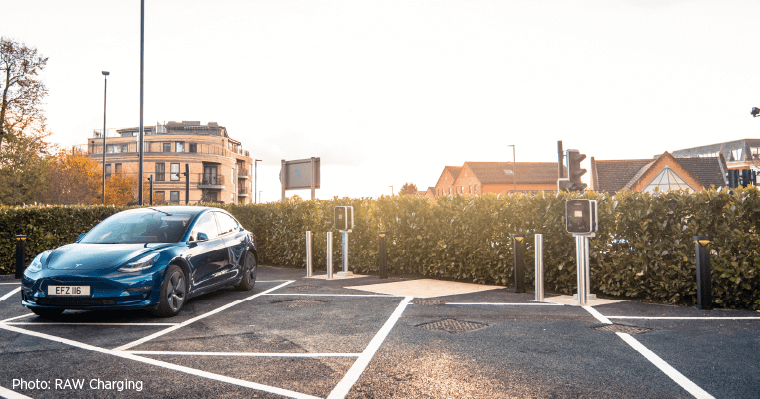 Tell us about the role of data in charging.
It's so important for companies to install charging now so they can start gathering data and understanding what charging does for their business. Data is what leads value and provides the ability to adapt quickly. If you're going to do a property portfolio, you need data now so in five years you'll understand the performance. If nothing else, we'd advise to put in at least one charger now and start gathering data to make better decisions in the future.
How has the industry evolved?
We've seen rapid evolution in interest and knowledge level. Just two years ago, when we attended a hospitality conference, attendees were still in the early education stages of EV charging. Last year, attendees had the knowledge and were aware of the competitive advantage EV charging would give them and their business.
"It's no longer possible to have a Class A property without charging."
Bruce Galliford
CEO and founder, RAW Charging
It's no longer possible to have a Class A property without EV charging. Charging has become an essential service. It won't be long before it's part of the 5-star grading system for hotels. You have to have an iron and a fridge in the room and soon, we feel charging in the car park will be part of that. We show our prospective customers how, when searching for a hotel online, two-thirds of properties disappear when filtering for EV charging. Hotels are becoming aware of the business they will lose by not offering charging. For office parks, it's also increasingly seen as a must-have, like air conditioning. You wouldn't rent an office without air conditioning these days. Soon you won't rent one without reliable EV charging.
Tell us about some of the customers you're working with.
One exciting customer for us is Greene King pubs. They have 2,700 locations in the UK and view charging as a community service for people living within a 10-minute walk of a pub. In the UK, we have a high percentage of flats and concentrated urban environment where parking isn't available: there are 8 million homes in the UK that don't have parking spaces. So Greene King's portfolio of hospitality venues are a community facility where you have the option to charge, next to other facilities like your Amazon Locker. It's a community asset versus just getting visitors to spend time at the location while they charge. The vision is in three years if you jump in your car to go somewhere and you think, "I need to charge," you look for a Greene King pub. And that's truly powerful.
McArthurGlen owns a variety of designer outlets in the UK. We put in 12 charging spots at Cheshire Oaks, the UK's first and largest designer outlet. The first Saturday the chargers were available, all 12 chargers were in-use from the early morning until the end of the day. This happened again on the Sunday. We could've put in even more chargers, showing there's clearly demand for EV charging at retail locations. We have more projects in line for McArthurGlen across Europe, in Italy, Germany, France, Holland and Spain.
What's next for RAW Charging?
Deployment is our focus. We have more projects coming for Aviva Investors, Greene King, McArthurGlen and other customers. For the next three to four years we'll put in lots of hard work to grow the network, then it becomes the technical team honing it and making it more efficient with optimisation. We're currently planning strategic expansion across Europe working with organisations that have a portfolio of sites in both single or multiple countries.
This year we'll be putting in four new sites per working day, and when you're doing that what you don't want is complication. You want it to be same routine, the same platform, the same onramp and same phone number if there are any issues.
Thanks, Bruce! We'll be stopping by a Greene King to top up next time we're in the UK.