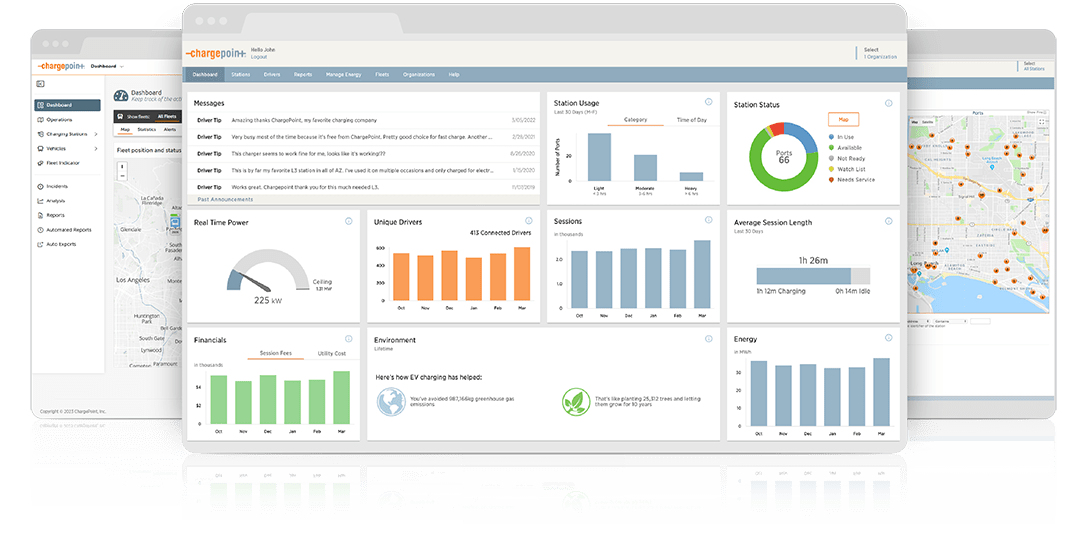 You've got the power.
ChargePoint software puts the power of EV charging in your hands so that you can manage a best-in-class charging program. Learn how to use it to drive your organization forward.
ChargePoint software is trusted by leading brands
Get real-time visibility
Real-time visibility helps you better manage charging, including driver details, power use, energy costs, revenue and station status.
"It's amazing to be able to log in, put in the metrics I want to pull and see live data on our portfolio of stations."
Drive revenue
with custom pricing
Set prices based on driver type, session length, energy cost and time of use. Earn ROI on your EV charging program by setting the right price at the right time.
"It's true bliss to log into a dashboard, see all the different sites with the chargers at a glance, and know whether we need to scale further."
Electrify your fleet
with confidence
Use our integrated platform to streamline operations, deliver the lowest total cost of ownership, automate charging and control energy costs.
"Having everything connected on a single network has been key. We check the dashboard every morning to make sure things are running smoothly."
Reduce costs
with dynamic charging
Use ChargePoint software to automatically manage and redistribute load across stations, helping avoid costly demand charges.
"ChargePoint allows me to step away and stop focusing on whether we have a working EV charging system."
One platform
for all your charging needs
Connect directly
with drivers
Share offers with select EV drivers, such as discounted charging or access to specific stations, to boost loyalty and sales and deliver a great driver experience.
Integrate with
your systems
Run your EV charging program with one integrated platform by connecting data across key systems​. Break down data silos, customize your tech stack and boost productivity.
Manage access
with ease
Remotely manage driver access for security and peace of mind, and fully control who can use your stations and when.
|   | Employees | Visitors | Public |
| --- | --- | --- | --- |
| Access | ​ | ​ | ​ |
| Price | $ | $$ | $$$ |