PTS-Prüftechnik: Green technology for the green testing player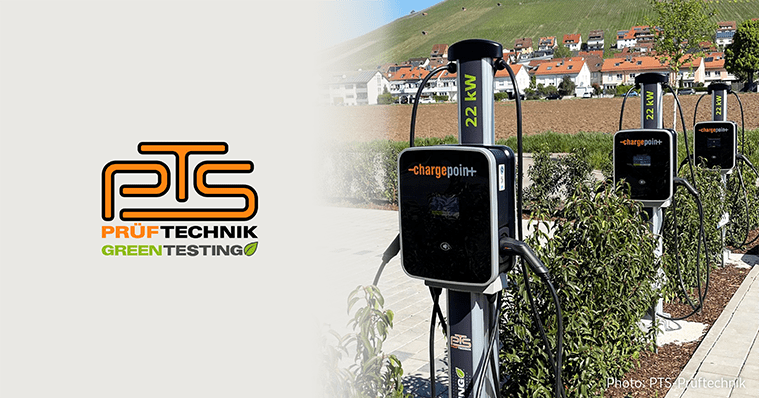 PTS-Prüftechnik GmbH, a medium-sized company founded in 2005, is an important independent partner of the automotive industry: The company tests vehicles and vehicle assemblies for safety, reliability, and environmental friendliness. Every test run and every customer project focuses on green testing, environmental protection, and resource efficiency. Today, 230 employees at four locations work on a common vision: carbon-neutral operations management. Bernd Knöller, head of site management, explains that three years ago, a comprehensive environmental management system was implemented, and certification was obtained for this.
"We take our responsibility towards our employees, society, and the environment very seriously. We purchase green electricity, use storage batteries to optimise the way we meet our electricity requirements and even generate electricity ourselves using photovoltaic systems. A charging solution for electric vehicles was the next logical step for us."
Bernd Knöller
Head of Site Management, PTS-Prüftechnik
What they needed
The topic of e-mobility in the automotive industry is on everyone's mind now. Even though the focus is often on the vehicles themselves, the role of a charging solution is at least as crucial. Hence, PTS-Prüftechnik started to think about preparing their sites for the age of electrical transport. The first electric company cars have already been procured and some employees have already driven EVs, so they could share their experiences with each other, and requirements for a charging solution could be defined more precisely. One thing quickly became clear: A simple charging station in the car park was not enough.
Due to its own field of activity and its affinity for technology, PTS-Prüftechnik was looking for a fully comprehensive and scalable charging solution with central software management that would function autonomously and across locations. Integrated load and billing management was also a must. In addition, the company wanted to enable both its own employees and its customers to use the stations. And everything had to meet the highest safety standards. The wish list included a range of features such as public and semi-public charging, a waitlist function and stations featuring a cable management system and back-end networking that did not use the company IT. The new PTS site in Remshalden was selected as the pilot site for the project.
"We place great emphasis on personal attention, the flexibility of solutions, scalability, and good support and service response times for all our partners. The search for a charging provider began with these criteria."
Dieter Knopp
Head of Purchasing, PTS-Prüftechnik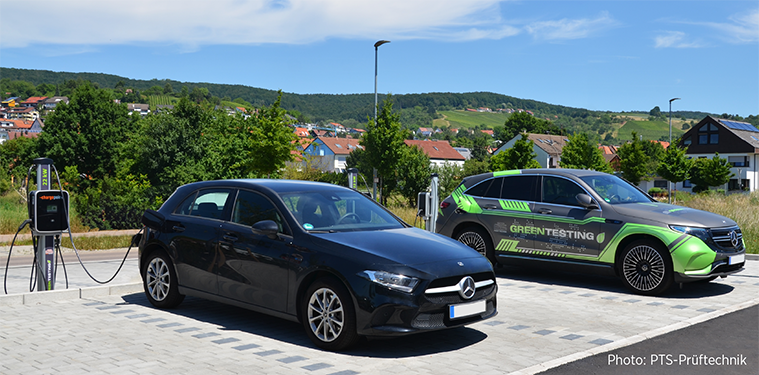 What ChargePoint offered
Bernd Knöller and Dieter Knopp were on the same page: "When we came across ChargePoint, the search was over. ChargePoint brought all our needs together and offers a fantastic dashboard with numerous reports and reporting capabilities, enabling us to clearly track our greenhouse gas savings, station usage, energy consumption and more."
Following a site survey, nine stations of the CP4k-series were installed in Remshalden. One of them is accessible for public charging 24 hours a day, allowing visitors and residents to charge their EVs. The other eight stations are available for company, employee, customer, and test vehicles. "The fact that the charging stations could also be designed to meet customer or company requirements was the icing on the cake for us," says Bernd Knöller.
PTS-Prüftechnik also liked the trouble-free installation and commissioning of the charging solution. As a result, three additional locations will be equipped with the ChargePoint charging solution in the future. It is important for the company to work closely with its dedicated contact person at ChargePoint who helps to find a tailor-made and cost-effective solution for each location.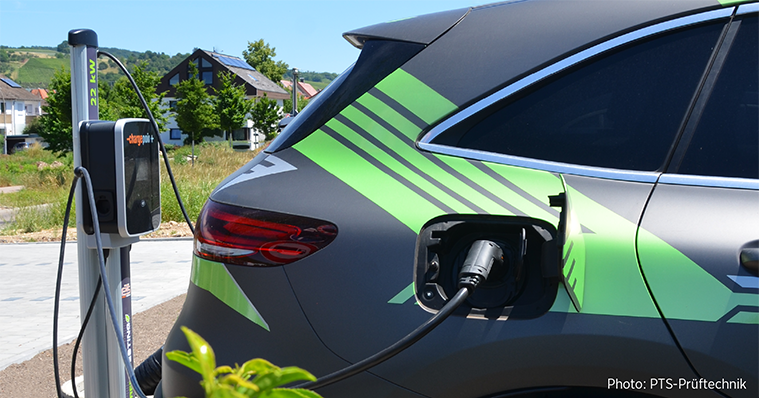 "The foundation for the electric future has been laid. With our charging solution, we can demonstrably achieve sustainability goals. The range of services that we offer for testing electric vehicles has been extended. The stations and the app are intuitive to use, and our on-site team is thrilled. In this case, our Remshalden site was the pilot project, which we will extend, step by step, to all our other sites based on the experience and system scalability that we now have."
Bernd Knöller
Head of Site Management, PTS-Prüftechnik
The results
A convenient charging experience
The charging stations and the ChargePoint app were first tested by employees to charge company, private, and test vehicles. Additional features, such as the waitlist function that automatically notifies users, are also part of the charging strategy. Since the installation, more employees are considering switching to an EV the next time they buy a car. Residents and neighbouring companies have also already charged their vehicles at the PTS location (which is connected to the public grid), as it is visible in all common eMobility apps. This has brought e-mobility closer to the region.
Excellent customer service and maintenance
"The complete solution makes my life easier. Rarely does a station fail or have technical problems, and if it does, the support team is there to fix the problem quickly," says Bernd Knöller. "Our contact person is there for us and easy to reach. We have been pleased with this service, both before and after our purchase. We can rely on each other. That is why we will soon equip our other sites with charging stations."
Sustainability
To ensure that sustainability is not just an empty promise, PTS-Prüftechnik has started several initiatives. The charging solution from ChargePoint represents another milestone on the path to CO2-neutral operations management. The software provides detailed insights into CO2 savings and energy consumption. This allows the use of electricity to be optimised, preventing high bills from the energy supplier, and it can also offer proof that the company is achieving its sustainability goals. The possibility of automatic billing according to greenhouse gas reduction quotas by ChargePoint via the back-end system also complements the overall offering from an economic point of view. We are looking forward to building on our partnership with PTS-Prüftechnik.
Join the age of e-mobility - we are here for you. Get in touch.