Sonepar electrifies its fleets with ChargePoint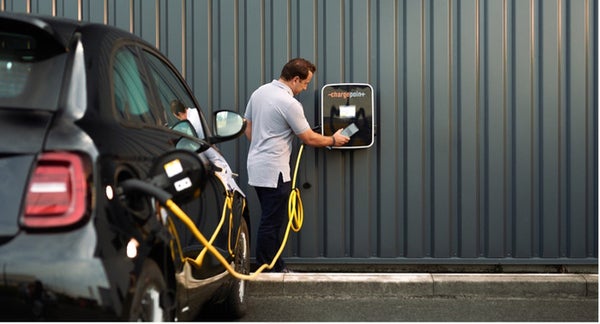 Sonepar is a B2B electrical equipment distributor that serves professional electricians who undertake residential, commercial and industrial projects for end-users. As a leader in the world's electrical equipment market, the company employs 46,000 individuals and handles one million online orders each day.
In support of its commitment to reducing CO2 emissions, Sonepar has chosen to replace its 1,000 company vehicles with electric and hybrid models. The company has also made plans to install 1,000 EV charging stations, which will make Sonepar one of the largest EV charging networks in France.
"With 1,000 22kW chargers installed in our 400 branches, we needed a strong management tool. That's why we chose the ChargePoint solution, which brings us a very efficient operating system and secures a very good level of service - with pricing management capabilities."
Hervé Vancompernolle
Exclusives Brands & Partnerships Director , Sonepar
Find out what Mr Vancompernolle has to say about the ChargePoint solution:
Just like ChargePoint, Sonepar's electrification plans go beyond business. Sonepar is committed to bold environmental, social and governance (ESG) targets, including the electrification of its employee and delivery fleet. As a ChargePoint customer, Sonepar is demonstrating thought leadership through action by using the products it offers to its customers.
"As we were convinced by the ChargePoint solution for our own purpose, we decided to sell it to our customers. We now offer a complete, unique solution including hardware, software and services to simplify the electrical contractors' installation and perfectly fit the end user's needs."
Hervé Vancompernolle
Exclusives Brands & Partnerships Director , Sonepar
The company does not plan to slow down their e-mobility journey any time soon. Sonepar plans to double the number of EV chargers installed and to begin deploying DC chargers to serve its truck and van fleets across its 6 warehouses.
ChargePoint and Sonepar have been working together in the United States since 2018. In October 2020, ChargePoint was invited to join Sonepar International Services for the two companies to align globally as the electric vehicle charging market expanded. Sonepar France was one of the first companies to partner with ChargePoint in Europe and has seen the highest amount of growth since the European partnership began.
The partnership between Sonepar France and ChargePoint is an important step towards the growth of both companies in the EV charging segment in France, Europe and beyond. With our shared vision of growth and collaboration, we are looking forward to what we'll achieve together in the years to come.
Our mission is to make our customers' lives easier, no matter what their charging requirements, use cases and needs are. Is your company or fleet ready to electrify? Our experts are here for you.