Stadtwerke Münster uses ChargePoint fleet software for its growing e-fleet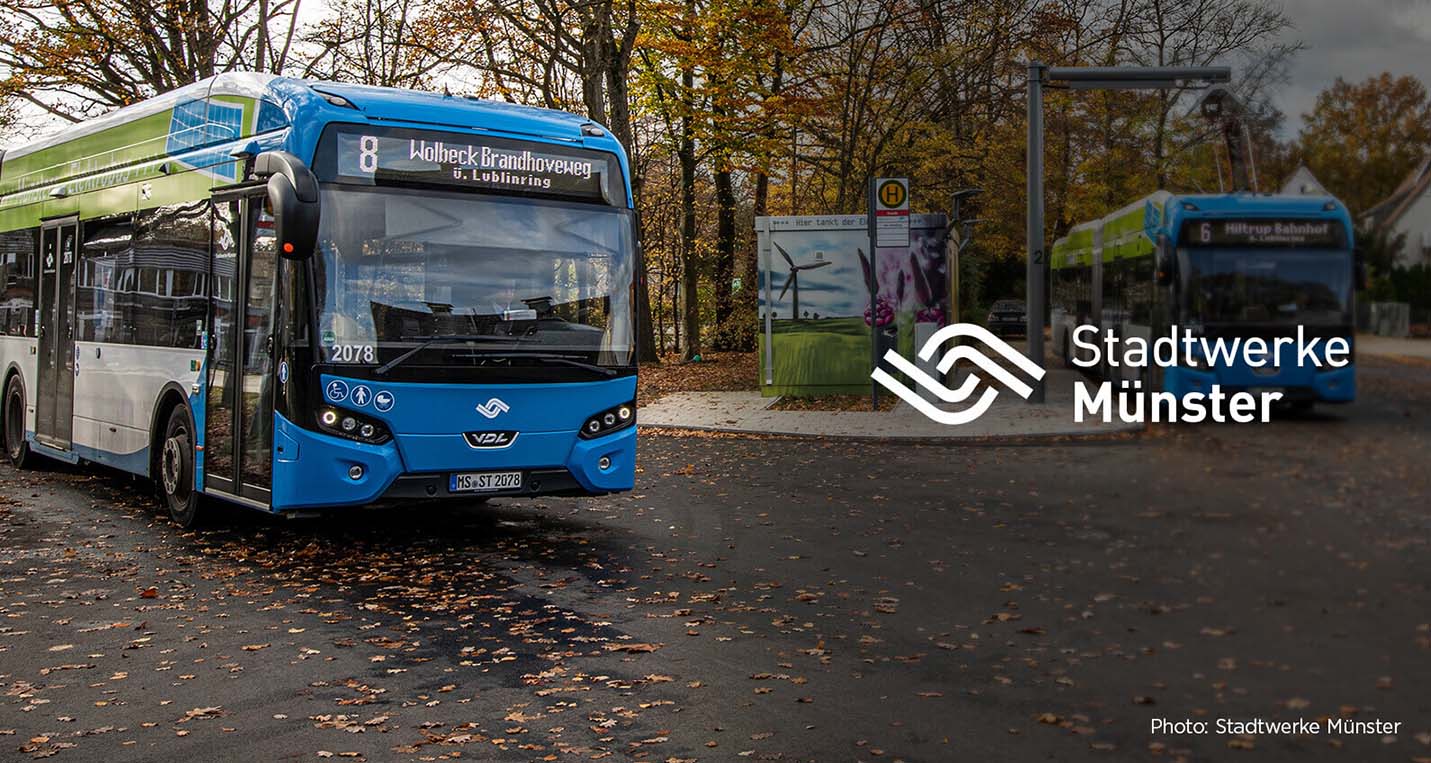 Stadtwerke Münster provides public transport in Münster for 120,000 passengers on a daily basis. As of November 2022, 38 of their buses are electric. For operating these vehicles, they utilise an opportunity charging strategy, meaning real-time insights into vehicle and station status are crucial. By 2030, the municipality wants to have more than 100 electric buses in operation.
Challenges
Reliability of eBuses: when starting with electric vehicles in 2015, the operator was afraid of range limitations and potential long charging times.
Charging station insights: the operator relies on opportunity charging via pantograph chargers — if the charging stations go down, the whole operation is at risk.
Solution
Currently, Stadtwerke Münster monitors 38 eBuses and 43 charging stations using the fleet software of ChargePoint.
EBus and charging station monitoring: Using ChargePoint telematics, the operators can answer questions like "what is the best way to operate eBuses?" or prevent range anxiety.
In-depth reports: As the operator's electric vehicles are part of the wider ZeEUS project and federal funding programmes, they use the ChargePoint data to generate in-depth analyses and reports.
"We use the ChargePoint fleet software to see what the best way to operate our electric buses is. We are running an opportunity charging project, so insights into charging are very important. ChargePoint allows us to monitor the charging systems as well."
Eckhard Schläfke
Public Transport Manager, Stadtwerke Münster
Results
Informed decision-making: Using the real-time information provided via the ChargePoint telematics platform, the manager can decide what to do with the eBuses depending on their status.
Fewer costs and vehicle replacements: With ChargePoint telematics, the operator can avoid replacing eBuses too early, as they can fix issues timely using the remote data available.
"We're really happy with ChargePoint's support with this fantastic ZeEUS project. This marked the beginning of a new public transport era in the city of Münster."
Eckhard Schläfke
Public Transport Manager, Stadtwerke Münster
Is your fleet ready for the age of e-mobililty? Then get in touch – our experts are here for you.