Système U chooses ChargePoint to meet customers' EV charging needs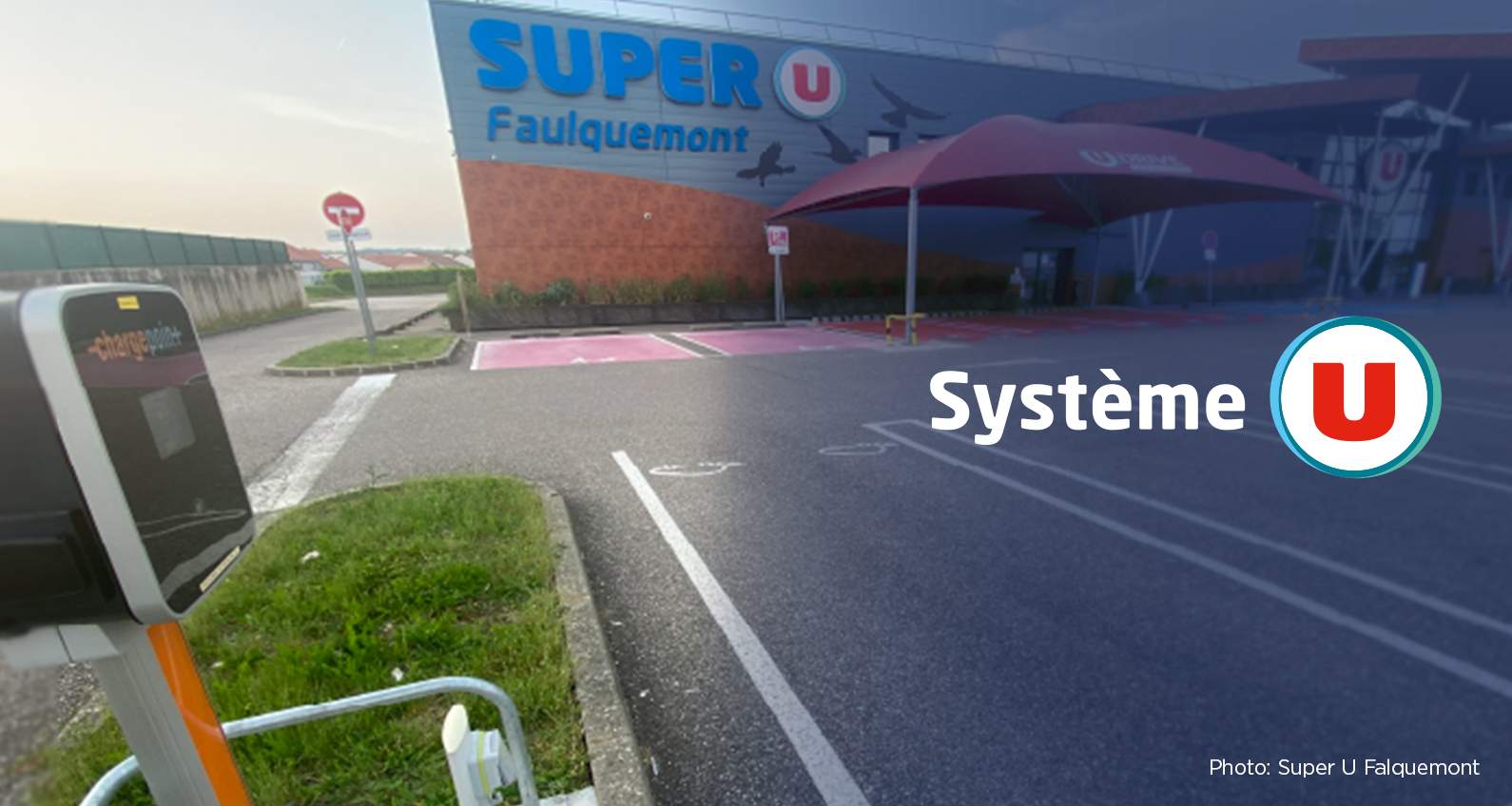 Système U is a leading French retail group with a presence in several parts of the world. Established in 1898 as a cooperative of independent grocers, the company has expanded its operations over the years to become one of France's biggest retail groups, boasting over 1,500 retail outlets across the country.
Under its umbrella, Système U offers a diverse range of retail formats, including the popular Super U and Hyper U supermarkets known for their competitive prices and extensive product range. The company also operates convenience stores, such as U Express, and specialty stores like Brico U (DIY stores) and Proxi (urban convenience stores).
Système U is renowned for its commitment to sustainability and corporate social responsibility. The company has implemented numerous eco-friendly initiatives to reduce its carbon footprint and promote responsible practices, such as cutting energy consumption, responsible sourcing and waste reduction.
What they needed
Super U Faulquemont, one of supermarket chain's locations, decided to install EV charging stations in response to the growing demand from customers and due to a desire to strengthen their modern and eco-friendly image. They also wanted to align with the growing trend towards green energy and sustainable practices, viewing EV charging as part of a larger approach towards energy efficiency and sustainability.
"We had customers asking us how far along we were in our project to install charging stations. And indeed, as soon as we installed them, customers came and tried them."
Mathieu Weber
Associate, Système U
The company has already implemented several measures aimed at reducing energy consumption, including insulation, LED lighting and other energy-saving initiatives. By incorporating EV charging as part of their overall sustainability strategy, Super U Faulquemont aimed to promote a more environmentally friendly approach to transportation.
Therefore, the supermarket initially needed a charging solution to serve its regular EV driver customer base, with plans to expand to fast charging stations in the near future to meet the needs of transient customers. The charging solution they were looking for had to offer good energy management capabilities to maintain the store's overall energy consumption at decent levels.
What ChargePoint offered
To meet the client's needs, ChargePoint installed three pedestal charging stations (ChargePoint CP4121), with two 22 kW ports, in the parking area. The supermarket chose the ChargePoint solution for its competitive cost including installation and operational costs. The support service was appreciated for its fast response whenever the need arose.
"Your solution was the most complete and simplest one for the customer. It works very well. I use it every day when charging my car. You have a good configuration, and it feels very ergonomic."
Mathieu Weber
Associate, Système U
How it helped
More EV-driving customers
Once the charging stations were installed, they found that many customers took advantage of them, increasing foot traffic and time spent in store. EV charging did not only help to draw in new customers, but also to expand and improve their shopping experience.
A driver-friendly charging solution
Super U Faulquemont found the ChargePoint solution to be the most customer-friendly and straightforward option available. The solution is technically sound, user-friendly and with an ergonomic design. The user interface (UI), credit card payment and the driver app were particularly appreciated.
Made for scalability
The ChargePoint solution is also well-suited for the EV expansion plans of Super U Faulquemont, having the ability to cover various charging scenarios relevant for the supermarket— from customer to employee and fleet charging — with ease and flexibility.
Complete dashboard
The ChargePoint dashboard provides Super U Faulquemont with a centralised view of their charging stations. The supermarket can also streamline their operations by using to over thirty pre-set reporting templates to track kW consumption, emissions saved or station usage.
Responsive support
The support service offered by ChargePoint provided guidance and help whenever necessary. Issues were solved quickly and any questions arising were answered promptly.
Super U Faulquemont 's decision to offer EV charging is a testament to their commitment to sustainability and meeting the evolving needs of their customers. The installation of charging infrastructure not only serves as a convenience for EV drivers but also demonstrates Super U's dedication to promoting a cleaner and more sustainable future.
Are you ready to join the age of e-mobility? Then get in touch.