ChargePoint fuels University of South Wales' ambitions for carbon neutrality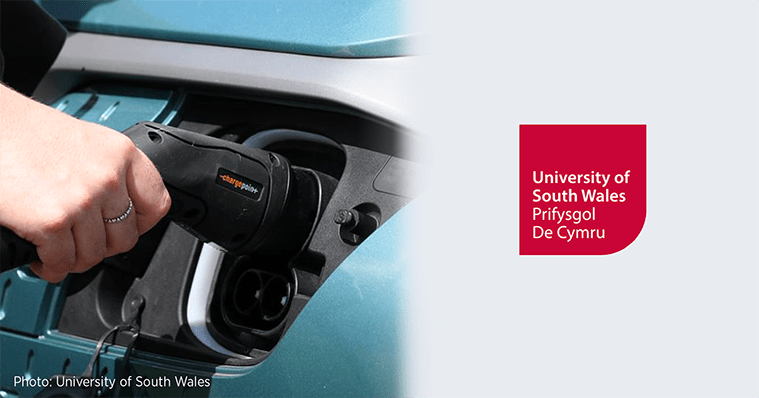 The University of South Wales (USW) is one of Britain's most exciting and ambitious universities. Innovative, thriving and sustainable, USW works to build better futures for its students, communities and partners economically, socially and culturally. With three campuses in Cardiff, Newport and Pontypridd, USW is well placed for its 24,000 students and 3,300 staff to enjoy all that South Wales has to offer. USW provides a full range of inclusive study opportunities, from further education to PhD, supporting immersive, life-long learning and flexible options for our students with outstanding facilities. USW works closely with its partner colleges, and has two wholly owned subsidiaries, the Royal Welsh College of Music and Drama and The College Merthyr Tydfil.
What they needed
With ambitious plans to increase campus sustainability, USW has committed to significantly reducing its carbon footprint with the aim of achieving full carbon neutrality by 2040. Alice Milanese, energy and sustainability manager at USW, says: "Climate change is one of the greatest challenges we're facing today. USW has the responsibility to address decarbonisation and to meet the UK and Welsh Government decarbonisation targets."
To meet this ambitious goal, USW defined six focus areas led by staff and student sustainability champions. One key area was an all-too-usual suspect: travel. The university had already been getting enquiries from visitors and parents on whether it provided electric vehicle (EV) charging stations. Unfortunately, at the time, they didn't yet have any, and their estate and maintenance fleets hadn't made the move to EVs either.
USW saw a real need to convert its fleet and encourage students and staff to transition to EVs. With campuses in Cardiff, Newport and Pontypridd, it was evident that the university would need to find a reliable charging partner that could help them scale up over time, provide back-end data, monitor energy usage across campuses and provide a truly user-friendly experience.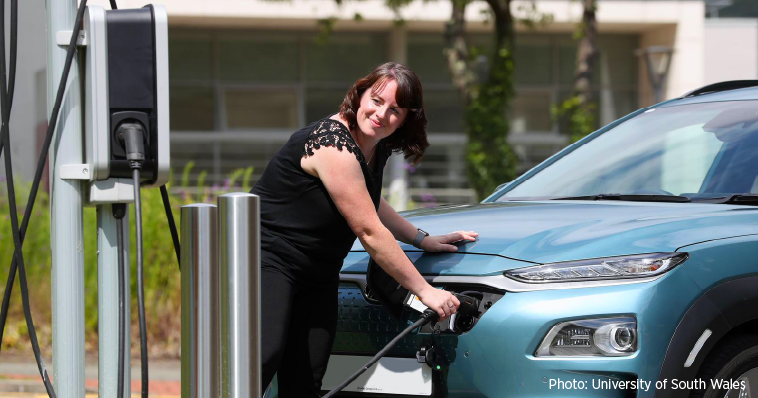 What ChargePoint offered
The ChargePoint® UK team had the opportunity to present its CP4000 series AC charging stations with access control and cloud-based centralised station management to USW. Within just a few minutes of seeing the solution in action, The University of South Wales realised that the ChargePoint back-end reports, data and analytics would prove an effective tool for tracking energy usage and calculating carbon emissions.
Alice Milanese adds: "The ChargePoint dashboards and cloud software let us set pricing remotely and by user groups. In addition, real-time updates give us access to critical data about charging activity to configure power across the stations and control energy costs. The ability to bring all this together into one ecosystem was a major plus."
USW initially piloted the project installing one ChargePoint 4000 series AC charging station. Since then, the university has installed multiple stations throughout its campuses. USW uses the back-end capabilities to intelligently distribute available power to vehicles plugged in while managing overall energy usage and costs and calculating carbon emissions.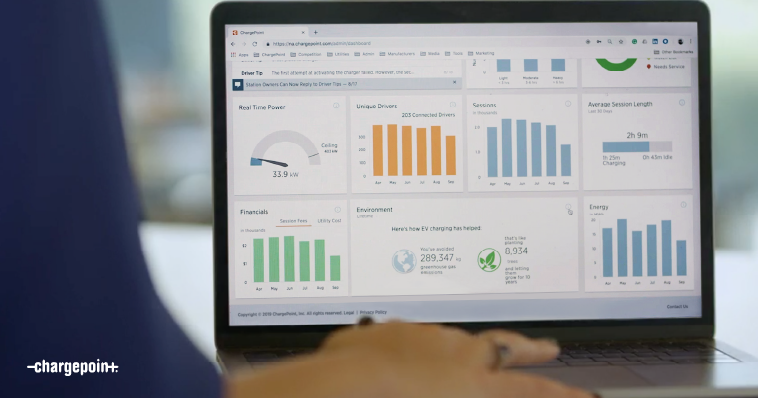 How it helped
Optimised energy usage
For Alice Milanese and the sustainability committee, encouraging students and staff to move to EVs required installing a fully integrated charging solution. As demand increases, ChargePoint cloud-based software optimises energy consumption across EV charging spots using electric load balancing.
Seamless scalability
The ChargePoint single-port stations can be easily upgraded to dual-port stations without requiring additional electrical services, giving USW ample room to gradually add charging capacity as demand grows. As the university converts more of its estate and maintenance fleet to EVs, ChargePoint back-end data and analytics will be instrumental in determining operational needs, vehicle choice and energy requirements.
Greater driver experience
Flexible pay options and networked charging stations give EV drivers a premium charging experience. In addition, 24/7 customer service provides an added layer of reassurance, and fee-free roaming agreements and integration with popular in-dash infotainment systems make charging a breeze for students and staff at USW. Drivers can easily find stations, initiate fuelling and pay for charging from the ChargePoint app or their vehicle display.
Future-proof investment
Stepping into new terrain made it even more essential to find a trusted provider that is well-versed in the needs of universities. ChargePoint solutions allow USW to expand its EV charging strategy and scale as required in the months and years ahead. The comprehensive back-end data from their current ChargePoint implementation will be key to understanding when and where to expand further and how to plan future energy needs.
"Electrifying mobility across the university is key to reaching carbon neutrality by 2040. By offering commuters and staff a premium charging experience, we're on the road toward changing driver behaviour in a more sustainable way. ChargePoint is our trusted long-term partner, helping us map out a sustainable mobility future."
Alice Milanese
Energy and Sustainability Manager, University of South Wales
Are you ready to join the age of e-mobility? Then get in touch.