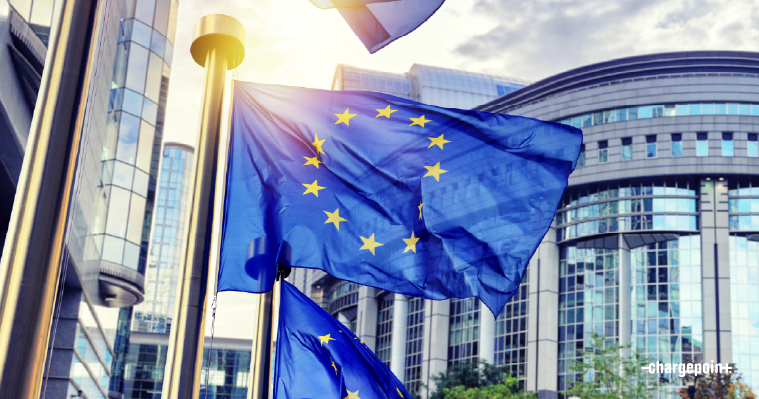 Navigating the new Alternative Fuels Infrastructure Regulation (AFIR)
By 2050, the European Union aims to slash transport-related greenhouse gas emissions by a whopping 90%. One of the key strategies to achieve this ambitious goal is to power up our roads with electric vehicles (EVs), both passenger cars and heavy-duty vehicles. In a remarkable move, the EU has set the target for all new cars to be zero-emission by 2035 — and that's just around the corner. This, in turn, turned everyone's attention towards European lawmakers, now commissioned with developing a supporting framework that'll handle the influx of EVs hitting European streets in the years to come.
As a result, the EU sealed the deal on the Alternative Fuels Infrastructure Regulation (AFIR) in March 2023. This game-changing regulation is set to shape the future of EV infrastructure across the continent.
Before we jump into all of the benefits that AFIR brings to stakeholders across the e-mobility ecosystem, let's take a quick look at what AFIR actually is.
What is AFIR?
The new AFIR is a binding legal instrument requiring all EU countries, Charge Point Operators (CPOs) and e-mobility service providers (eMSPs) to follow specific rules when rolling out public EV charging stations for passenger and heavy-duty vehicles. EU countries must meet specific targets for EV infrastructure, like power capacity and distance-based coverage along major roads and motorways. In short, the aim of AFIR is for Europe to have a robust charging network that keeps up with the demand.
AFIR is a follow-up to the Alternative Fuel Infrastructure Directive (AFID) of the mid-2010s, which put in place the key unifying principles of a unique experience across the European Union when using alternative fuelling. In the case of EVs, there was a need to standardise the fuelling technologies. As a result, AFID mandated the Type 2 socket for slow AC charging, while the CCS and CHAdeMO sockets became standard for fast DC charging. As European countries turned the directive into national laws, extra pieces of legislation were also implemented, leading to more diversification. Enter AFIR, the next step towards having a Europe-wide regulation that brings the standardisation of the driver and charging experience across the continent.
AFIR opens up a world of investment opportunities, especially for countries with a lower adoption of EVs. One major advantage of this regulatory framework lies in its flexibility, paving the way for future innovations in payment methods and charging hardware reliability — which benefits citizens, governments and businesses alike.
Charging infrastructure & EV demand growth
European countries are stepping up their game by mandating a power 'quota' for charging stations. It means that countries need to provide a minimum power capacity of 1.3 kW for each passenger electric vehicle. For plug-in hybrid vehicles, the quota is 0.8 kW. This is to ensure that the charging infrastructure grows hand in hand with the increasing number of vehicles on the road.
The national targets AFIR sets are ambitious — countries must ensure a robust charging network along major motorways and inter-city roads, with charging stations at least every 60 km on main roads. And this is not just for regular cars — there are specific targets for heavy-duty vehicles too.
Transparent, seamless charging processes & payment
CPOs will also have new requirements to fulfil, from ensuring seamless payment to station reliability. Starting in 2024, all charging stations must allow payment through contactless means or payment card readers. By 2027, the same rules will apply to operators managing infrastructure along motorways and rest stops. Furthermore, operators must keep their stations in top shape, with regular maintenance and quick repairs if something goes wrong.
Denser charging infrastructure — an advantage for fleet operators
Fleet operators will enjoy the transformation AFIR brings as well. With the implementation of AFIR, they will enjoy a denser public charging infrastructure network, whether they're running on city routes or long-distance journeys. And the good news doesn't stop here — the increased demand for charging infrastructure means there will be a need for skilled installers and technicians across Europe. It's estimated that over 280,000 jobs will be created in the e-mobility sector by 2030.
A smooth EV charging journey
With all of the changes that AFIR brings, it's safe to say that range anxiety will be reduced as EV drivers can count on a European EV infrastructure that's reliable, accessible and highly functional. As the sector continues to mature, EV drivers can drive with confidence knowing that they can pay for charging sessions using their preferred payment method. Price transparency will improve too, so driving across different countries should bring fewer unpleasant surprises when it comes to payment. For drivers, AFIR is ultimately about making their EV journey smooth, convenient and worry-free.
Looking ahead
Thanks to the long-term regulatory certainty, we can expect to see a widespread infrastructure network across Europe, giving drivers and fleet operators alike the confidence to embark on their EV journeys without worries. Furthermore, some charging pioneers are going above and beyond the requirements of AFIR, pushing the boundaries of what's possible in the world of EV charging — an exciting time for EV drivers, e-mobility and Europe.
Curious to hear more? Watch our most recent expert panel on AFIR below.