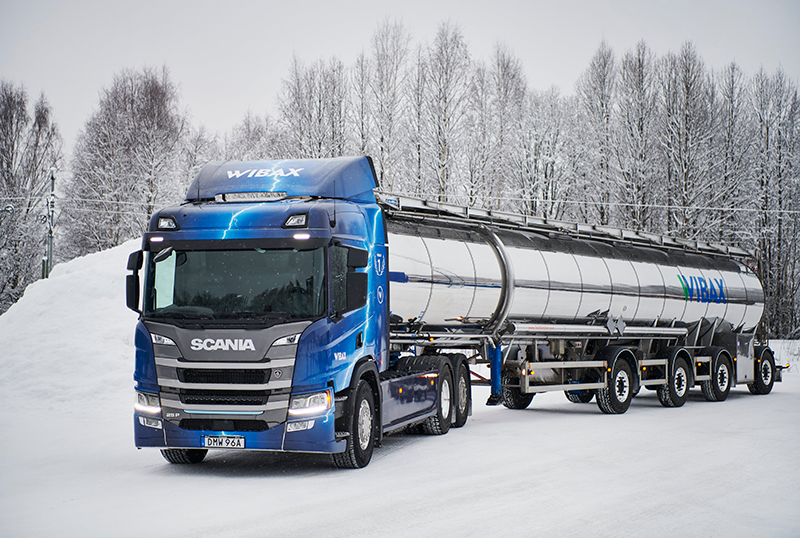 Fleet electrification is expanding across Europe at an amazing speed. By 2040, it's estimated that 45% of light commercial vehicles will be electric, and around 16% of medium- and heavy-duty truck fleets will be zero-emission globally.  Some of the largest manufacturers of medium- and heavy-duty vehicles target to have between 35% and 60% of their sales be zero-emission – and primarily electric – by 2030.
And eTruck innovation comes from where you might least expect it. Despite the cold weather – previously perceived as a bottleneck in EV adoption – the Nordics are forerunners of transport electrification in Europe, pushing the eTruck technology further. One such example is Scania, the Swedish vehicle manufacturing giant, which has recently rolled out an impressive fully electric truck (eTruck) that are delivering goods close to the Arctic circle for Wibax, one of Sweden's leading chemical providers. The thought of a 64-tonne heavy-duty battery electric truck driving in winter in Nothern Sweden seemed unfeasible a few years ago — this goes to show just how fast electrification is progressing and what is possible.
This vehicle alone will enable us to reduce our carbon footprint by up to 1,370 tonnes of CO2, doing so with a vehicle that offers full towing capacity. In other words, this is a real game changer. - Jonas Wiklund, CEO Wibax Group
The 64-tonne eTruck are delivering on routes out of the Wibax terminal in Piteå in Northern Sweden. This marks yet another important milestone in the electrification of heavy-duty vehicles. Powered by a powerful engine, the truck offers top performance and increased load capacity. Wibax is planning to expand its electric fleet in the near future.
The rollout also got the attention of MP Rickard Nordin, who paid a visit to the Wibax site on Friday, the 20th of January 2023, to see the technological innovation in practice.
Of the project, ChargePoint SVP Europe, André ten Bloemendal stated;
We're proud to be a part of this groundbreaking work. While Wibax are front runners in electrification, we know that rest of the fleet industry will follow as vehicles become available. That this can be done on the edge of the arctic circle shows that with the right charging solutions we can electrify any kind of transport.
Do you want to further optimise your e-fleet? Our EV experts are available to help you find a solution that fits your specific needs.