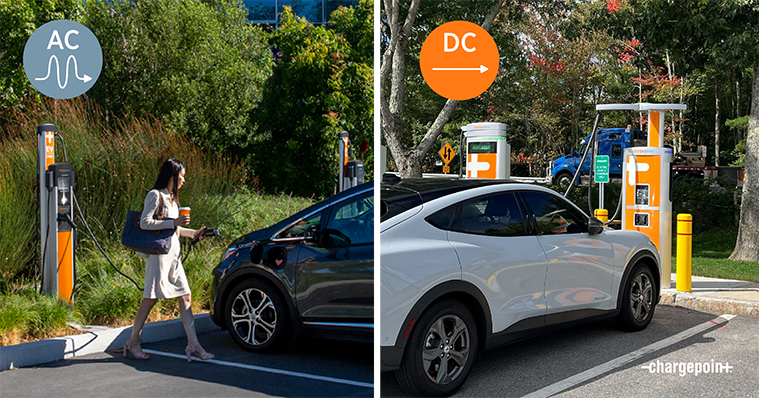 As e-mobility becomes more and more mainstream, businesses have an opportunity to help expand the new fuelling network. Depending on your business, EV charging can help you draw in new customers, meet demand from residents or employees, and achieve sustainability goals.
If the idea of adding charging to your business is new, you may be wondering where to begin (including what type of charging solution to implement). Fast AC charging and DC rapid charging convert electricity from the grid in different ways, which affects charging speed. The type of charging you choose depends on what type of business you run as well as your users' behaviour.
What types of businesses benefit from AC fast charging?
Fast AC chargers usually don't require expensive electrical upgrades because they operate in a more conventional power range than DC rapid chargers. When installing multiple stations, however, it may be necessary to upgrade your electrical supply or use software to manage available power between stations.
What types of business benefit from DC rapid charging?
Hardware, site buildout, installation and operation all cost more for a DC rapid charging solution. Greater electrical supply is also needed. Depending on your business, however, the ability to charge more vehicles per day can help recoup the initial costs quickly.
Many businesses have a use case for both DC rapid and AC charging. For example, a retail location might offer DC rapid charging for customers but offer AC charging for overnight fleets and staff.
AC fast vs. DC rapid charging at a glance
AC fast or DC rapid, ChargePoint has got you covered
As the largest EV charging network for businesses, fleets and drivers, ChargePoint offers a comprehensive solution of software, hardware and professional services to help you run a best-in-class EV charging programme.
Software. Gain complete control and rich insights with advanced EV charging management software.
Hardware. Select from a portfolio of networked AC and DC charging stations, designed using cutting-edge hardware technology to be safe and reliable while offering drivers a user-friendly, premium charging experience.
Services. Access a suite of best-in-class services, including flexible financing, site selection consulting, dedicated help with implementation and industry-leading support.
ChargePoint solutions are purpose-built for commercial, fleet and residential settings, so you can use one charging and e-mobility platform across your entire operation. Our team of charging experts can help you build your charging strategy as your business grows.