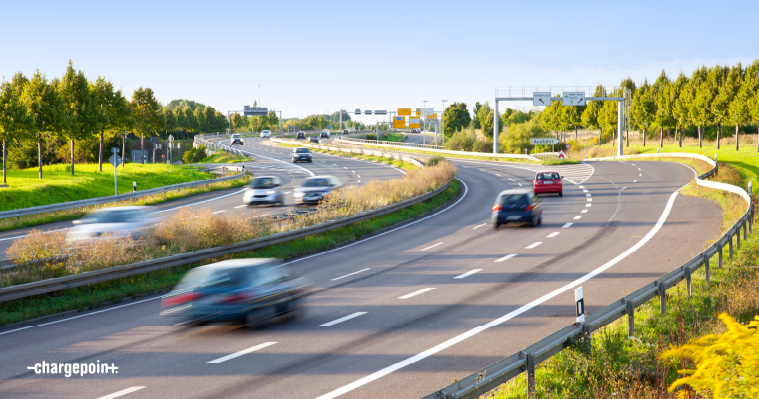 Traditional petrol and diesel vehicles are the largest source of greenhouse gas (GHG) emissions in Europe and North America. Increasingly strict carbon emission policies are becoming the standard across the world, with Europe at the forefront. Many European countries are about to discuss or have already agreed on complete fossil fuel bans by 2035.  
This makes the electrification of transportation not only necessary but also inevitable. And EV charging has a critical role to play in the decarbonisation of road transport — from driving the transition to electric mobility (e-mobility) in large commercial fleets to individual, private consumers. 
The tipping point of EV adoption is now. 
Throughout the EU the forecasts for electric vehicle adoption continue to grow. Recent data from Bloomberg BNEF predicts that passenger EV sales will exceed 21 million in 2025, an increase of more than 200% from 2021. By the end of this year, EV sales are expected to reach over 3 million in Europe, which would make 2022 another record growth year for the continent. 
Demand remains high as consumers and businesses seek to switch to more sustainable transport. Automakers are responding, with regular announcements concerning their plans to manufacture a wider range of electric vehicles and phase out traditional petrol and diesel-fuelled vehicles.
For drivers, the charging experience must be simple, easy and effective. It must replicate the experience of refuelling a diesel or petrol vehicle. Locate, use and pay is the mantra to be adopted. This means that with the rising growth in vehicles and consumer demand, the charging infrastructure and electricity networks must grow and adapt at a fast rate. And there are a few key elements to keep in mind during this EV growth, in order to support the net-zero future of road transport.
Collaboration is fundamental for EV infrastructure growth.
Any emerging industry needs collaboration between its players to develop a market that serves the needs of stakeholders. When the challenge is nothing less than a total reimagining of transport, it is especially important that it works for everyone, including consumers, businesses and fleets. The switch to e-mobility requires that charging solutions be networked and integrate seamlessly with apps and vehicle in-dash infotainment systems. Drivers are already familiar with these, making them easy-to-use and cost-effective for organisations of all types and sizes.
The adoption of open protocols and standards is essential for deploying an EV charging infrastructure that accelerates the use of electric vehicles as well. In fact, open industry standards and protocols are key to developing markets and rolling out new technologies. They allow organisations to develop and deploy products and services that fully meet the need of the user. Additionally, they provide the driver with a consistent charging experience anywhere — whether it's at home, whilst using a public charger on their preferred charging network or any other station on a roaming network.
Grid pressure can be reduced through policies.
Whilst the charging infrastructure is relatively new, electricity networks often have more traditional working models that are now coming under pressure to meet the increasing demand for EV charging. To ease this tension and ensure we have networks fit for this EV revolution, a range of initiatives are required.
Regulators must develop policies that foster innovation and enable Distribution and Electricity Network Operators (DNOs / ENOs) to establish reliable, flexible networks. State-of-the-art technology, along with ubiquitous roaming agreements and the use of open industry standards and protocols, can all combine to deliver a positive driver experience.
Networked charging infrastructure is essential for efficiency.
In the wider context of the energy system, networked charging broadly refers to the ability to communicate remotely with the station in order to analyse its status, collect data and control functionality.
The ability to remotely monitor status can ensure the station is operating efficiently. Being able to control functionality means charging vehicles at pre-set times when there is less load on the grid. Data collection enables analysis of energy consumption allowing DNOs/ENOs to model and plan for future network loads or expansion.
Furthermore, the development and deployment of smart, future-proof charging stations enables consumers to take advantage of tariff incentives offered by electricity suppliers whilst allowing charging station operators to utilise power and demand-side management applications to manage the supply across their sites.
Ultimately, networked charging stations become an active component that can provide a data source for operators. This data helps them plan, manage and configure the network to ensure it is operating effectively and efficiently. It is this efficient operation that will help drive the decarbonisation of the energy system.
We're on the right path. 
The good news is that as the EV charging ecosystem evolves around Europe, mobility service providers, charge point operators, charging station owners and roaming hubs are all actively collaborating through bilateral roaming agreements, common working practices and processes, and standards implementation to enable the best charging experience possible for the driver.  
That is why we are also a part of ChargeUp Europe, an EV charging infrastructure industry association of sector players aligned towards a seamless infrastructure rollout across Europe. Together with stakeholders from 27 European countries, we advocate for regulatory policies to remove market barriers, support investment and assist with EV adoption, and to promote a superior driver experience for EU citizens.  
To achieve truly net-zero road transport, current electrification and sustainability efforts must be continued and intensified. As field pioneers, we're happy to be part of these global efforts and continue to push innovative, charging initiatives and solutions to support our common goal.