Stadtwerke Gütersloh supplies its customers with an intelligent charging infrastructure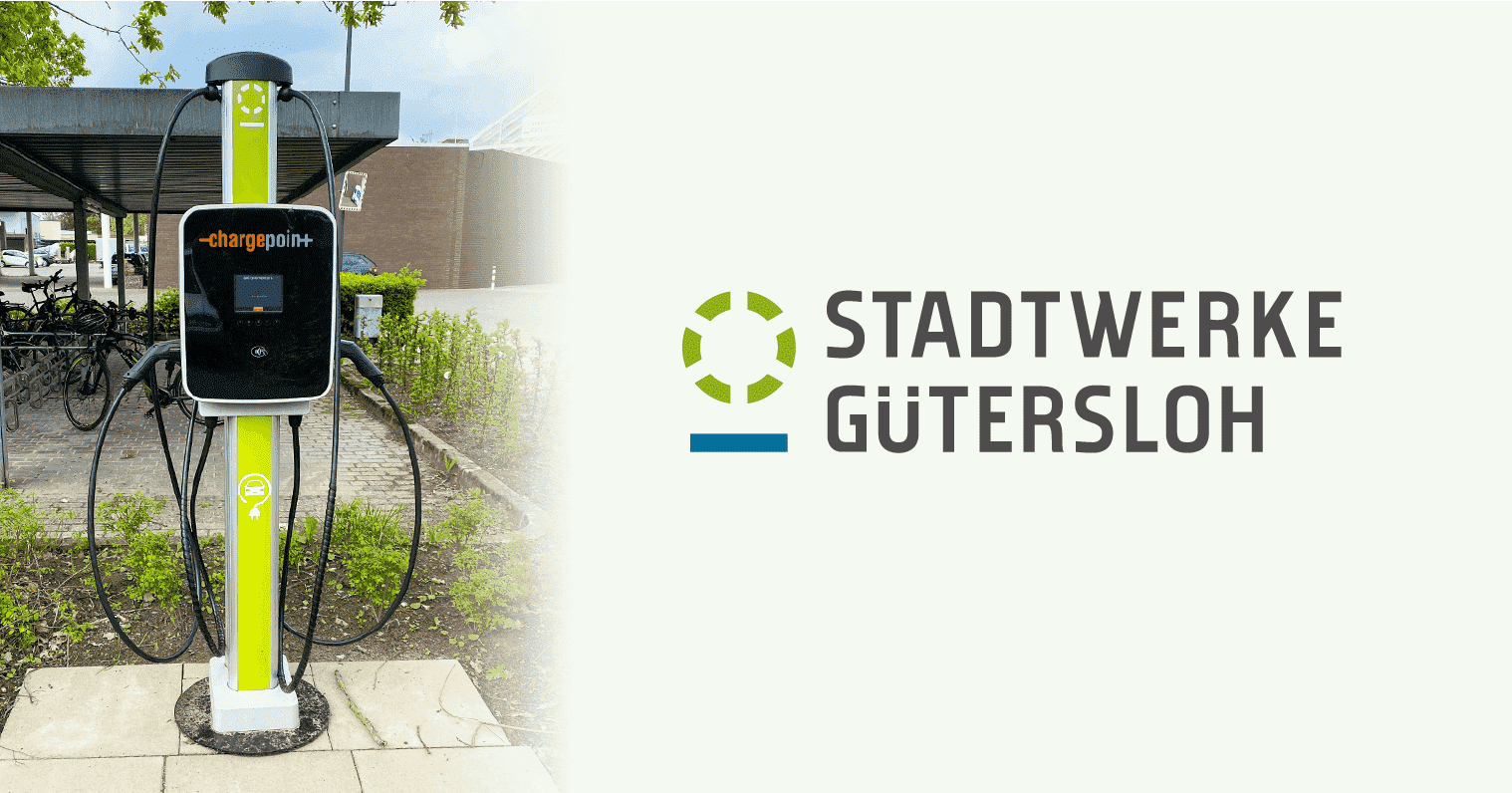 Stadtwerke Gütersloh, a public utility in Germany, serves the classic areas of an infrastructure service provider: electricity, gas, water, telecommunications and mobility. In addition to telecommunications and the expansion of the fibre optic network, climate-friendly mobility is one of its most important areas of growth.
Provision of charging infrastructure for electric vehicles is therefore very close to the public utility company's core business: selling electricity. By means of charging stations, mobility can be linked even more closely with the energy supplier's traditional area of business. In addition to public transport, Stadtwerke Gütersloh offers other forms of mobility, namely the shared use of vehicles, including car sharing, scooter sharing and demand-responsive transport — all of which are electric. According to Gunnar Gühlstorf, sales manager at Stadtwerke Gütersloh, "the link between the energy and transport industries is very important to us and we would like to bring the two sectors even closer together in the future."
Almost three years ago, Stadtwerke Gütersloh sold its first charging stations for electric vehicles and started providing public charging infrastructure in Gütersloh. Customers were initially quite surprised that they could purchase charging facilities for electric vehicles through their local public utility company.
"But we are now noticing that the requirements and expectations back then were completely different from what they are today. The market has evolved, in terms of both the charging infrastructure and the vehicles."
Gunnar Gühlstorf
Sales Manager, Stadtwerke Gütersloh

A Solution for the Future
Due to the continuously growing demands of customers, Stadtwerke Gütersloh made it their mission to look for a future-proof charging solution for electric vehicles. "We did not have a solution with kilowatt-based billing in our portfolio, so we looked for a manufacturer who could also offer compliance with the German calibration law for electric vehicle charging," explains Mr. Gühlstorf. In addition, customers expected an intelligent all-round solution — one that offers insights into charging processes, power consumption and cost accounting, and can also be proactively monitored, thus avoiding unpleasant surprises. It was clear then, that what was needed was a networked, software-based charging solution. What's more, the solution needed to be simple and easy to operate — something that people have become accustomed to in these technologically advanced times. ChargePoint was thus identified as the right partner for the right charging solution.
To enable it to present and sell the charging infrastructure to end customers more effectively, Stadtwerke Gütersloh decided to use ChargePoint stations at its own site as well. After all, the company is increasingly working on electrifying its fleet. Some of its company car and fleet drivers were already using electric and hybrid vehicles.
"We also want to offer charging facilities to our employees with private electric vehicles and meet the expectations of us as a modern employer."
Gunnar Gühlstorf
Sales Manager, Stadtwerke Gütersloh
Charging at Home, on the Road and at Work
The public utility company is also noticing the increasing demand from companies for charging facilities for electric vehicles. More and more companies are looking for ways to enable their employees to charge their company vehicles both at home and on the road. And they want the solution to be convenient and straightforward — for both the driver and the company.
Miele, a world-renowned family business and also a customer of Stadtwerke Gütersloh, had also enquired about charging solutions. It soon became clear that charging facilities for employees at home were a particularly interesting and central aspect of the requirements. Therefore, Stadtwerke Gütersloh quickly discovered the ChargePoint Driver Management System. This system enables companies to provide their employees with a standardised charging infrastructure, with which electricity costs for charging their vehicle at home and on the road can be easily monitored, billed, and reimbursed. Stadtwerke Gütersloh is the first public utility company in Germany to offer the ChargePoint Driver Management Solution to its commercial customers, adding a further product to its portfolio of charging solutions. This system was integrated in a very short time, enabling the company to offer it to its own customers straight away. "We were pleasantly surprised at how quickly the whole process went," said Mr. Gühlstorf.

"We are Delighted with the Partnership"
When selecting a partner to provide the charging infrastructure, it was important for Stadtwerke Gütersloh to obtain and be able to provide a complete solution for its commercial customers from a single source. Thanks to the charging solution from ChargePoint, Stadtwerke Gütersloh can now give its customers holistic advice, no matter what type of vehicle, driver or route planning is involved. Having the charging solution from ChargePoint in its portfolio of services consolidates and strengthens existing customer relationships in the core business of Stadtwerke Gütersloh in the long term.
Pioneers in E-Mobility
"The issue of environmental protection is of great importance to Stadtwerke Gütersloh. We are aware of our responsibility and want to set a good example," explained Gunnar Gühlstorf.
Throughout the country, public utility companies are key pioneers of electromobility in their role as infrastructure specialists. They are often service providers for mobility and transport. Thus, Stadtwerke Gütersloh also sees itself as a pioneer in actively promoting electromobility in its region. By partnering with ChargePoint, the two companies can work together towards a more sustainable future and pave the way for other companies and individuals to do the same.
Discover what added value a smart EV charging solution can offer your company. Get in touch.