Autoteile Schwer and ChargePoint: Plan, install, charge – in less than 90 days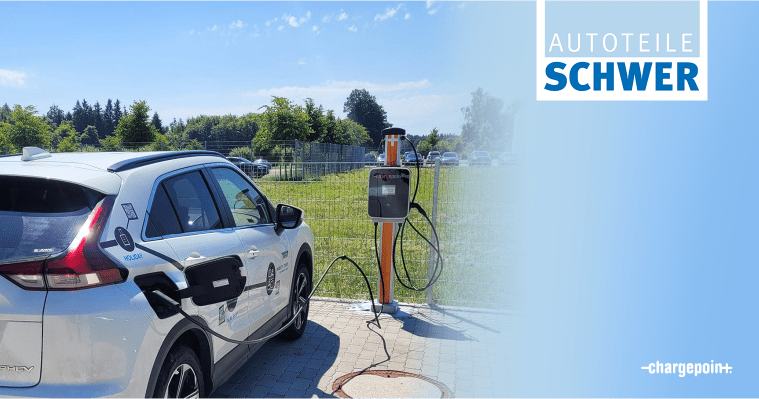 Autoteile Schwer is a mid-sized auto parts company founded in Germany in 1985. Not only do car enthusiasts get their money's worth there, garages, logistics companies, and even agricultural businesses can find everything they need — and sometimes didn't even know they wanted. With more than 8,000 products for cars, vans, and farm equipment, Autoteile Schwer helps individuals and businesses stay on the move. The on-site experts offer advice on all types of vehicles; from vintage cars right up to the latest sports models, including an increasing number of EVs.
"Cars are our passion! Thanks to the many market developments, our work remains varied and exciting. In recent years, electric mobility in particular has brought a breath of fresh air to the company. More and more of our customers, employees and residents are driving electric. That's why it was high time to prepare ourselves for this new era in vehicle history."
Matthias Schwer
Managing Director, Autoteile Schwer
As a result, Autoteile Schwer's managing director Matthias Schwer decided to offer EV charging for customers, company vehicles, employees, and tenants on the premises. The company also allows for traffic driving by on the motorway to charge, turning passing EV drivers into potential customers. That's important, as the company is conveniently located on the Autobahn A7 between Vöhringen and Weißenhorn. EV drivers can make a trip to the company site while waiting for their vehicle to charge.
What was needed
Paving the way for a sustainable future, Autoteile Schwer had already installed photovoltaic solar panels on all its roofs. For the EV charging project, Mr. Schwer turned to trusted electrician Heinrich Loresch, who leads a company specialising in photovoltaics and solar systems. Mr. Loresch's company is, in turn, part of the ChargePoint Partner Program, and quickly arranged a meeting with the local ChargePoint contact.
Together they discussed the requirements for the charging solution. For Autoteile Schwer, it is all about the customer. The solution, therefore, needed to be service-oriented and ensure:
All charging use cases are comfortably covered (such as customers, visitors, employees, company cars, external visitors, tenants etc.)
Charging stations are visible to the public in in-dash navigation systems and charging apps
Invoicing procedures are processed automatically
The charging stations are operated using the photovoltaic system on sunny days and using green electricity the rest of the time
And most importantly, the installation should run smoothly, without any surprises or ongoing expenditures for the company.
The ChargePoint solution
The decision was made to install five ChargePoint CP4321 charging stations, each with two 22 kW charging ports and integrated cable management, preventing the charging cables from presenting a tripping hazard. The stations were activated for public charging at the A7 exit Vöhringen (near a McDonald's, a restaurant, a petrol station, and a hotel) and connected to the company's photovoltaic system. Billing and collection management runs automatically via ChargePoint and the Autoteile Schwer company logo is visible on the high-resolution, full-motion station displays.
The entire project was even financed efficiently, with funding secured for the charging technology. In addition, the ChargePoint representative arranged for automatic invoicing for the greenhouse gas quota, an initiative provided by the German government. That enables station operators to sell their charging current and associated CO2 savings to companies obliged to reduce their emissions — all carried out via ChargePoint software. As a result, Autoteile Schwer receives a monthly contribution, which provides an extra source of income for the company.
The installation process — step by step:
To ensure a successful installation, ChargePoint collaborates with a local or in-house electrician, as well as a certified ChargePoint installation technician, enabling a cost-efficient and nearly seamless end-to-end process.
Step 1: Consultation with ChargePoint and the electrician
Your project will be thoroughly planned during an on-site consultation with ChargePoint and the local electric company to determine whether there is sufficient electricity at the site or if it requires an upgrade. The latter applied to Autoteile Schwer, so their in-house electrician and the municipal utility company installed an additional supply line.
Step 2: Preparing the site
As is often the case, good preparation is half the battle. With a project of this nature — which is often unchartered territory for the customer — there were several points to consider: Based on the ChargePoint site preparation documents, the distribution boards, foundations, threaded rods, and electrical connection cables were successfully installed and fitted by Mr. Loresch and his team.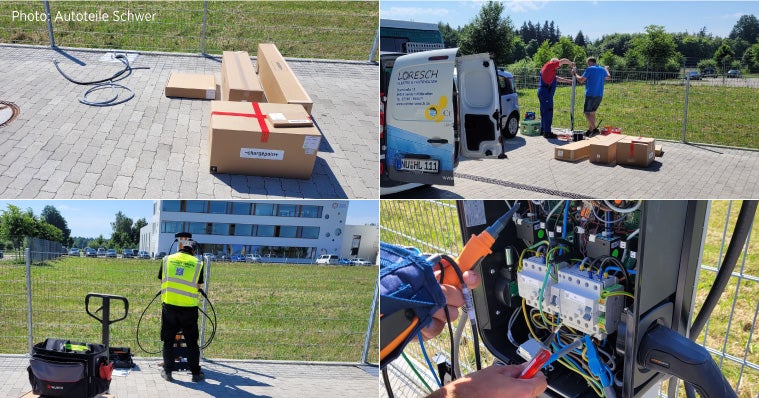 "When you're dealing with an expert, the work is enjoyable. You work in tandem and complement one another. Today, we work on a lot of projects in the region."
Heinrich Loresch
Electrical engineering specialist , Elektro Loresch - Elektrotechnik und Photovoltaik
Step 3: Delivery
The charging stations are delivered to the installation site by ChargePoint. An appointment will then be made with the ChargePoint installation service.
Step 4: Assembly and commissioning
It is now time to assemble and connect the charging stations on-site. Technical tests and DGUV (German Social Accident Insurance) testing are carried out, followed by customer-specific configuration and commissioning by the certified ChargePoint installation partner. Now let's get charging!
Step 5: Training for users
Being able to access charging stations is one thing, knowing how to operate them is another. For a user-friendly experience from the outset, one-on-one online training courses are provided for the operator as part of the service offering.
Step 6: Fill up on electrons!
There are a few different options for drivers to begin a charging station: They can either use their ChargePoint card, (ChargePoint supports NFC charging) or a charging app, such as the ChargePoint app. It is also possible to start charging directly from the vehicle's in-dash infotainment system using either Apple CarPlay or Android Auto.
Is charging enabled? Simply plug in, charge your vehicle, and after a trip to Autoteile Schwer head to McDonald's for a well-earned burger (or a salad for the health-conscious among us).

The results
The charging solutions are enjoying a huge and growing popularity in the area. Some employees are even considering opting for an electric vehicle for their next car purchase. The flow of new customers from the motorway — who can conveniently find the charging stations via apps — is also noticeable. And the monthly bonus from emission trading is the icing on the cake, says Mr. Schwer. Autoteile Schwer has successfully taken a step towards the electrical age — and at a record speed: It took less than 90 days from consultation to commissioning the system.
"It was important to me that we didn't have to worry about the charging solution, from installation to commissioning and beyond. The process was extremely fast and smooth; just the way I like it."
Matthias Schwer
Managing Director, Autoteile Schwer
We are delighted to have supported Autoteile Schwer in their pilot project. We are looking forward to working together in the future and expanding the charging programme.
If you are interested in upgrading your facilities for e-mobility, our experts are here to help. Let's chat about what it takes for a successful installation of EV charging infrastructure at your site.