Colruyt France transitions to green mobility with ChargePoint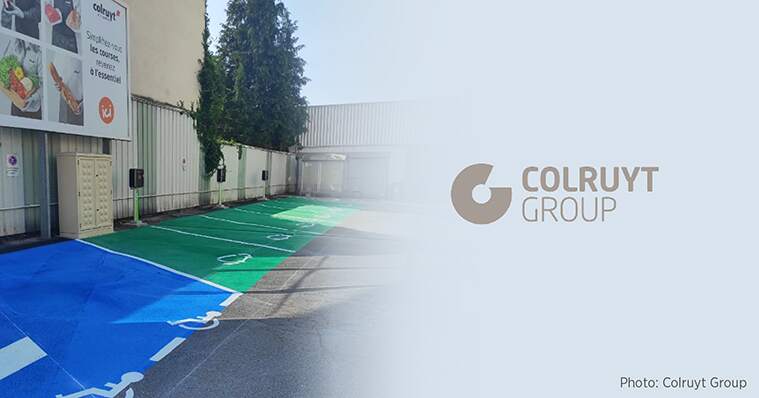 Colruyt Group is a family business built on a mission to make a positive difference in everything it does. The company employs more than 33,000 people and offers a diverse portfolio of food and non-food products in Belgium and abroad. A commitment to sustainability is reflected in their investment in renewable energy. Since 1997, the group is present in France and has opened more than 90 neighbourhood supermarket stores in France that deliver on the brand promise of providing an accessible, comfortable and easy shopping experience while offering good prices.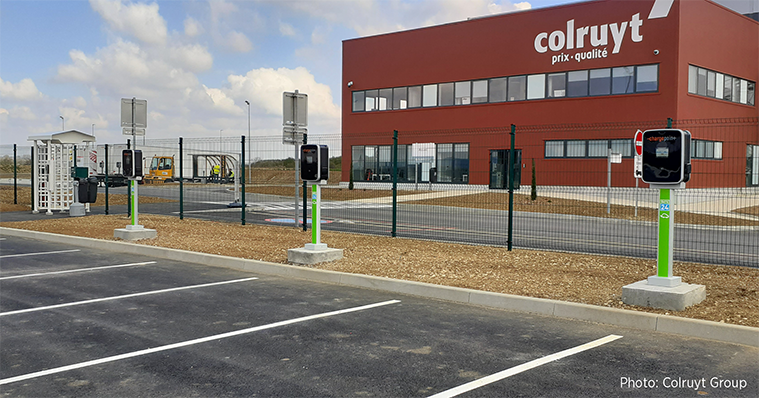 What they needed
In 2020, Colruyt decided to convert its vehicle fleet away from diesel fuel to align with its sustainability initiatives. Its three logistics centres in France use Renault Zoe electrical vehicles (EV) as well as electric commercial vehicles for employees commuting between sites. To promote green mobility and as more employees began to drive their personal EVs to work, the French team also foresaw a need to invest in EV charging infrastructure so that employees could charge their car at work, and to meet the growing demand.
"The company culture is centred on sustainability, and our employees are embracing EVs," said Adrien Michon, technical coordinator at Colruyt France's DATS 24 service stations. "In addition, townships and shoppers rely on us to offer EV charging options."
With the increasing demand, DATS 24, Colruyt's energy distribution branch set out to find a charging partner that could help Colruyt scale gradually, track usage and service drivers remotely.
The company initially installed two standalone EV charging stations, but Adrien Michon quickly realised that they didn't provide the in-depth data and driver services Colruyt was accustomed to at its DATS 24 service stations. According to him, "Transitioning our vehicle fleet to EVs while encouraging employees to go green meant we'd need data on charging behaviour to know how best to scale later on."
Adrien Michon began reviewing other vendors and comparing hardware and software features and then reached out to ChargePoint.
What ChargePoint offered
ChargePoint France presented the CP4100 family of three-phase AC charging stations designed for businesses and fleets. Adrien Michon was immediately impressed with the graphical online dashboard that would let him remotely manage and control stations across multiple sites from one central location. He also liked the stations' rugged yet refined design and full-motion, colour LCD screen: "ChargePoint was the clear winner."
Colruyt France installed and successfully rolled out nine CP4121 dual-port pedestal mount charging stations with help from a trusted local installation partner that had completed a comprehensive training and certification program designed specifically for the ChargePoint® solution.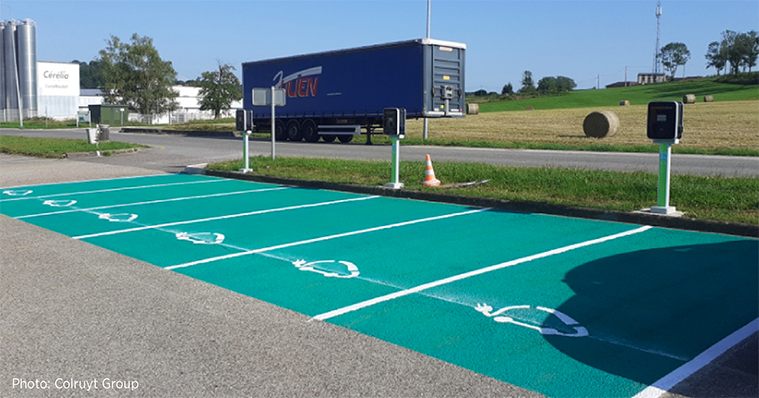 How ChargePoint helped
Rugged hardware
The CP4121 EV charging stations are rugged and durably built to reduce downtime and maintenance costs. The stations are socketed and deliver up to 22.2 kW per port, making charging simple and efficient for Colruyt's EV and hybrid-EV drivers.
Customised charging
To incentivise employees to transition to EVs, Colruyt offers free charging. When needed, ChargePoint cloud features will let Adrien Michon remotely set pricing based on driver groups. In addition, he can monitor energy consumption and change access as needed to stay within the allocated charging budget.
Simplified onboarding
Employees receive an email to download the ChargePoint mobile app and request charging access. The Waitlist feature notifies them when a charge spot is available and holds it until they can plug in their vehicle. With the world's largest charging network at their fingertips, employees can now easily find a spot on the go as well.
Secured investment
As more employees transition to EVs, the ChargePoint Power Management feature makes it possible for Colruyt to serve more drivers without major infrastructure updates. Data collected from the networked stations will help the company determine future investments and measure success toward meeting sustainability goals.
"The ChargePoint France team walked us through the entire process, from site planning to onboarding of employees. As soon as you need something, ChargePoint is there with help or answers."
Adrien Michon
Technical Coordinator, Colruyt France's DATS 24 service stations