da emobil relies on ChargePoint for flexible e-mobility solutions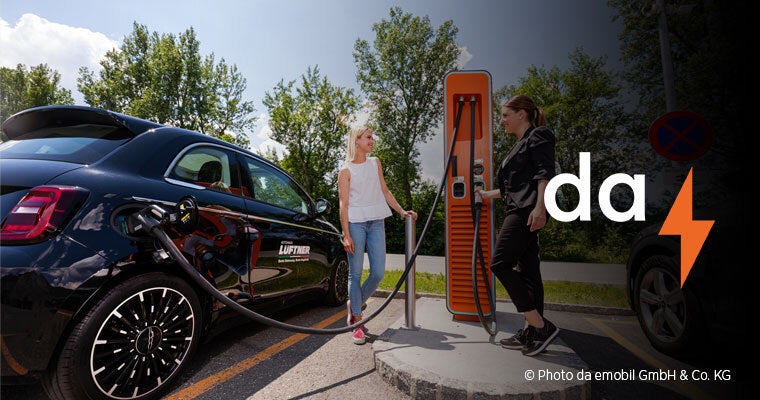 da emobil is a young company from Tyrol in Austria that has made a big impression in a short period of time—and it has exciting plans for the future. With innovative mobility solutions on its own network and for customers, da emobil provides flexible charging solutions for electric vehicles to private individuals, companies, and tourist regions. The linchpin: the be.ENERGISED software from ChargePoint.
da emobil was founded with a clearly defined goal: if the future of transport is electric, then getting started needs to be as appealing and as easy as possible for everyone. So, the Tyrolean electrical company Fiegl + Spielberger GmbH and the energy supplier GUTMANN GmbH decided to launch a joint venture. The result: the subsidiary da emobil, founded in 2017, is an Austrian one-stop shop for innovative electromobility solutions. The foundation stone for da emobil's success was laid.
Customised solutions for different areas
da emobil offers comprehensive mobility solutions for the B2B and B2C sector, from all-in-one packages to products such as plug & charge wall boxes, accessories such as charging cables, charging and fuel cards and smart software. Alois Wach, Managing Director of da emobil, explains: "We analyse the individual needs of our customers and install hardware and software solutions customised to meet their requirements". da emobil also handles ongoing service and maintenance for customers as well as ensuring smooth operation of the charging stations.
In terms of charging options, da emobil also relies on strategic collaborations with partners such as MPREIS, Burger King, ÖAMTC and WKO. When charging stations are constructed in their parking areas, da emobil supports its partners from the beginning of the project all the way through to the end: from consulting to project management, from installation to operation of the stations. The e-mobility expert also takes responsibility for monitoring charging processes and supporting da emobil partners in the sustainable planning of new properties.
Comprehensive solutions that grow with you
The Tyrolean company's smart, comprehensive solutions are used by private customers and companies as well as by those responsible for fleet management or tourist regions. With individual service packages for all e-mobility users - from EVs to e-bikes and e-buses - da emobil covers a wide range of products:
Consultation and analysis of energy requirements
Project management (offers for electrical engineering, photovoltaics, storage solutions or power supply)
Sale or rental of customised hardware (wall boxes)
Special design of wall boxes on request (white label production)
Specific software solutions
Maintenance (remote maintenance)
Service (24/7 hotline)
Energy (100% Austrian green electricity on da emobil's network)
A professional, all-round worry-free package, thanks to software
da emobil offers a wide range of services, and smart software is essential to support different customers in the best way possible. This is where ChargePoint comes into play. da emobil relies on ChargePoint's scalable e-mobility software be.ENERGISED. The simple management of charging infrastructures and the 24/7 support and customer hotline impressed just as much as the e-mobility services and automated billing. "We at da emobil believe that e-mobility is the future of transport. That is why we rely on flexible and individual solutions, so that nothing prevents our customers from benefiting from e-mobility," emphasises Alois Wach.
The selection of ChargePoint was based on several factors. Alois Wach: "When selecting a partner for our charging infrastructure, we paid particular attention to three points:
In terms of hardware, quality, availability, and competent service were particularly important to us.
With regards to software, we focused on the number of charging stations on the network, automated billing and a willingness to think "outside the box".
The third point was the human component. We wanted a partner who can react openly to changes in the market and act accordingly. We found this partner in ChargePoint".
"Als Komplettanbieter in der Elektromobilität haben wir mit ChargePoint einen tollen Partner gefunden. Durch die hardwareunabhängige und mitwachsende Softwarelösung und das große Roaming-Netzwerk dahinter finden wir für jeden Kunden eine passende Lösung."
Alois Wach
Geschäftsführer, da emobil
Further requirements for the charging solution from ChargePoint were:
accessibility, thanks to which all common charging cards can be used and an app solution is also available.
the white label solution, which enables da emobil to appear as the sole service provider to the outside world and thus positions the brand perfectly in the market.
the reseller option, which includes the option to offer the solution to third parties and thus unlock growth potential.
the sense of innovation and visionwithin the partner company.
Wide reach thanks to combined forces
Linking the da emobil network with ChargePoint's partner networks provides maximum benefits for customers, i.e., the best availability. The da emobil charging network currently has over 300 charging points in the west, south and east of Austria. Thanks to the collaboration with ChargePoint, the Tyrolean company's customers can also use any charging station operated by ChargePoint's roaming partners. Including all partner stations and roaming partners, the da emobil network thus includes more than 6000 charging points in Austria alone.
Trusting and effective co-operation
The young company aims to become the market leader in western Austria by the end of 2025. ChargePoint will actively support the da emobil team during this journey. Alois Wach feels that the collaboration with ChargePoint has been highly successful in every respect so far: "The team has been very supportive in helping us to develop customer relationships", says Wach. "We were also impressed by the consistent forwarding of customer inquiries to da emobil". Another highlight of the partnership for Alois Wach was the flexibility in terms of the tariff and payment amount. Thanks to automated billing processes, the be.ENERGISED software minimises the use of internal resources. Whether specific requirements regarding VAT, different currencies, or languages: ChargePoint provides a smart overall solution for all these requirements.
Would you also like to support your B2B and B2C customers as a competent and reliable full-range service provider? We can help you build a scalable and profitable business model. Interested? Read more about our successful partner programme here.