MOON POWER & ChargePoint: Charging infrastructure and energy management solutions that transcend brands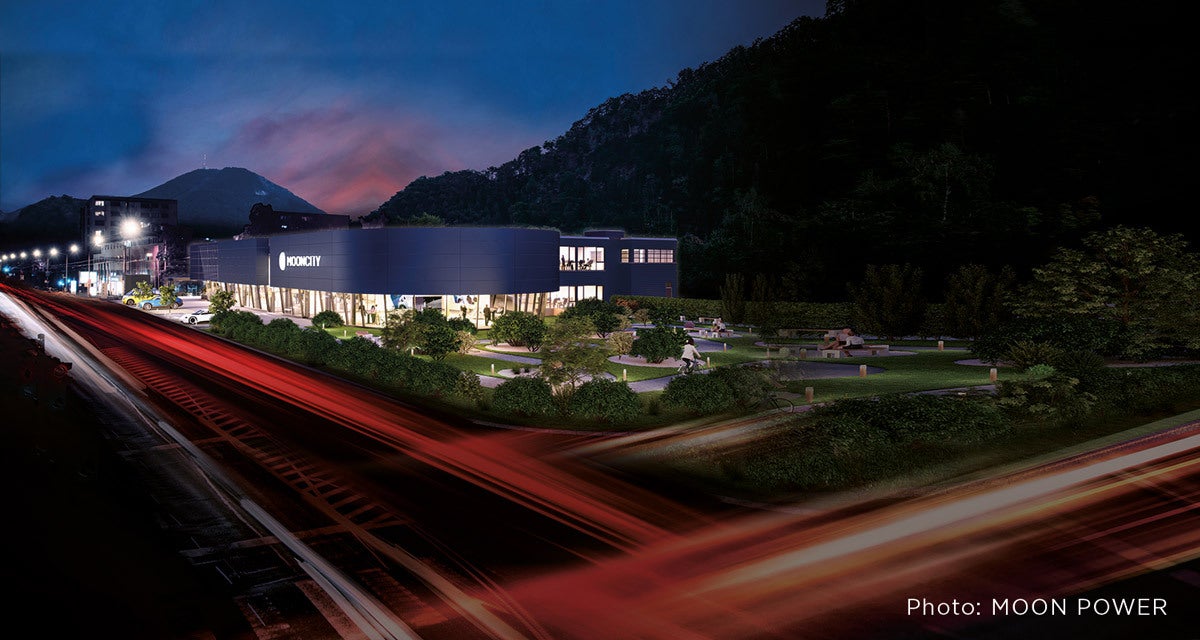 How Porsche Holding Salzburg is pushing mobility ahead by bringing international, multi-brand charging infrastructure and energy management solutions to the market, thus underlining its status as an 'e-mobility enabler':
As a complete solutions supplier, MOON POWER GmbH provides both private and commercial customers with sustainable, smart, data-driving energy solutions for charging at home, at work or on the road. Discover how MOON POWER harnessed a future-proof business model and the power of ChargePoint's be.ENERGISED software to provide ready-to-go EV charging solutions on an international basis, thus meeting the needs of various user groups as well as markets and tax rates.
About MOON POWER
Active in Europe, South America and Asia, MOON POWER GmbH is a brand of Porsche Holding Salzburg — which is part of the Volkswagen Group — as well as the 'e-mobility enabler' for Europe's largest car dealership. As it paves the way for the future of sustainable mobility, MOON POWER has been supplying its brand-agnostic charging infrastructure and energy management solutions since 2018 — and now has a presence in 18 countries. These solutions range from wall charging units and fast-charging stations to batteries and solar installations.
MOON POWER Deutschland GmbH was founded in 2021 as a 100%-owned subsidiary — with going international the primary goal. This was the systems provider and e-mobility ambassador's response to the rising demand for innovative, holistic charging and energy management solutions in Germany. MOON POWER offers new energy concepts tailored to the needs of customers in the renewable energy ecosystem.

Industry Overview
MOON POWER develops energy solutions for a sustainable mobility future. This means energy concepts for private households, businesses, and public facilities — with all of them getting the same level of attention. As a complete solutions provider, MOON POWER covers the entire EV charging spectrum and acts as a competent partner, from consultation, installation and maintenance to charging station billing and support in submitting applications for subsidies.
One of MOON POWER's core competencies is equipping the auto retail industry with EV charging solutions. Retailers are aware of the structural changes happening in their business and are questioning conventional business models. One thing is certain: the future of the dealership is electric — and MOON POWER is paving the way to a future in which EV charging and energy solutions are in high demand. Beyond this 'auto retail' core skill, MOON POWER is also active in tourism & leisure, stadiums, parking garages, fleets and carbon-intensive industries looking to reduce their footprint.
With its MOONCITY center for new and electric mobility in Salzburg, MOON POWER has brought EV charging to life for its end customers. Here, visitors can discover both the history and the future of mobility in a fun way. At the Salzburg Head Office, meanwhile, customers can get individual consultation regarding their first steps into EV charging. Here, the focus is on charging infrastructure, energy storage and sustainable energy consumption. Apart from the main interactive center in Salzburg, there are also MOONCITY E-MOBILITY pop-up stores on Mariahilfer Street in Vienna, as well as in Munich, Zagreb, Ljubljana and Bucharest.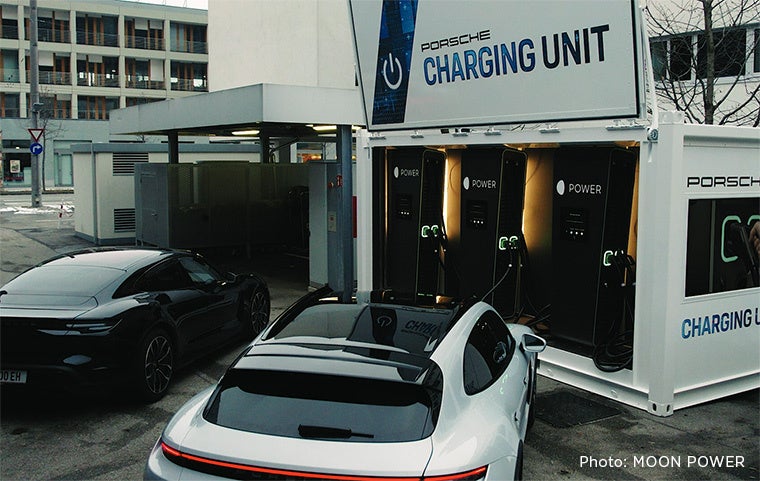 Challenges and solutions
With its all-in-one solution, MOON POWER acknowledges the EV charging industry in the broadest sense. So, it doesn't just take care of private customers, a larger number of businesses and public facilities — it also equips a variety of sites with energy and EV charging solutions in its role as part of Europe's largest automotive retail concern. The MOON product portfolio features tailor-made solutions for the entire value chain:
Consultation and site assessments
Design and planning of charging infrastructure, photovoltaics and storage solutions
Hardware and charging products
Billing of charging station sessions
Local energy management for monitoring, control and optimisation
Support in submitting applications for grants or subsidies
Services such as installation and maintenance carried out by MOON POWER staff
Ongoing operation of charging stations
The Backbone of the End-to-End Solution: be.ENERGISED, ChargePoint's modular white label solutions
To be able to provide individually-tailored solutions, the be.ENERGISED management system is an essential part of the all-in-one ChargePoint platform. Our modular SaaS solution brings together all the functionalities charging station operators (also known as charging point operators or CPOs) and e-mobility service providers (eMSPs) need, adapting to any given requirements on an automatic and flexible basis. This ensures peace of mind, efficiency and stable operations. That puts MOON POWER in a position to handle charging infrastructure management and EV charging on a global level. ChargePoint also provides the basis for the MOON-branded hotline and app for drivers.
The Core Business: Driving EV charging forward
MOON POWER's stated aim is to pave the way for future mobility, bringing brand-agnostic, international energy management and charging infrastructure solutions to the market. This is clearly in evidence when it comes to the 'construction' of future dealerships. MOON POWER fits dealerships and other locations with solar panels, EV charging stations, lithium batteries and load management systems, thus making them not only energy efficient but also pioneers when it comes to sustainability.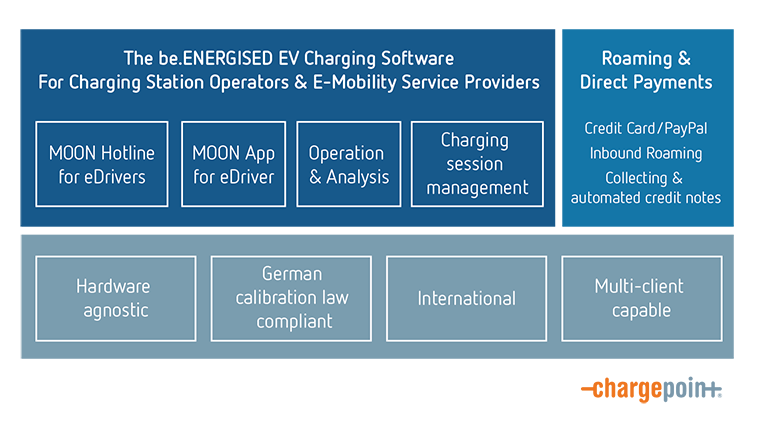 Collaboration highlights and the road ahead
With its proprietary SaaS solution, be.ENERGISED, ChargePoint has been supporting MOON POWER's plans to meet the growing demand for innovative all-in-one solutions in the EV charging and renewable energy ecosystem since 2021. By the end of 2022, around 800 charging points should be connected to the ChargePoint backend, and thus accessible for drivers. Alongside its role as an operator and supplier of charging infrastructure, MOON POWER's core business is to push sustainable energy solutions in all their forms — with a particular emphasis on EV charging. be.ENERGISED provides the necessary tool to do that, also supporting the company in handling e-mobility in its broadest sense. At the same time, the direct customer relationship remains entirely with MOON POWER.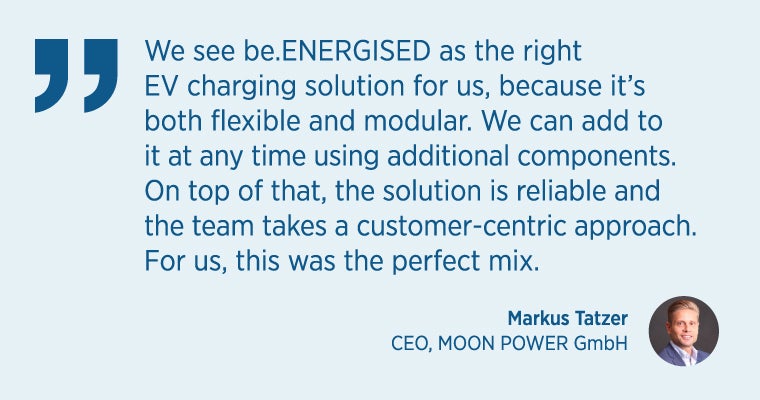 MOON POWER is a strong partner that harnesses be.ENERGISED by ChargePoint to provide its clients with the charging infrastructure and energy management solutions they need — across brands and across the globe. Clients including Volkswagen AG, Volkswagen Group Retail Germany, REWE, Silvretta Park Montafon and FC Red Bull Salzburg already count on individually-tailored EV charging solutions. The 'e-mobility enabler' for the Porsche AG group also helps the company on its way to becoming a premium mobility provider. For example, it brought the Porsche Charging Unit — a new fast-charging concept — to life.
The PORSCHE AG Mobile Charging Unit
Porsche AG was looking for a mobile charging solution for one of its promotional events, the Porsche World Roadshow — a sustainable event initiative at which visitors get the opportunity to sample the entire product range for a full day. MOON POWER joined forces with Salzburg container specialists Wingliner GmbH and developed a solution. The mobile Porsche Charging Unit is a CSC-certified sea freight container, 6 meters in height, in which three MOON POWER Charger 150 units with a total capacity of 250kW have been built into the wall. All charging points have 400A CCS2 cables with a length of 6.5m. A special feature is the Lorrygramm infotainment system, which allows content to be displayed on the unit — content that can be continuously updated via the internet. This container can be shipped anywhere in the world. The first destinations are in the Far East, specifically Korea, Taiwan and Vietnam.
Electrification at Munich's biggest football club
The Munich football club and AUDI AG rely on MOON's charging power, with the latter having electrified the club's Säbener Street training facility with a total of 48 charging points in 2020. AUDI also fitted their stadium with MOON POWER charging solutions. There, both fans and visitors have access to a total of 57 charging points in the VIP and media area (Welcome Zone West).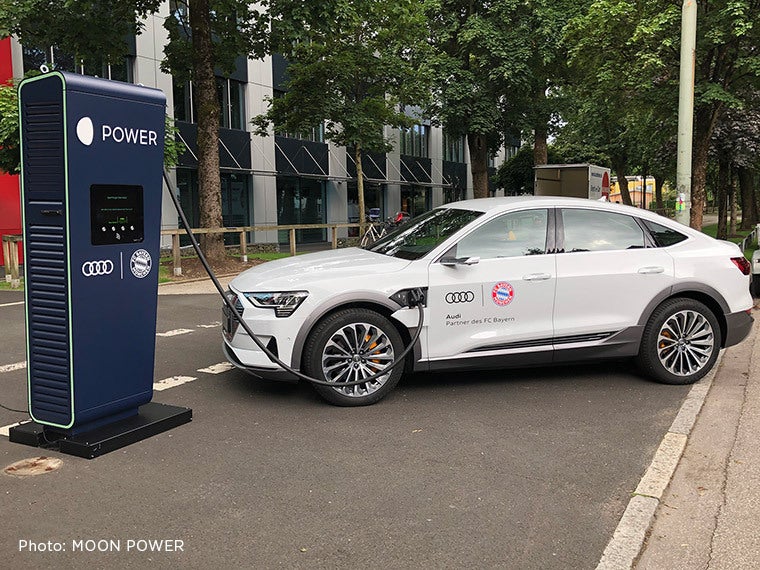 Electrification at the Austrian Ski Federation
The Austrian Ski Federation is another organisation keen to meet its socio-political obligations. It recently moved to expand its charging infrastructure in collaboration with MOON POWER. In January 2022, the Federation's main office in Innsbruck, the Bergisel ski jump and the Ski Austria Academy in St. Christoph am Arlberg were all electrified with new electric and hybrid EV charging stations. Only charging units from MOON POWER were used, which made the Porsche Holding subsidiary the official charging station provider for the Austrian Ski Federation.
With our be.ENERGISED cloud software, we play an active background role when it comes to such futuristic projects, supporting MOON POWER in making them a reality. Our modular SaaS solution brings together all the functionalities charging station operators and e-mobility service providers require. With this as the foundation, MOON POWER can take care of running its clients' charging infrastructures on an automated basis, and offer guaranteed EV charging operation around the world. That's e-mobility enabling at its best!
Want to broaden your core business to include EV charging solutions, becoming a full-service provider for your B2B and B2C customers? We can help you set up a scalable, successful, profitable business model. Learn more about our Solution Partners program.