January 27, 2021
10 steps to success with ChargePoint EV charging for employees
So you've decided to embrace electric mobility, become a modern workplace and offer electric vehicle (EV) charging to your employees. Maybe you've even found grants and incentives to fund your programme. Great news! (Not convinced yet? Get the eBook on charging at work or see what top brands offer EV charging.) Now, how do you make charging happen? This simple checklist gets you started with an EV charging programme that works for your company, your employees and your sustainability goals — in just 10 easy steps.
Decide who's in charge.
EV charging is typically managed by someone from the facilities team, HR or a sustainability manager (if you have one). Designate a single point of contact for programme success.
Survey your employees.
If you haven't done so already, survey your employees to see who already drives electric and who might switch once you offer charging. Employees are 6X more likely to drive electric when charging is available at work, so make sure to take that into account when planning.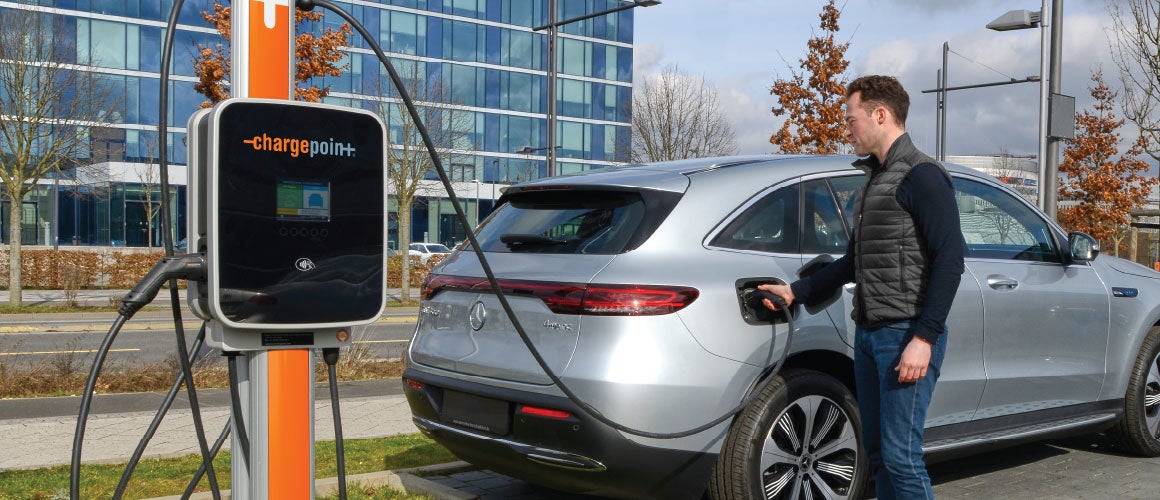 Plan a smart installation that works with existing infrastructure and anticipates growing demand.
​​​​​​Once you know how many charging spots you'll need, evaluate your electrical capacity to see how many stations you can accommodate. Smart solutions like Power Management software can support more charging without upgrading capacity or incurring costly utility demand charges.
Tip: Keep in mind that demand for EV charging will grow fast, so plan for double or triple the capacity you need today. Check for grants and rebates in your area to help fund your programme.
Decide who can charge and when.
Do you want charging to be for employees only? Would you like to open up charging to the public after hours? Whatever your priorities, it's easy to set an access policy that works for you. Once you set up your policy, employees can request charging access with a simple connection code. Your EV charging programme manager can then approve employees to charge.
Decide how much it will cost to charge.
Some workplaces offer charging to employees as a free benefit. While this is a common approach, you may want to consider adding a pricing policy. For example, set a fee that goes into effect after a few hours of free charging. This will encourage drivers to move on so others can take a turn. You can also choose to set a different price for non-employees to allow them to charge but discourage them from lingering.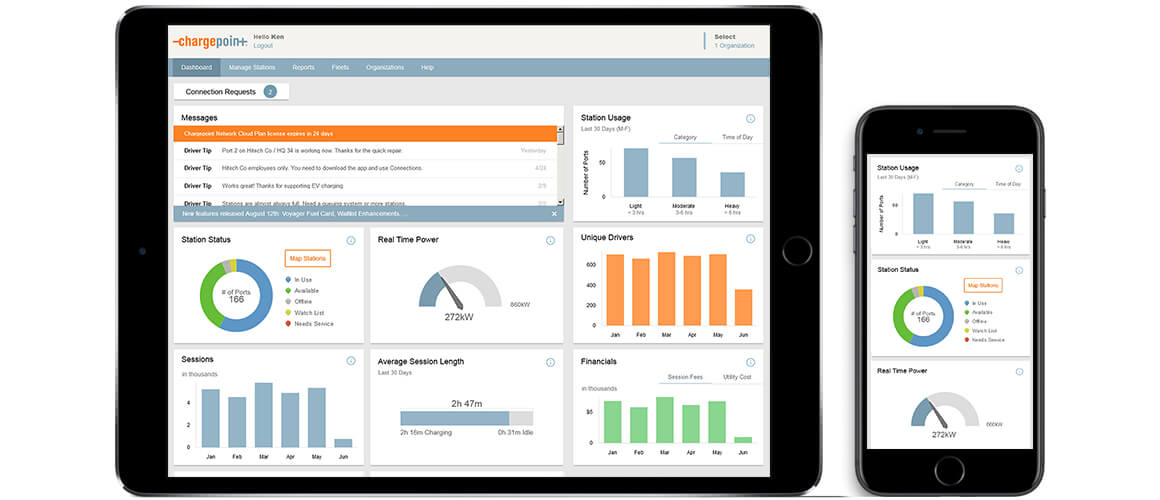 Enable Waitlist.
EV charging usually becomes popular very quickly, especially in the workplace. The Waitlist feature lets employees queue up for stations so they can all count on getting a charge.
Invite employees to charge.
Send out your unique connection code so employees can request to charge in the ChargePoint app. Use email, Slack, an Intranet or your preferred employee communication channel. Include information about how much charging will cost and whether there are additional fees after a certain amount of time.
Teach employees how to access charging and be a considerate co-worker.
Make sure that employees know how to start a charge with the ChargePoint app and your unique connection code. Share basic etiquette tips, like:
Charge only when you need to.
Move your car when you've finished charging or have enough charge.
Consider letting all-electric drivers charge first.
Keep an eye on key metrics.
See how many people are charging at your workplace compared with your expectations. If charging has not taken off, make sure that employees know how to get a charge! Take a look at your energy costs, too. If they are higher than expected, consider setting a small fee to recover the expense.
Grow your programme over time.
EV charging really is contagious! Once your employees get a taste of driving a better way, more and more of them will make the switch to electric. Keep an eye on your station utilisation report in the ChargePoint dashboard and start planning for your next station installation(s).
That's it! You're just 10 easy steps away from success. To get started with an EV charging programme for your employees, contact our team.