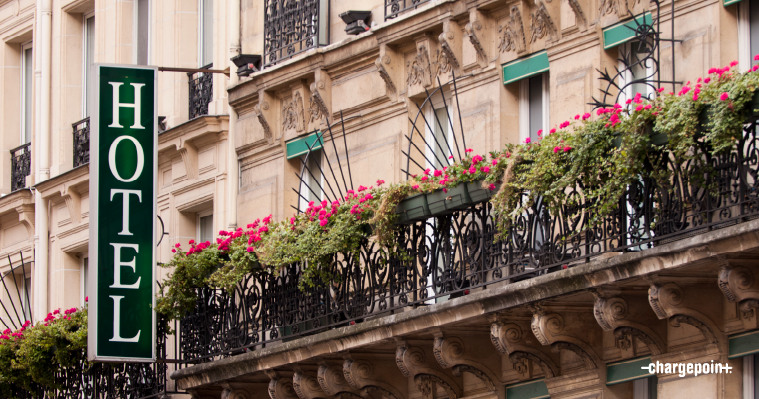 The trend toward electric cars appears unstoppable — and Europe is becoming the e-mobility hotspot. According to the BNEF, almost 40% of European passenger vehicle sales are expected to be electric by 2035. Already in 2022, battery-electric vehicles (EVs) make up a quarter of the French auto market, while Norway is leading the EV adoption with a whopping 91% of passenger car sales already being electric. It seems safe to say that electric cars will very soon be the norm on the continent.
EV drivers are therefore increasing in number, representing an important customer segment.  And as expected, they go where they can charge — and you want to be on their radar. Our years of experience working with leading hospitality businesses have shown us that EV charging can be a huge business opportunity for these organisations — both in terms of revenue generation and customer loyalty. No matter if your business is a hotel, restaurant, casino or café, EV charging can bring you many benefits. Let's dive into the main five ones:
Enhance customer loyalty.
EV drivers choose places that cater to their charging needs. This means offering EV charging on your premises makes your location even more desirable. Keep your 'green' guests coming back for more by offering them EV charging.
Attract more guests.
In Europe, new EV registrations surpassed 1 million in 2021 and electric passenger car sales increased by 33% in 2022 compared to the previous year and will continue to grow. These are all potential customers who prioritise tourism and catering destinations with EV charging options — so they'll frequent your business if you give them a place to charge.
Appeal to guests who spend more.
EV drivers are a new and lucrative customer segment. Studies indicate EV drivers customarily have higher than average household incomes. This means attracting these guests is good business.
Establish your brand as a sustainability leader.
By installing EV charging at your business, you signal to potential guests that you are ahead of your competitors. Furthermore, you get to participate in the green revolution and shape public opinion, positioning your hospitality business as a sustainability pioneer.
Get an excellent ROI.
Networked EV charging lets drivers find you at no cost. EV drivers use EV charging apps or in-dash systems to quickly find convenient places where they can charge. They will also look for appealing on-site amenities where they can eat or drink while fuelling. Therefore, offering charging on your premises allows you to unlock new revenue streams.
No matter how you look at it, offering EV charging stations to your guests is a smart business move:  it appeals to environmentally conscious travellers, increases customer loyalty and repeat business, attracts a new customer base and increases revenue. Are you and your business ready to join the future of transportation? Get in touch with one of our experts and learn more about what EV charging can do for you.