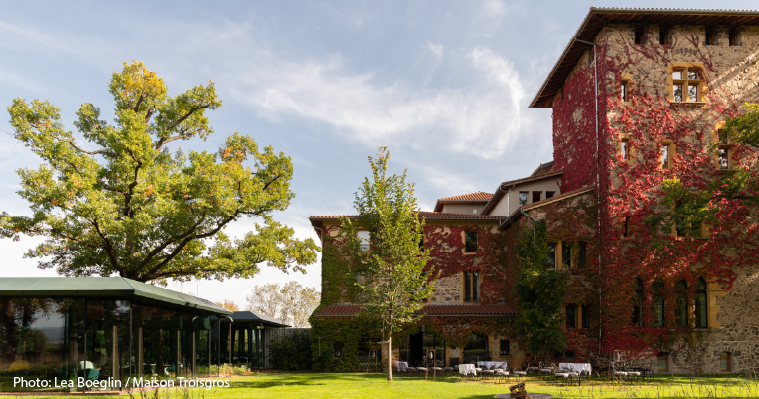 Recent years have seen a gradual increase in the adoption of electric cars in France. Already in 2022, battery-electric vehicles (EVs) made up a quarter of the French auto market. EV drivers are therefore increasing in number, representing a valuable customer segment for many businesses. And as expected, they go where they can charge — and the hospitality sector took notice. Many hotels and restaurants throughout the country now offer EV charging stations for their guests, as a way to attract environmentally conscious travellers. One of these establishments is La Maison Troisgros, a family-owned business with accommodation and a 3 Michelin-star restaurant:
"We took the first steps towards EV charging two years ago for our hotel and restaurant clientele. Today, this service is essential for them to get back on the road without worry after staying with us," - says Valentin Berger, Deputy Director of La Maison Troisgros.
To keep up with the growing demand for charging from their restaurant customers, La Maison Troisgros turned their focus on providing EV charging in their restaurant parking lot as well. Simplicity and a streamlined payment process were essential:
"Our needs were quite clear: find an easy-to-use charging station with a simplified payment system for total autonomy on the part of users. All this prevents us from going back to invoicing with an additional line on their restaurant bill", says Mr. Berger.
With the help of ChargePoint partner and exclusive distributor Sonepar, La Maison Troisgros chose ChargePoint's turnkey charging solution that suited their requirements. The installation partner, Cap'Energy, also appreciates ChargePoint's solution as "it's a self-managed solution, dynamic and complete software" (Steven Dahan, Cap'Energy CEO).
"The driver simply needs to have a credit card or a mobile phone with contactless payment to recharge their car. For us as a company, ChargePoint's solution allows us to save on administrative time – the monthly revisions of receipts come directly to our accounts, minus the operating costs", says Mr. Berger.
The hospitality sector in France is well-positioned to benefit from the growing number of electric vehicle (EV) drivers. Offering EV charging to guests is a smart business move, as EV drivers may choose to stay longer, dine or shop at a business that allow them to charge during their stay. As the number of EV drivers continues to increase, EV charging becomes essential for those hospitality businesses that want to have a competitive advantage and keep being the destination of choice for this valuable customer segment.
Is your hospitality business ready for e-mobility? Get in touch – our experts are here for you.