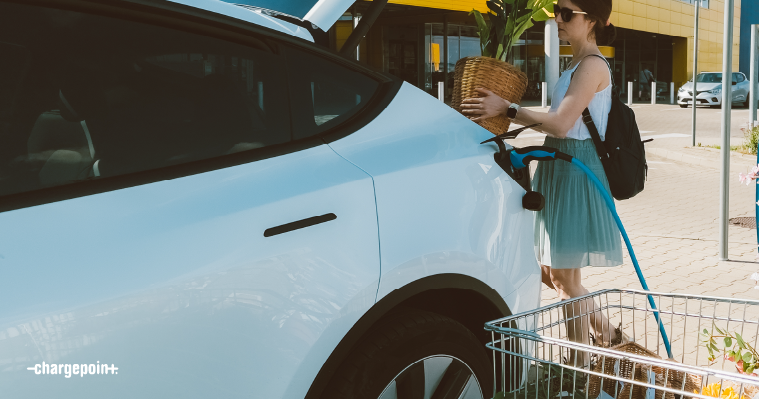 The adoption of EVs in Europe is increasing rapidly. According to the BNEF, almost 40% of European passenger vehicle sales are expected to be electric by 2035. Already in 2022, battery-electric vehicles (EVs) represented 22% of the French car sales market (Source: BNEF). Up North, Norway is leading the EV adoption with a whopping 91% of passenger car sales already being electric. This trend is spreading quickly across the continent. Due to a combination of governmental incentives, technology advancements and an increasing interest in sustainable transportation, one thing is certain — there will be more and more EV drivers setting foot in your retail establishment.
Source: BNEF
BNEF predicts that by 2030, almost 65% of new car sales in Europe will be EVs. In France, UK and Germany, the percentage is expected to be higher that the European average.
The profile of your customers is therefore changing, too. Unlike regular diesel cars, electric cars are fuelled while the driver is doing something else — like shopping, running errands or eating a meal. It's therefore no surprise that EV drivers prefer supermarkets or shopping malls that offer EV charging services in their parking areas — even if that means switching chains or branches.
Savvy businesses are already tapping into this growing market. Studies indicate EV drivers customarily spend more time in stores than their counterparts' driving cars with internal combustion engines (ICE). This means attracting these customers is good for business. And once your establishment is on their radar, they can become loyal and regular visitors. Offering EV drivers charging opportunities means they're more likely to spend more time — and cash — on your premises while their vehicle charges, leading to increased revenue and better customer retention.
You can also link EV charging with your loyalty programme. Advanced networked charging solutions like ChargePoint integrate with retailers' loyalty programmes via APIs, allowing you to offer drivers an improved driver experience, discounted charging prices and relevant in-store loyalty offers. Moreover, with the extensive roaming network that ChargePoint provides, you can count on EV drivers from everywhere finding your location for a worry-free charging experience.
In other words, the time to tap into this new market segment and set your retail business apart from competitors is now. Retailers across the country and Europe have already started offering EV charging to their customers, or are looking into it as we speak. Offering EV charging services on your premises helps you attract a lucrative new customer segment and generate additional revenue from the charging services — while staying ahead of the curve and making sure you're on EV drivers' radar and staying there.
Investing in EV charging infrastructure may seem like a daunting task, but it doesn't have to be. There is a plethora of funds and incentives for charging infrastructure and green energy production that retailers can tap into. You'll also be able to generate excellent ROI from the charging services, which can help offset the initial investment. Networked EV charging lets drivers find you at no cost, while incentives and subscription pricing make it affordable for any business. If in doubt, our EV charging experts are one click away and happy to help you find the best charging solution for your business.
To stay competitive, European retailers must offer EV charging services. By doing so, they can attract new customers, retain existing ones and diversify their revenue streams. Don't miss out on the chance to be an EV charging pioneer and secure your place as a forward-thinking retailer in the European market.