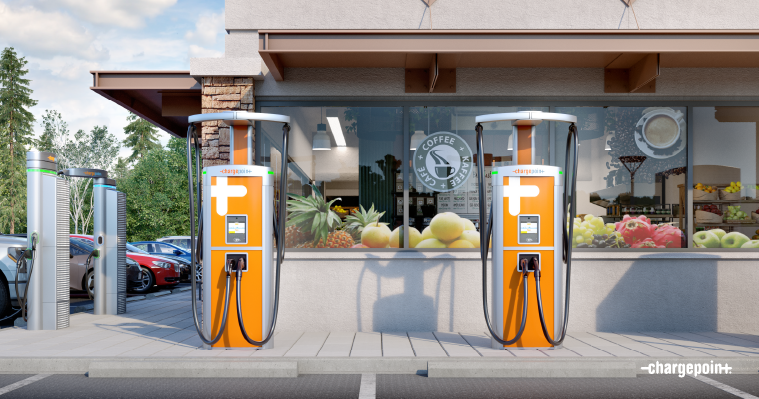 In the UK, every 5th new car sold is an electric vehicle (EV). The UK government is aiming for half of all vehicles and 70% of all newly sold vehicles to be electric by 2030. That is why now is the time for businesses to start serving EV drivers — or risk customers taking their business elsewhere. Our years of experience working with leading retailers have shown us that EV charging can be a huge business opportunity for a wide range of organisations, both in terms of revenue generation and customer loyalty. Here are some tips for how companies can attract drivers and grow revenue with EV charging and loyalty programs.
Align charging speed with your business model
First, let's review the different EV charging speeds and how they can serve customers at different types of businesses. AC fast charging can add 25 to 40 miles of range per hour, making it a good choice for businesses where drivers stay parked for an hour or more. This can include some retail locations, restaurants, theatres or stadiums, and is especially good for workplaces, residential and hospitality locations where drivers stay parked for eight hours or more.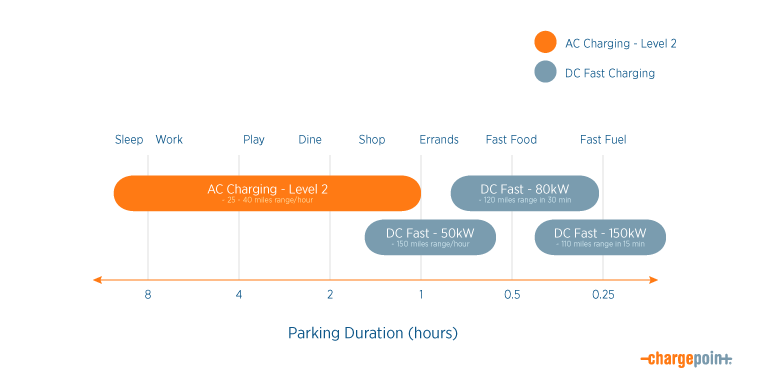 On the other side of the spectrum, DC rapid chargers can add 150 miles of range an hour or even more, making them a good fit for locations where drivers will be parked for a shorter amount of time. This includes fuel retailers and convenience locations, as well as other retail locations such as fast food restaurants. Align charging speed with your business model to ensure a great experience for drivers and more revenue for your business.
Make your retail EV charging location easy to find
EV drivers rely on EV charging apps or in-dash systems to quickly find convenient places where they can charge, including businesses that offer charging. EV drivers will look for their preferred charging brand and appealing on-site amenities or shopping they can leverage while fuelling. When developing your EV charging strategy, make sure to choose a charging partner that makes your location easy to find through a popular app and the ability to easily integrate with other services drivers use, such as Android Auto, Apple CarPlay and in-vehicle systems.
Deliver a premium EV charging experience with a familiar charging brand
Once EV drivers find your business, they'll expect an easy and familiar charging experience, whether it's a charging brand they know because it's already in their home or an in-vehicle experience that's intuitively integrated into their driving habits. You'll bring in more revenue by choosing a charging leader that EV drivers already rely on. You should also ensure that your charging stations are easy to find and use, with clear signage and convenient parking. If it's too hard for drivers to find and use your stations, they'll choose another location and bypass your business entirely. ChargePoint also makes it possible to brand your stations and display videos or offers right on the station, helping bring drivers into your store and increasing their identification with your retail or fuel retail brand.
Increase in-store spending with EV charging
Providing EV charging is a great business opportunity. Charging not only attracts customers to your store and generates revenue but can also increase the amount of time and money customers spend in the store as they wait for their vehicles to charge, which in turn grows your retail revenue. One major retailer found that adding EV charging tripled customers' time in their store and increased customer spend proportionately — with the right approach, charging can do the same for you!
Connect your loyalty program with EV charging
Leveraging loyalty programs and special promotions can bring even more drivers into your store. You can advertise special offers on the charging station itself or through the charging apps that drivers already use, giving drivers even more incentive to join your loyalty program and spend money at your business. Connecting EV charging data with your loyalty program shows how EV drivers are engaging with your brand, correlates charging with in-store spending and provides the basis to demonstrate your return on investment in EV charging.
Understand different EV charging pricing strategies
As a retailer, you have many options available for pricing, including energy dispensed (cost per kWh), time spent charging, a flat rate or a combination of these factors. The pricing strategy that is right for you will depend on your business model, utility rate plan, customer loyalty program design and how long drivers spend at your location. Ensure that you choose a charging provider that gives you flexibility in choosing a pricing strategy. When you're ready to begin driving revenue at your retail location with EV charging, get in touch, and we'll help you choose the right pricing strategy for your business.