Connecting traditional mobility and EV charging: Management and supervision of charging infrastructures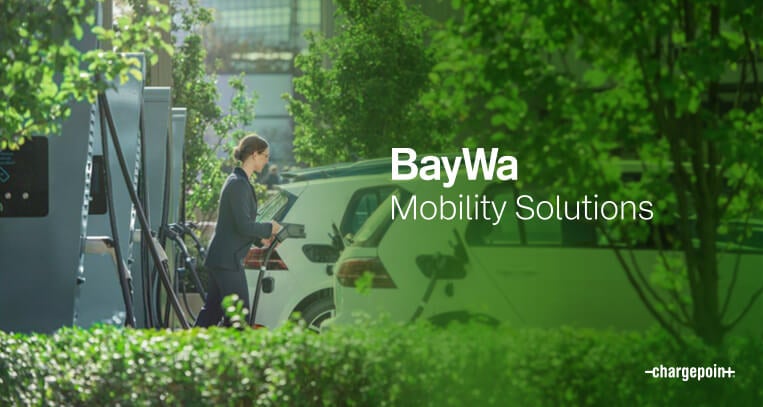 BayWa AG is Germany's largest agricultural sector retailer and a firm with a leading global role in raw farming supplies. Through its mobility arm, the company is increasingly investing in carbon-optimised mobility solutions. Find out how BayWa Mobility Solutions (BMS) used ChargePoint's be.ENERGISED software to grow and automate its charging infrastructure management service.
About BayWa Mobility Solutions
BayWa AG is a globally active company with core interests in agriculture, energy and construction. Using its position as a worldwide player, it develops market-leading solutions and impactful projects around basic human necessities such as food, heating, housing and mobility. The parent company, which was founded in 1923, is based in Munich. Its roots lie in cooperative farming – its original mission was to supply rural areas with all their agricultural necessities. Today the BayWa Group has almost 21,500 workers in 50 countries. In 2021, it generated total sales of over €19.8 billion. BayWa strives for more than half of its profits to be derived from its renewable energy work around the globe.

Founded in 2020, BayWa Mobility Solutions is dedicated to using carbon-optimised mobility solutions to reach the climate goals set out in the German government's Climate Action Program 2030. With climate protection calling for both the decarbonisation of transport and a switch to renewable energy, BMS has already developed the following solutions for the mobility sector:
The BayWa 'Tankkarte' (fuel card), which is accepted at over 3,500 German gas stations as well as 200,000 EV charge points around Europe.
The development of a low-emission network of LNG (liquified natural gas) stations. The first of these, in Wolfsburg, went into operation in January 2020. Now there are more than 10 such sites across Germany, as well a further 49 LNG stations accessible under the BayWa 'Tankkarte' network.
A 360-degree approach to EV charging, with tailor-made solutions throughout the value chain
Essentially, BayWa Mobility Solutions offers carbon-optimised mobility that contributes to their clients' business success – in the process giving them the tools to tackle future mobility challenges efficiently, flexibly, and sustainably. And it doesn't matter what kind of vehicles these clients own, how big their fleet is, or which type of fuel they've used so far. The goal is simply to help get 'new mobility' up and running.
Industry environment
BayWa Mobility Solutions helps businesses and local authorities implement fleet mobility concepts that are both sustainable and viable. This range of services is split between three profit centers: e-Mobility/Light Vehicle, Digital Products/Digital Mobility, Fuel/Charging Cards & LNG/Heavy Vehicles. The strategy is to match fleet clients with suitable products through a consultation approach.
These clients are both infrastructure operators (running their own charge points at gas stations, or in parking lots at BayWa hardware stores and offices) and e-mobility service providers offering charging cards that give both customers and third parties access to their own charging infrastructure, as well as to 95% of Germany's public charging infrastructure via the BMS 'Ladekarte' (charging card).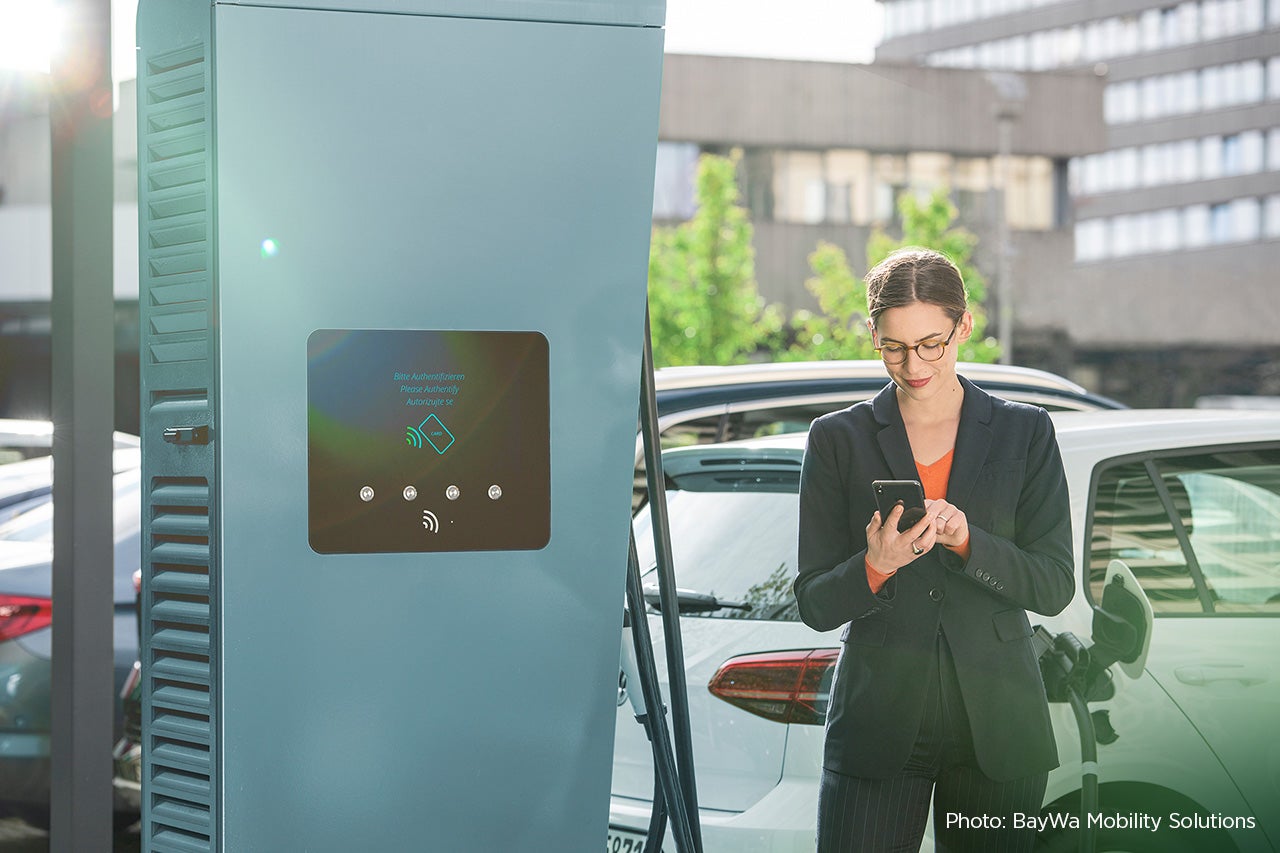 The challenge and the solution
BayWa Mobility Solutions takes a modular, 360-degree approach to EV charging. This frames both an EV charging market entry and any associated challenges as simply and efficiently as possible. It offers tailor-made solutions throughout the value chain:
Fleet and location analysis
Charging infrastructure conception and planning
Load and energy management
Hardware and charging products
Installation and maintenance by BayWa
Ongoing operation of charging stations
In keeping with the basic compliance requirements of Germany's calibration law (Eichrecht), BMS was looking for a hardware-neutral backend software to manage the daily running of its charging infrastructure, including monitoring, analysis, tariff management, and fault resolution. In order to achieve the widest possible connectivity within the e-mobility ecosystem, maintaining existing integrations with the major roaming platforms was essential. At the same time, integration in the backend software of existing BMS IT systems (such as Zauner, an accounting software) also had to be guaranteed. This would in turn mean integration with the BayWa 'Tankkarte' and 'Ladekarte', as well as the customer hotline running directly through BayWa.
Another must for BMS was the ability to offer its B2B clients the option to open up their respective charge points to non-customers. Among other things, this would mean charge points installed by BayWa could be located by external charging apps – and their current availability shown in real-time.
All-in-one Solution: The be.ENERGISED cloud software
The be.ENERGISED cloud software by ChargePoint is a single solution covering all relevant functionalities for both charge point operators (CPO) and e-mobility service providers (eMSP). Working with this solid foundation, BayWa Mobility Solutions could take care of operating its clients' charging infrastructure on an automated basis. It could operate the customer hotline itself, although be.ENERGISED would provide the underlying service.
Integrating be.ENERGISED with the fuel and charging card operating system was an important part of the collaboration. The outcome, thanks to the Open Charge Point Interface (OCPI), was a fully integrated overall system – one that allowed anyone using a BayWa 'Tankkarte' or 'Ladekarte' at its charge points to avoid roaming charges. Now the approximately 100,000 BayWa 'Tankkarten' and 'Ladekarten' in circulation are running on a billing system owned by BayWa Mobility Solutions – and successfully so.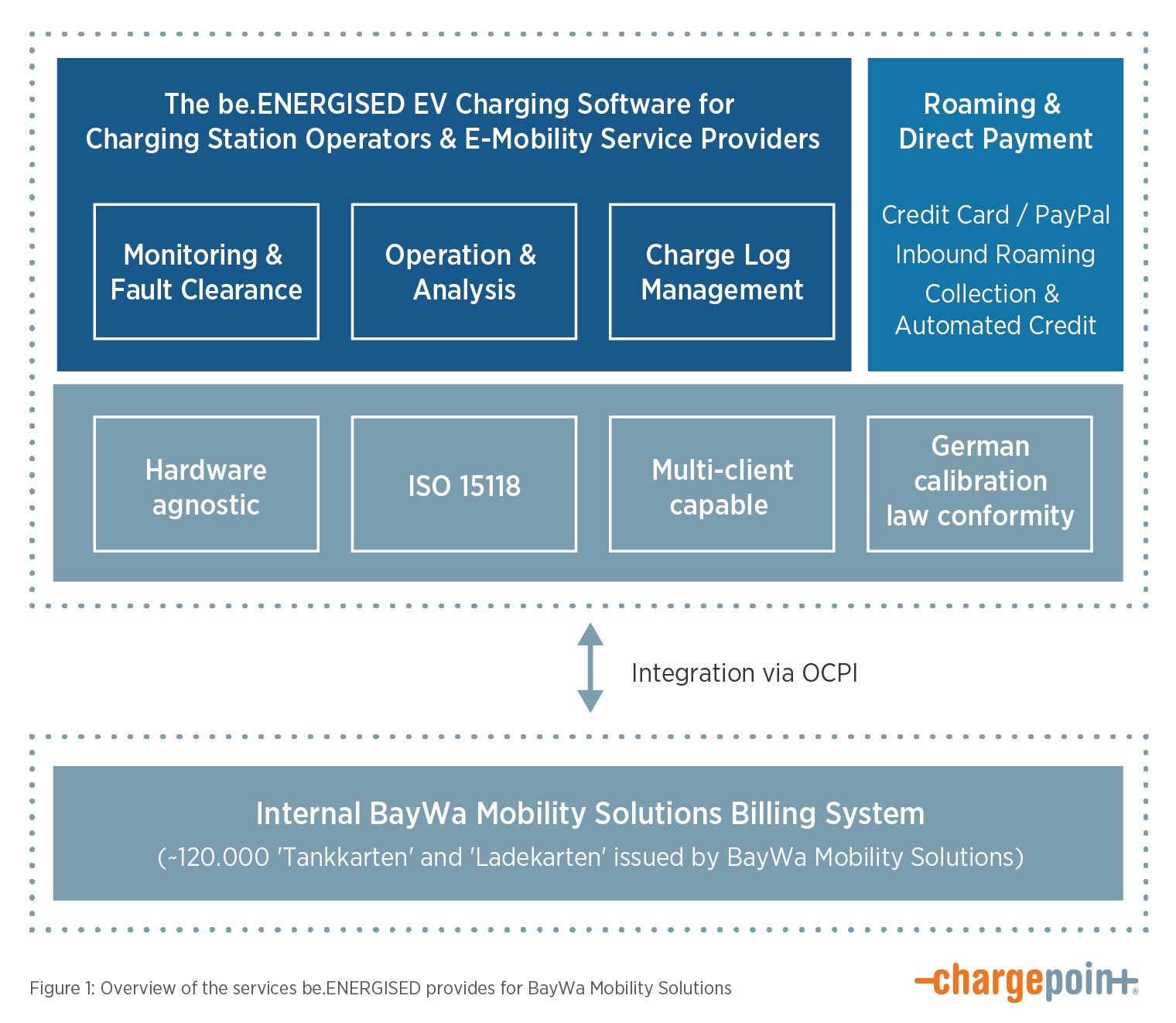 Opening up the charging infrastructure and connecting to the be.ENERGISED COMMUNITY
Thanks to our be.ENERGISED COMMUNITY, we made it possible for BayWa Mobility Solutions' B2B clients to open up their respective charging ports for use by 'non-customers'. Among other things, that means that charging stations installed by BayWa are discoverable by external charging cards and apps. The current availability of such stations can also be displayed. Charging ports that are publicly accessible allow for credit card or PayPal payments, but are also connected to our roaming network. We not only take care of the contractual formalities with the respective mobility providers but also collection – after which we transfer BayWa Mobility Solutions a monthly credit note. Allowing third parties to charge at their infrastructure means BayWa Mobility Solutions' clients benefit from bonus income.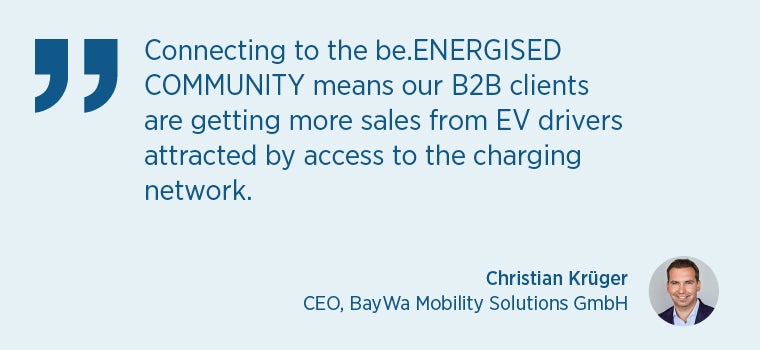 Collaboration highlights and future outlook
This is a fine example of two leading players in their respective industries successfully integrating EV charging into the established framework of traditional mobility and fuel cards. BayWa Mobility Solutions being able to build a new e-mobility ecosystem is the result of a powerful exchange of know-how. This interdisciplinary collaboration took advantage of some major synergies. BMS is using ChargePoint's be.ENERGISED SaaS solution not only to run its own infrastructure but also those installed for its third-party customers. The cloud software takes care of all charging activities at play between vehicle, charging port, and charging card provider. be.ENERGISED ensures that BayWa charging stations accept not only the BayWa 'Ladekarte' but also those of other charging infrastructure operators. This in turn has led to huge growth in customers using the charging infrastructure. As Christian Krüger, CEO of BayWa Mobility Solutions notes "be.ENERGISED has played a significant role in shaping e-mobility sector processes. We see our collaboration as the pooling of know-how between two strong industry players."
One particularly innovative side effect of this collaboration is the way ChargePoint's be.ENERGISED software was able to support BayWa AG in rolling out charging cards with the same functionality and value as established fuel cards. The opportunity to transfer our knowledge as a strong and reliable partner has led to a revolution in the German fuel card market. The BayWa 'Ladekarte' can be used across 95% of Germany's charging infrastructure and is an essential aspect of BayWa AG's current mobility service.
A scalable distribution model for BayWa
Our EV charging software is scalable and updates in parallel with changing requirements and developments on the user's side. In this ongoing collaboration, an operations model has taken shape. This can be processed via be.ENERGISED's multi-client functionalities. It ensures that BayWa Mobility Solutions can guarantee its business clients remote backend access to their respective charging stations, whilst also being able to operate its own (see Figure 2). This allows for a wide variety of business models for important target groups such as property developers, gas station operators, car dealerships, company fleets, hotels, public institutions, etc. Thus the main focus is on a high level of automation, which in turn means a scalable service. As one of our Solutions Partners, BayWa Mobility Solutions thus takes on the role of indirect distribution partner. It's a classic win-win situation.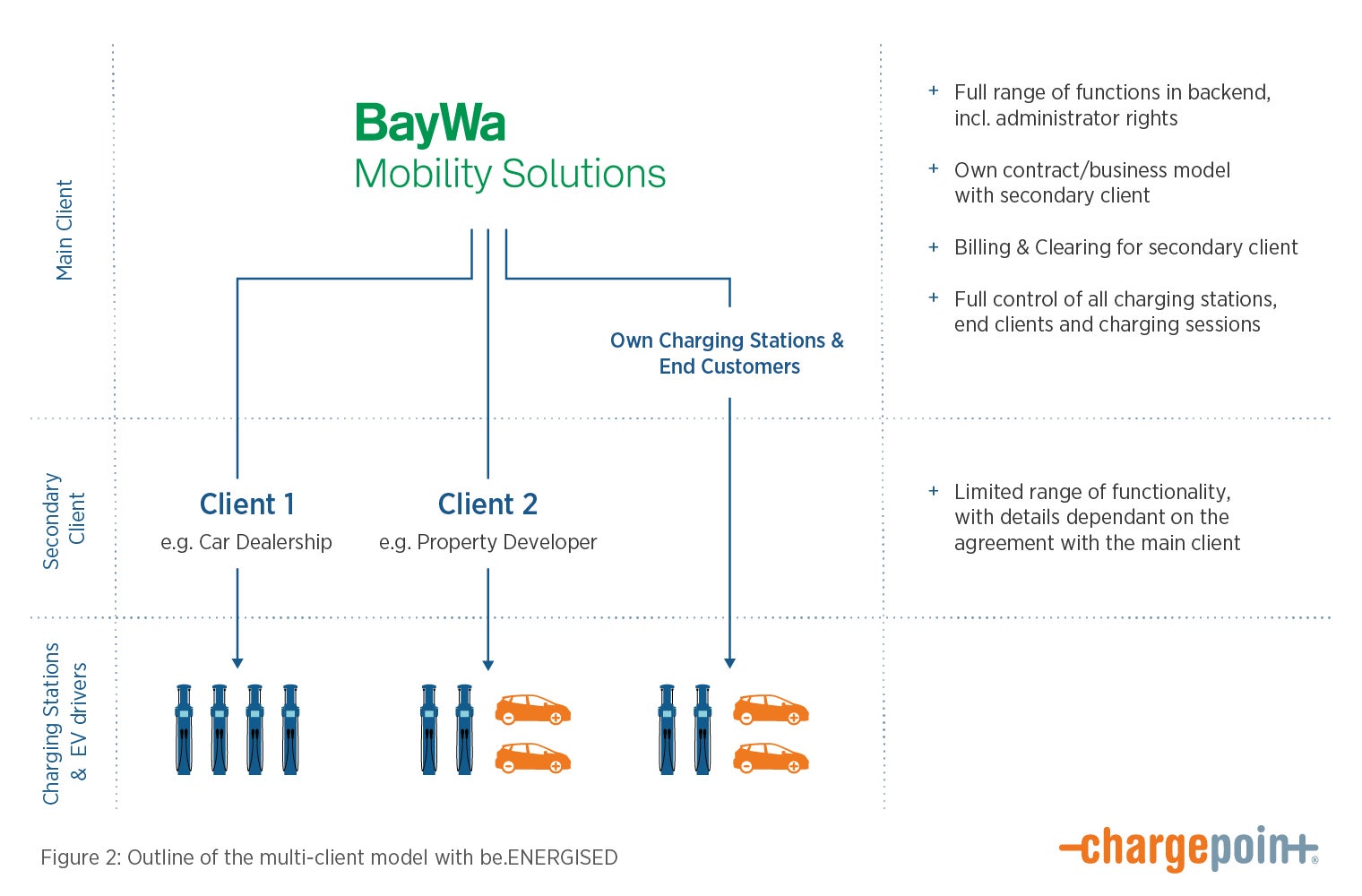 Plug & Charge development initiative
As one of the key factors for a climate-neutral Europe in 2050, transformation in mobility needs to be promoted faster and more effectively. In line with this, existing market barriers need to be destroyed and access to EV charging made easier. That's why ChargePoint is always innovating alongside our partners and customers – we want to get behind this vision and make it a reality. And so we've gone beyond the scope of our collaboration by becoming a member of the Plug & Charge Development Initiative, which was set up by BayWa Mobility Solutions and Hubject. As is widely known, the basic requirement for Plug & Charge is a standardised, secure communications protocol between e-Vehicles and charging stations. A foundation already exists in the shape of the ISO 15118 standard. Yet for Plug & Charge to work in practice, multiple systems need to be able to engage with each other.
That's exactly what this project is about. We're heavily involved in the further development, synchronisation, and connection of the various software systems for Plug & Charge, as well as related communication and authentication processes. ISO 15118 is already an integral part of ChargePoint's future development plan for be.ENERGISED. As a CPO backend, the software has the ability to share the charging card contract details with the charging station. Following a successful pilot implementation, BayWa Mobility Solutions is now in a position to offer simple, secure, and convenient charging at selected charge points – all thanks to Plug & Charge technology.
Want to broaden your core business to include EV charging solutions, becoming a full-service provider for your B2B and B2C customers? We can help you set up a scalable, successful, profitable business model. Learn more about our Solution Partners program.