CPF50 Charging Station
Our Level 2 CPF50 charging station is designed for use in fleet and multifamily applications. For fleets, CPF50 stations are ideally suited for depot charging. For apartments or condos, CPF50 stations are intended for personal charging in assigned parking spots. Available as a single or dual-port station, in pedestal or wall mount and with 5.5- and 7-meter cable length options, the CPF50's flexible configurations are perfect for all your electric fueling needs.
Key features of the CPF50:
Energy Management: Lower both installation and electricity costs with advanced energy management tools such as panel sharing and scheduled charging.
Access Control: Control who can use your charging stations. Assign RFID cards to vehicles or drivers and allow only those approved vehicles or drivers to charge at your stations.
Speed: CPF50 stations deliver charging speeds to get your vehicle back on the road faster, supplying up to 12 kilowatts (kW). Set the station amperage that's right for your installation, from 16 amps to 50 amps.
Think it's a good time to get hooked up with new CPF50 station?
It's as simple as dropping us a line.

Contact Us
---
More Innovative Features
Compatibility: Comes with a standard J1772™ connector that can charge any electric vehicle on the road.
Safe and Reliable: CPF50 stations are cUL listed, meeting the stringent requirements of the nation's leading safety standards organization. CPF50 is also ENERGY STAR® certified for energy efficiency.
Best-in-Class Hardware: CPF50 stations are rugged, tested and built to withstand the elements. They can be installed outdoors or indoors.
Innovative Cable Technology: Keep cables safely off the ground with a self-retracting, maintenance-free, ultra-lightweight cable management system available on select models.
World-Class Support: Our support team is standing by 24/7 to help your drivers. We provide a dedicated, expert technical support team to assist station owners during business hours.
Smart, Networked Charging: Receive automatic software updates that deliver the latest improvements and features. Remotely monitor, manage and configure stations. You can also get real-time station information, track the charging status of all vehicles with Valet view and auto-generate reports.
---
CPF50 Options
The CPF50 is available in single- and dual-port station options and can be installed in a wall or pedestal mount configuration. The CPF50 supports standard 18- or 23-foot cable lengths.
Single Pedestal with CMK
18' or 23' Cable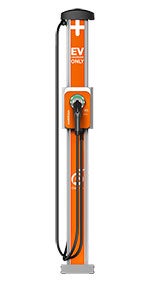 View Gallery
Dual Pedestal with CMK
18' or 23' Cable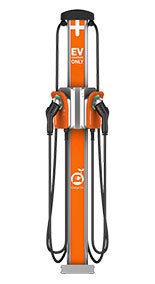 View Gallery
Single Wall Mount with CMK
18' or 23' Cable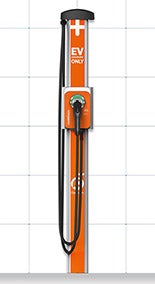 View Gallery