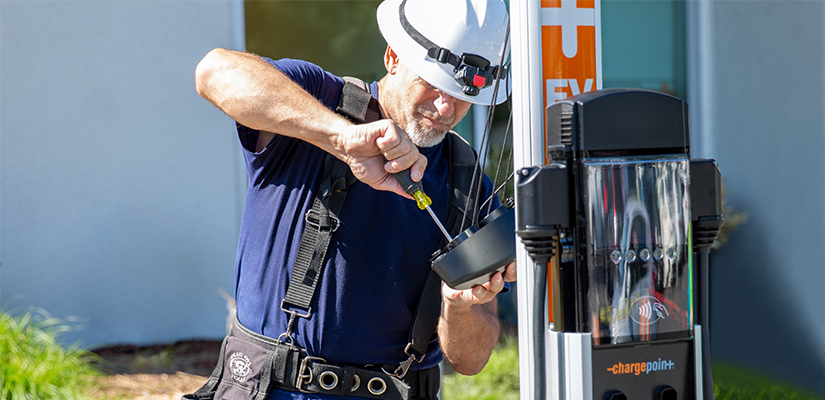 ChargePoint as a Service
ChargePoint as a Service®️ (CPaaS®️) offers flexible deployment options that make it easy to adopt EV charging.
Connect With an Expert
ChargePoint as a Service options
Subscription
Get started with EV charging with a direct subscription to ChargePoint®️ software, hardware and services.
Hosted
Host a station at your retail location for zero cost, attract drivers to your brand and drive in-store sales.
Financed
Work with ChargePoint and a third-party investor to set up charging infrastructure, including site preparation and management.
How CPaaS Subscription works in three simple steps
1
You prepare
Get your site ready for installation — ChargePoint can help if you need it.
2
We install and configure
ChargePoint installs your hardware and configures our software to meet the needs of your business. You control station pricing, access and more.
3
We monitor and maintain
We provide ongoing system monitoring, and our certified technicians handle on-site maintenance if needed. We'll adjust your configurations to fit your evolving needs, and we'll send you monthly reports to help track station metrics.
EV charging your way
You decide how your EV charging implementation supports your organization's business goals.
Choose flexible terms

Choose the option and terms of service that work best for your business.

Avoid upfront expense

Conserve capital expense (CapEx) funds and use annual operating expense (OpEx) funds to pay for your charging infrastructure.

Optimize your investment

Count on proactive monitoring and ongoing system upgrades to protect and future-proof your investment.

Save time and money

Avoid management hassles, while enjoying minimal overhead and a predictable monthly expense.
Get in Touch
---
Learn about companies that chose ChargePoint as a Service
From commercial real estate to parking operators, ChargePoint as a Service makes it easy for businesses to join the electric revolution.
The Post, a QuadReal mixed-use development project in Vancouver city centre, B.C., will include approximately 300 EV-ready parking spaces once it is fully open in 2023. ChargePoint as a Service will give QuadReal more budgetary flexibility to preserve CapEx on the project and take advantage of more predictable OpEx.
Property management firm Robinson Park in Oklahoma wasn't interested in the business of installing and managing EV charging infrastructure. But with ChargePoint as a Service, the firm could provide EV charging to its tenants and customers for a predictable annual cost, without the hassle of managing the day to day.
As a large provider of parking operations services throughout the U.S. and Canada, SP+ spends a lot of time working to explain the need for EV charging infrastructure to parking facility owners. ChargePoint as a Service helps alleviate property owners' concerns about upfront costs and makes it easy for SP+ to add charging to its service offerings.
---