SP+ takes parking to the next level with CPaaS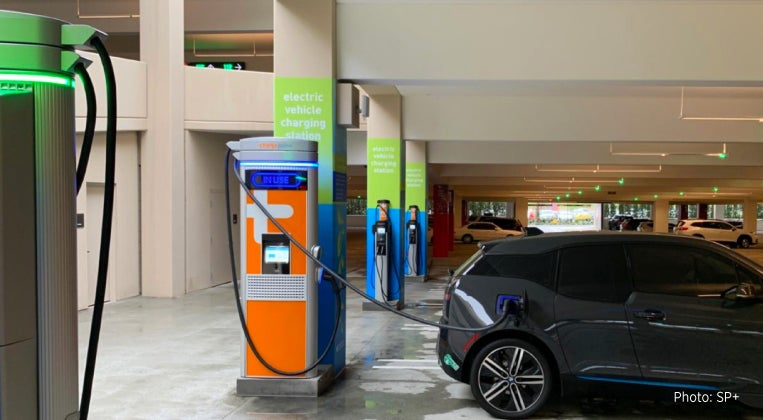 As the largest provider of mobility solutions for the parking and transportation sector throughout the U.S. and Canada, SP+ is at the forefront of a parking revolution. The Chicago-based company's professional services are designed to maximize revenue for parking facility owners and make the parking experience easy and convenient for drivers. SP+ offers everything from technology solutions and marketing services to operations and risk management. And now, as a ChargePoint customer, they're also providing the electric vehicle (EV) charging infrastructure needed to help transform the industry.
The future of parking is now
As the chief growth officer at SP+, responsible for technology, product marketing, digital strategy, revenue management and strategic partnerships, Jeff Eckerling spends a lot of time trying to wrap his head around the future of parking. He works with the SP+ operations teams and meets with auto manufacturers and policy experts to understand what the company's clients need to be a part of that future. EVs and EV charging have been at the center of every one of those conversations.
According to the BloombergNEF (BNEF) 2021 Long-Term Outlook Report, at the end of 2020, EV sales in North America were up 6% year over year. BNEF expects EVs to account for 12% of total vehicle sales in 2025 and 74% of sales by 2040.
"A lot of our clients think of EV charging as an amenity that's needed for their building tenants or existing retail customers who are shopping in the area," Eckerling says. "But many new drivers are going to start coming to our clients' facilities because they know they can charge their car — so it becomes additional parking revenue."
Eckerling hopes clients will begin to think about transforming their parking facilities into mobility hubs, where they serve different purposes, drawing many customers back again and again to take advantage of the offerings there. EV charging then becomes part of the overall business strategy.
ChargePoint helps overcome hurdles
SP+ usually either leases a property and runs it as a parking facility or provides parking operation services to the property owner. In the latter case, adding a new service such as EV charging, which requires an upfront infrastructure build-out, can be a hard sell to clients.
Nevertheless, Eckerling has been a huge advocate for adding EV charging to parking facilities because he believes there is no longer a question of if EVs are going to take off but when, and he wants SP+'s clients to be prepared.
"ChargePoint checked all the boxes. And as soon as we learned about ChargePoint as a Service, it made a ton of sense for us."

Jeff Eckerling
Chief Growth Officer
SP+
One of the biggest barriers Eckerling faces when talking with clients about the changes to come is budget. Many facility owners balk at the perceived costs and complexity of purchasing EV charging equipment and paying for installation, not to mention potential ongoing maintenance and upgrades. In addition, some of Eckerling's clients understand the need for EV charging but just don't know where to start. ChargePoint solutions have helped Eckerling overcome many of these hurdles with his clients.
"We operate in almost every major city in the United States and in Canada," he says. "So we needed a company that could scale with us, to help us get EV equipment out to our facilities across North America."
Before deciding to go with ChargePoint solutions, SP+ looked at a range of others, along with each provider's economic model, and considered whether the model would work for their EV charging–hesitant clients.
"ChargePoint checked all the boxes," Eckerling says. "And as soon as we learned about ChargePoint as a Service, it made a ton of sense for us."
ChargePoint as a Service makes it easy
ChargePoint as a Service (CPaaS) is a subscription solution that allows businesses to conserve capital expenses and instead use operating expenses to set up charging infrastructure. Monitoring and upgrades are included in a simple monthly fee and business owners save both time and money.
"It works well for our clients to pay a monthly fee rather than pay for the assets upfront," Eckerling says. "And they are really grateful to not have to worry about maintenance and upgrades. This business model fits very well with how we run our business and work with our clients."
SP+ typically gives clients a monthly budget for running their parking facility, and CPaaS simply becomes another line item on that budget, making it very easy to explain to clients.
Networked chargers make parking more than just parking
Beyond the ease of the ChargePoint as a Service model, software integration and robust management features help take EV charging to the next level.
The ability to set various prices for different groups of drivers is a key benefit. In mixed-use buildings, for example, SP+ can charge one price for tenants and another slightly higher price for public parking. This capability was not possible before installing ChargePoint solutions at their parking facilities.
The Power Management feature in ChargePoint solutions helps SP+ manage resources at each parking facility. They can charge more vehicles at a time by intelligently distributing electricity among several EVs until a configured power ceiling is reached, helping manage energy usage and save clients money.
In addition, ChargePoint solutions integrate seamlessly with Sphere™, the SP+ technology that brings together a range of capabilities around parking, transportation and mobility services designed to foster a frictionless experience for clients and drivers alike.
The Parking.com feature within Sphere provides clients with a complete inventory management system and marketing solution. Drivers can use Parking.com to find and pay for parking. Information from the ChargePoint app is integrated into Parking.com, providing even more information to SP+ clients and their customers.
"Being able to show people not just that we have EV charging spots, but whether they are currently available, and then enabling drivers to get in line if they aren't — that just makes it stickier for our clients."
With ChargePoint, SP+ can offer facility owners a complete solution that includes site planning advice, a suite of software and services designed to make EV charging management easier, as well as ongoing maintenance and support.
"Being able to show people not just that we have EV charging spots, but whether they are currently available, and then enabling drivers to get in line if they aren't — that just makes it stickier for our clients."

Jeff Eckerling
Chief Growth Officer
SP+
What's in the SP+ crystal ball?
It's an exciting time for Eckerling and parking in general. He dreams about SP+ facilities becoming multifaceted mobility hubs for things like last-mile delivery as well as general EV charging. Last-mile delivery can be time-consuming because of all the necessary stops on a typical delivery route, and Eckerling thinks that providing EV charging stations dedicated to last-mile delivery could speed the process significantly — and increase revenue for parking facility owners.
Things are changing quickly. Eckerling advises his industry peers to prepare now. "EVs are coming. In fact, they're here already, but they're going to start coming at scale, and consumer demands and client demands are going to necessitate that facilities are set up to support EVs. And so preparing now is absolutely key."
At ChargePoint, we believe stories have the power to change the world.
Our customers share their stories because they're passionate about all the ways the electrification of transportation has impacted their organizations. Like many companies around the globe, they've discovered that what's good for the planet can also be good for business. E-mobility is here to stay. Perhaps it's time to tell your own story.
Reach out to us at sales@chargepoint.com and let us know. We'd love to hear it.