ChargePoint Announces Availability of NACS Solutions for New and Existing EV Charging Deployments Enabling Customers to Continue to Serve Any EV in Any Parking Space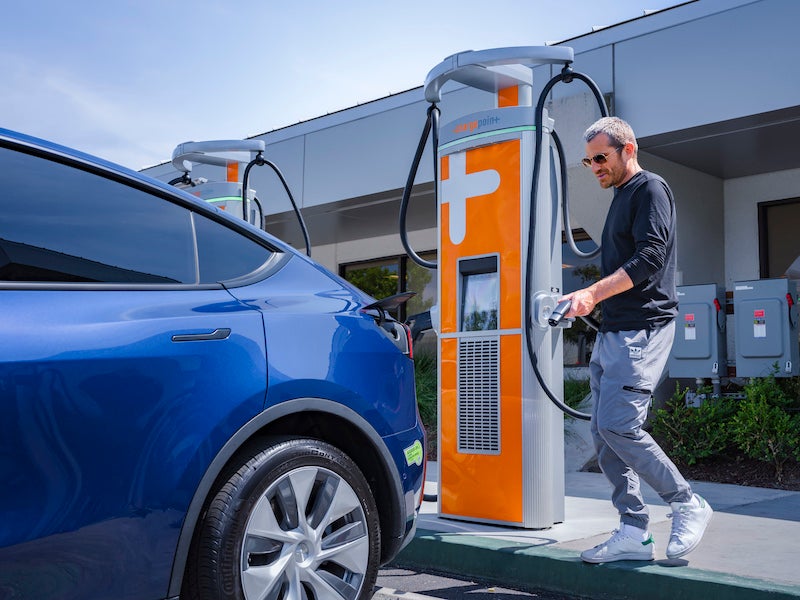 Campbell, Calif., June 27, 2023 — ChargePoint Holdings, Inc. (NYSE: CHPT), a leading provider of solutions for charging electric vehicles (EVs), today announced the availability of NACS connector options for new orders and for currently installed CP6000, Express 250, and Express Plus customers. The addition of NACS enabled solutions, in addition to J1772 or Combined Charging System (CCS) solutions, enables customers to serve the charging needs of any EV in any parking space.
"ChargePoint's 15-year history as a leader in the EV revolution has prepared us for evolving market dynamics, as well as enabled us to predict customer and driver needs," said Bill Loewenthal, Chief Product Officer at ChargePoint. "Our highly modular charging platforms, combined with our new NACS connector options, allow customers to be confident that their investment in EV charging is successful for any connector scenario. We remain committed to developing networked charging solutions that ensure any EV can charge in any parking space."
ChargePoint's DC line of products, the Express 250 and Express Plus, along with ChargePoint's home-based AC line of products, the CPF50 and award-winning Home Flex will be sold or can be reconfigured with NACS connector options later this year. Similarly, ChargePoint's newest commercial and light fleet product, the CP6000 will be sold or can be reconfigured with NACS connector options in early 2024. In addition to improving charging station compatibility with NACS, the ChargePoint mobile app, which allows EV drivers access to more than 743,000 active and roaming ports, currently includes personal location filters for NACS, J1772, CCS and CHAdeMO connectors so EV drivers can easily locate and access the proper charging solution for their vehicle.
Specifically designed to lower the cost of repair and maintenance, most ChargePoint charging stations offer cable modularity, enabling existing site hosts to replace, repair or exchange charging cables and connectors, including NACS connectors as needed. The addition of NACS connector options to ChargePoint's product catalog ensures that customers and drivers will continue to benefit from a seamless, integrated charging experience before an anticipated spike in NACS-equipped EVs enter the U.S. market in 2025.
About ChargePoint
ChargePoint is creating a new fueling network to move people and goods on electricity. Since 2007, ChargePoint has been committed to making it easy for businesses and drivers to go electric with one of the largest EV charging networks and a comprehensive portfolio of charging solutions. The ChargePoint cloud subscription platform and software-defined charging hardware are designed to include options for every charging scenario from home and multifamily to workplace, parking, hospitality, retail, and transport fleets of all types. Today, one ChargePoint account provides access to hundreds of thousands of places to charge in North America and Europe. To date, more than 172 million charging sessions have been delivered, with drivers plugging into the ChargePoint network on average every second. For more information, visit the ChargePoint pressroom, the ChargePoint Investor Relations site, or contact the ChargePoint North American or European press offices or Investor Relations.
Forward Looking Statements
This release includes forward-looking statements, within the meaning of the Private Securities Litigation Reform Act of 1995 relating to, among other things, the timing of the availability of NACS connector product options by ChargePoint, customer adoption of NACS enabled product options and the timing of NACS enabled vehicles entering the U.S. market. Forward-looking statements include statements regarding ChargePoint's expectations, beliefs, intentions or strategies regarding the future, and can be identified by forward-looking words such as "anticipate," "believe," "could," "continue," "estimate," "expect," "intend," "may," "should," "will" and "would" or similar words. These forward-looking statements involve risks, uncertainties, and assumptions, including risks and uncertainties included in the "Risk Factors" and "Management's Discussion and Analysis of Financial Condition and Results of Operations" sections in ChargePoint's Form 10-Q filed with the SEC on June 8, 2023, which is available on ChargePoint's website at investors.chargepoint.com and on the SEC's website at www.sec.gov. Additional information will also be set forth in other filings that ChargePoint makes with the SEC from time to time. Forward-looking statements are not guarantees of future performance and actual results could differ materially from those expressed or implied by the statements made herein. All forward-looking statements in this press release are based on information available as of the date hereof and ChargePoint assumes no obligation to revise or update any forward-looking statements for any reason, except as required by law.
ChargePoint
JP Canton
PST, San Francisco
Vice President, Communications
JP.Canton@chargepoint.com
AJ Gosselin
EST, Boston
Director, Corporate Communications
AJ.Gosselin@chargepoint.com
media@chargepoint.com

Patrick Hamer
VP, Capital Markets and Investor Relations
Patrick.Hamer@chargepoint.com
investors@chargepoint.com