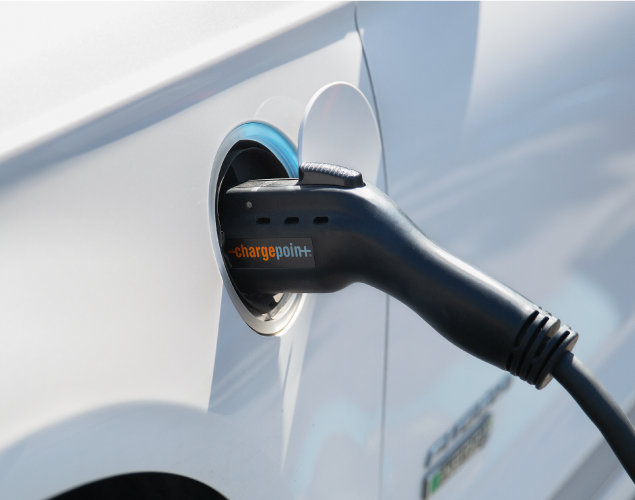 EV Charging 101: Charge, drive and live better
Discover EV charging basics. Going electric is convenient, easy and affordable.
Go Electric
A better way to live
Going electric has never been simpler, easier or more affordable. Switching to an EV can save you time and money while providing you with both personal and sustainable peace of mind.
Save money
Going electric can save you money in a number of ways. Electricity is cheaper than gas, EVs require less maintenance and you can charge when electricity is cheapest to save even more money.
Discover potential savings
Reduce emissions
Switching to an EV is an easy way to reduce your personal emissions and help support the electric revolution to everyone's benefit.
Discover environmental benefits
Embrace convenience
Charging your EV is as easy, seamless and convenient as plugging in your phone. Charge wherever life takes you, whether you're at home, at work, around town or on the road.
Discover places to charge
Which EV is right for you?
Welcome to the wonderful world of EVs. Let us help find the right type of EV for you. Consider size, range, cost and style when choosing your new EV so you can charge, drive and live better.
HEV
Hybrid electric vehicle
An HEV combines an internal combustion engine (ICE) with an electric motor that stores and uses energy from a battery.
PHEV
Plug-in hybrid electric vehicle
A PHEV is a hybrid electric vehicle that has a battery that can be recharged by being plugged in, as well as a combustion engine.
BEV
Battery electric vehicle
A BEV runs 100% on electricity and has the greatest potential for environmental and cost benefits.
EV charging basics
Charging an EV couldn't be easier once you learn the four universal steps. Drive up, plug in and live your best life while your EV charges. It's that simple.
Learn about charging
Find the station right for you
Plug in your car
Unplug when your EV is ready
Charge on with your life
Find the station right for your car and location with an app.
Plug in your EV to begin charging and enjoy the world around you.
Unplug your EV when it's done charging. An app like ChargePoint will notify you so you don't have to wait.
Carry on with your life now that your EV is charged and ready to go.
EV & home station incentives
Take advantage of the incentives that make going electric even easier and more affordable. Federal, state and local incentives exist for both purchasing an EV and a home charging station.
See incentives
Federal tax credit: The federal government offers robust tax credits for purchasing an EV and home charger.
Utility company offers: Many local utility companies give grants and rebates for purchasing a home charger.
State rebates: Many states provide rebates for purchasing an EV and home charger in addition to HOV access.
Charging rate discounts: Save additional money by charging when electricity is cheapest.
Why not?
Skip the gas station and charge at work
Workplace charging is fast becoming a popular employee benefit. Charge your EV affordably while you're already at the office. Win-win.
Learn about charging at work
Charging at home
Charge where you live
Charge at home while you go about your life. Enjoy the peace of mind knowing your EV will always be ready to go when you are.
Level 1 charging
Wall outlet
Level 1 charging involves plugging the cord that came with your EV into your existing wall outlet.
Outlet Type
Standard 120-volt AC outlet
Features
Doesn't require special equipment
Level 2 charging
AC charging station
Level 2 charging is the fastest way to charge your EV at home and requires a special outlet and plug.
Outlet Type
Special 240-volt AC outlet
Charging Time
Faster; provides 10 to 60 miles of range per hour
Features
Faster charging speed than wall outlet
Level 2 smart charging
AC charging station with smart features
Level 2 smart charging combines the speed of Level 2 charging with premium features and high-tech control.
Outlet Type
Special 240-volt AC outlet
Charging Time
Faster; provides 20 to 40 miles of range per hour
Features
Schedule charging
Control charging and more with an app
Connect to your local utility
Track energy costs
Manage energy use
Power your life at any home
Charging your EV at home is possible no matter where you live. Unlock new levels of freedom and convenience with a home charger whether you live in a house, apartment or condominium.
Why not?
Save money with an EV
The average EV owner will save between $800 and $1,000 per year on fueling alone compared to an equivalent gas-powered car.
Charging on the go
Charge around town
Charge your EV as you move through the world. From the office to the open road, charge, drive and live confidently knowing you can find the right station for you and your EV.
AC charging
Level 2 charging
Level 2 public charging is very similar to fast home charging. It's perfect for charging at the office, grocery store or overnight at a hotel.
Charging Time
Familiar; provides 20-40 miles of range per hour
When to use
Perfect for use around town, while running errands and at work
DC fast charging
Level 3 charging
DC fast charging, sometimes referred to as 'Level 3' charging, is your fastest public charging type. It's perfect for charging quickly on the road or when time is scarce. Keep in mind DC charging is more expensive and can impact your battery's lifespan.
Charging Time
Fastest; provides 80% charge in 20 minutes to 1 hour
When to use
Perfect for on a road trip and when you're in a hurry
Compatible plug types
Level 2 public charging works with two plug types.
Compatible plug types
DC or Level 3 public charging works with three plug types.
Driver profiles
EV driver spotlight
Hear from EV drivers themselves why they love the freedom and convenience of their EV lifestyles. Now picture yourself in the driver's seat.
"The money we save on gas and maintenance goes toward activities for our kids and saving for family vacation."
"People should know that driving electric is very affordable and convenient, with charging units all over the country, and abroad! Given the plethora of charging options and locations, there is absolutely no "range anxiety" from driving electric."
"Now that both of our vehicles are electric, we are easily saving $250 in fuel monthly and our maintenance has been reduced to $0."
EV lingo
ICEing
ICEing is NOT sweet like icing. When an ICE (internal combustion engine) vehicle parks in an EV charging spot and prevents an EV driver from charging, an EV driver has been "ICEd." The best thing to do is write an ICE driver a note explaining the inconvenience and importance of EV charging access.
Explore the full EV glossary
Want to learn more?
EV driver support
Excited and want to learn even more? Dive deeper into our extensive EV learning center and explore topics ranging from charging speeds to how to find the right station for you.
Explore the EV Learning Center