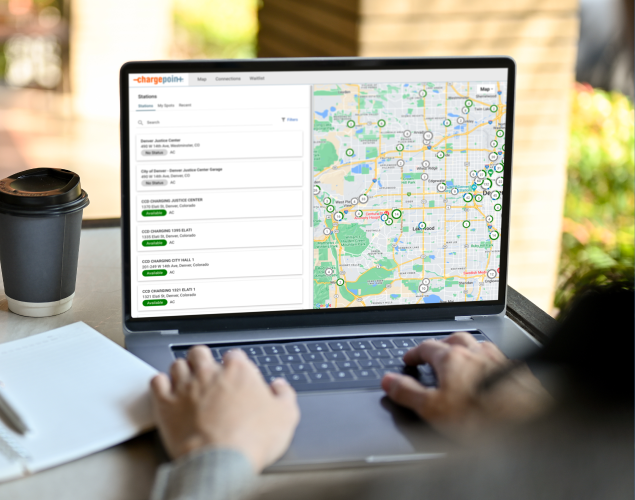 Finding & using stations
Easily find and use EV charging stations
wherever life takes you with ChargePoint.
Find stations
Find. Charge. Pay. Go.
Finding a place to charge your EV has never been easier with ChargePoint.
ChargePoint app
Discover a place to charge from hundreds of thousands of stations with the ChargePoint app. Customize widgets to discover nearby stations on your phone without having to open the app.
Discover the ChargePoint app
Car integrations
Connect your car to Apple CarPlay and Android Auto to access important information while on the road.
Learn more about car integration
Driver portal
Use the charging map to find the right EV charging station for you from the largest global EV charging network.
Explore the charging map
How to charge
Get to know our stations
Charging at a ChargePoint or roaming partner station in the world's largest EV charging network is easy, affordable and convenient.
Start charging
Start charging your way
Start charging instantly however you choose, with many convenient ways to begin a session at your fingertips.
ChargePoint card
Tap your ChargePoint RFID card to start charging at ChargePoint or roaming partner stations.

Remote start
Press the "Start Charge" button in your ChargePoint app to begin charging at all ChargePoint and certain roaming partner stations.

Tap to Charge
Tap your Apple or Android phone on a ChargePoint station to start charging.

Smart watch
Your Apple or Wear OS smart watch allows you to start charging with Tap to Charge using your digital wallet at any ChargePoint station.

Scan QR code
Use your ChargePoint account to start charging at certain roaming stations with a QR code. Just press the "Scan QR code" button in the app, then scan the station's QR code to begin your session.

Credit card
While not as convenient as using a free ChargePoint account, contactless credit cards, digital wallets and pay-by-phone will allow you to start a session without a driver account.
Why ChargePoint
Activate your free ChargePoint account to charge, drive and live better.
Access the world's leading charging network with one free account
Get 24/7 global driver support
Find and use stations globally
Track all your charging with one account and app
Start charging instantly
See real-time station availability
Sign up