ChargePoint announces the nation's top 10 cities for EVs
Los Angeles Surges Past Austin, While Recent EV Growth in Atlanta and Denver Propel Them to Top-City Status in Annual Ranking
Campbell, Calif.– ChargePoint – the world's largest electric vehicle (EV) charging network – today released a list of the top 10 friendliest metropolitan areas for EV drivers. The San Francisco Bay Area (including San Francisco, Oakland and San Jose) led the nation, followed by Los Angeles, Seattle, San Diego and Honolulu.
Equating for population differences, ChargePoint scored the cities based on the number of EVs on the road and the number of charging stations available on the ChargePoint network as of December 31, 2014. The regions are core based statistical areas as defined by the Census.
"Although the West Coast continues to lead the nation in EV friendliness, the fact that cities like Atlanta and Denver broke into the top 10 demonstrates that this is not regional trend, but that our nation is quickly transitioning from gas powered cars to EVs." said ChargePoint CEO Pasquale Romano. "In cities across the country, it's becoming easier than ever to drive an EV – and that's good news for our industry and for our environment."
Although Los Angeles leads the nation in terms of registered EVs (nearly 57,000), the San Francisco Bay Area takes top billing after accounting for population differences (more than 48,000 EVs). Austin fell to the number-six ranking after having held the number-four spot on the 2013 list; Washington, DC and Boston, MA fell from the ninth and tenth spots, respectively, while EV infrastructure growth and registrations propelled Atlanta and Denver into the top 10. Check out how this year compares to last year's list.
ChargePoint's Top 10 EV-Friendly Metropolitan Areas:
San Francisco Bay Area, CA
Los Angeles, CA
Seattle, WA
San Diego, CA
Honolulu, HI
Austin, TX
Detroit, MI
Atlanta, GA
Denver, CO
Portland, OR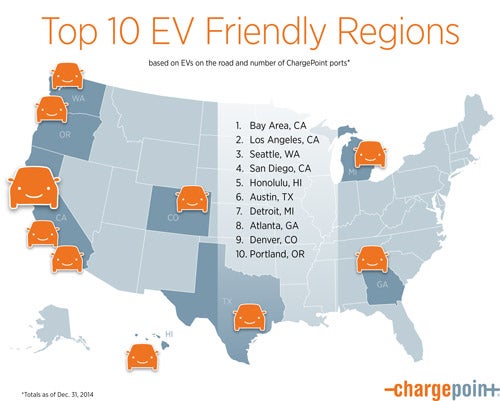 Download the Top 10 Cities for EVs Map
---
About ChargePoint
ChargePoint operates the world's largest electric vehicle (EV) charging network, with more than 20,000 spots to plug in and charge. We are transforming the transportation industry by providing the charging stations, mobile apps, analytics and the charging network that allow property owners and drivers to benefit from EV charging. We are also transforming the energy industry by providing intelligent solutions to help people and businesses shift away from fossil fuels and use electricity more efficiently. Our mission is to get all drivers behind the wheel of an EV and provide them a place to charge whether at home, at work, around town or out-of-town.
More than 165 million gas-free miles have been driven on our network, and our drivers have collectively avoided more than 6.9 million gallons of gasoline and 51 million pounds of CO2 emissions.
For more information about ChargePoint, visit www.chargepoint.com or on Twitter @ChargePointnet.