ChargePoint Home from $499: the World's Most Advanced Home EV Charger
Networked Station Will Go on Sale Summer 2015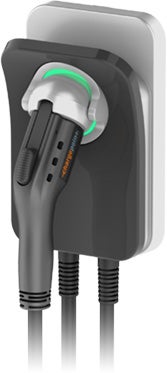 Campbell, Calif. ChargePoint Home, a smart and beautiful home electric vehicle (EV) charger will be available to order on Amazon later this summer. The price of the networked station ranges from $499 to $749.
"ChargePoint Home delivers the same seamless charging experience ChargePoint users have come to count on at work and around town – and now it's conveniently available in a driver's own garage," said ChargePoint CEO Pasquale Romano. "A Wi-Fi enabled, networked, EV charging station gives drivers freedom by allowing them to remotely start, schedule and set reminders for charging, all through their mobile app."
Introduced at CES in January, ChargePoint Home is the most advanced home EV charger on the market offering speed, convenience and intelligence all in an ultra-sleek and durable design.
ChargePoint Home's price varies based on power level, installation type and cord length. The station is available as a 32 amp station that can deliver a maximum of 25 miles of Range Per Hour (RPH), or a 16 amp station that can deliver a maximum of 12 RPH. Cords are available in 12, 18, and 25 feet. The station can be installed either indoors or outdoors, is available in a plug or hardwired version, and has a universal J1772™ connector that is compatible with all EVs on the road today.
ChargePoint Home is integrated with a driver's ChargePoint account so they can see residential, public and workplace charging via their mobile app. Drivers can also view their energy usage and how many miles they've added during a charging session depending on their car. Plus ChargePoint Home works with Nest so drivers can save on energy costs.
Earlier this year, ChargePoint announced the Multi-Family Home Service which gives apartment and condominium residents convenient charging at home.
Drivers can learn more about ChargePoint Home and get on the waitlist at www.chargepoint.com/home.
---
About ChargePoint
ChargePoint is the largest and most open electric vehicle (EV) charging network in the world, with more than 22,300 charging locations. Ranked #1 by leading independent research firm, Navigant Research, ChargePoint makes advanced hardware and best-in-class cloud based software. ChargePoint's open network is utilized by many leading EV hardware makers and encourages all EV charging manufacturers to join.
ChargePoint's real-time network information including the availability of charging locations throughout the nation is available through the ChargePoint mobile app, online and via the navigation systems in top-selling EVs including the new BMW i3 and the Nissan LEAF. A driver connects to a ChargePoint station every 6 seconds and by initiating over 10 million charging sessions, ChargePoint drivers have saved over 9 million gallons of gasoline and driven over 220 million gas free miles.
For more information about ChargePoint, visit www.chargepoint.com, www.facebook.com/chargepoint or follow us on Twitter @ChargePointnet.