ChargePoint Partners with LeasePlan USA to Enable Fleets to Electrify
The two companies have entered into an agreement to accelerate transition to EVs across company fleets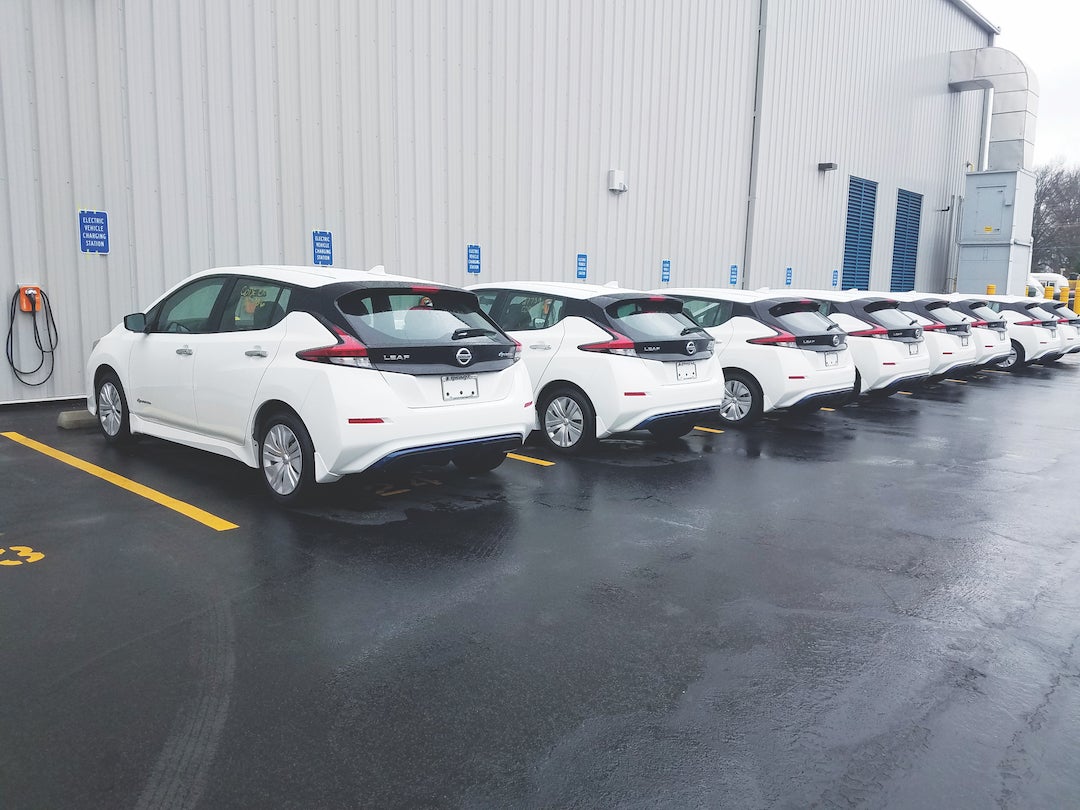 Company car fleet charging at a Level 2 charging station.
Campbell, Calif. and Alpharetta, Ga.– April 13, 2021 – ChargePoint, Inc.,(NYSE:CHPT) a leading electric vehicle (EV) charging network, and LeasePlan USA, a global leader in fleet management and driver mobility services, have announced an agreement to enable the accelerated transition to EVs across company fleets. Together in partnership, ChargePoint and LeasePlan will provide software, networked EV charging hardware, and services with end-to-end support from installation to deployment and management for LeasePlan clients to help make the transition to electric more seamless.
Through the partnership, LeasePlan will work with ChargePoint to offer their clients across the United States solutions to electrify their company car fleets, providing access to a comprehensive portfolio of software, networked hardware solutions and services to enable fully-managed EV charging at home and work. At-home charging is an essential component for LeasePlan clients, and ChargePoint's cloud subscription solution provides the tools to manage and track pricing, manage energy and more. In addition to home charging services, LeasePlan clients will have access to most of ChargePoint's more than 110,000 activated places to charge on its network with additional access to thousands more public places to charge across North America through roaming agreements with other EV charging networks.
"LeasePlan has an unwavering dedication to a more sustainable future paired with the promise of enablement and convenience for our clients. With EVs on the rise here in the U.S., we are already at the heart of this exciting opportunity. Our partnership with ChargePoint allows us to further support the adoption of electric vehicles in a way that is more easily attainable to our clients," said Matt Dyer, CEO LeasePlan- USA. "This partnership will be a key factor in our EV100 promise to achieve net zero emissions across our 1.9 million vehicle customer fleet by 2030."
"ChargePoint is committed to increasing the adoption of electric mobility and the agreement with LeasePlan will help accelerate the shift to electrification across a wide range of fleets," said Michael Hughes, Chief Revenue Officer, ChargePoint. "ChargePoint has remained focused on building a platform to enable EV charging for more than a decade, with a single portfolio designed to meet the unique needs of any fleet. We partner with companies like LeasePlan to ensure the transition is seamless along every step of the journey to electrification. Partnering with LeasePlan is a blueprint for how charging companies and fleet management services can collaborate to help companies meet sustainability targets, drive down maintenance and operation costs and, ultimately, move more people and cars on electricity now and into the future."
LeasePlan, the leading fleet management company in electrification, is actively transforming the fleets of major U.S. and global clients through its Electric Vehicle (EV) consultancy program. The program assesses a client's sustainability goals, designs a specific EV program relevant for the US marketplace, and provides financial modeling for the transition from Internal Combustion Engine vehicles (ICE) to EV and Plug-in Hybrid Electric Vehicles (PHEV). LeasePlan also supports a successful launch and adoption of the program, in collaboration with its clients, with clear change management communication initiatives, order and driver management, support on energy choices and training sessions to ensure the transition to electrification is as seamless as possible.
About ChargePoint
ChargePoint is creating a new fueling network to move people and goods on electricity. Since 2007, ChargePoint has been committed to making it easy for businesses and drivers to go electric with one of the largest EV charging networks and a comprehensive portfolio of charging solutions available today. ChargePoint's cloud subscription platform and software-defined charging hardware are designed to include options for every charging scenario from home and multifamily to workplace, parking, hospitality, retail and transport fleets of all types. Today, one ChargePoint account provides access to hundreds-of-thousands of places to charge in North America and Europe. To date, more than 90 million charging sessions have been delivered, with drivers plugging into the ChargePoint network approximately every two seconds. For more information, visit the ChargePoint pressroom, the ChargePoint Investor Relations site, or contact ChargePoint's North American or European press offices or Investor Relations.
About LeasePlan
LeasePlan is one of the world's leading Car-as-a-Service companies, with approximately 1.9 million vehicles under management in over 30 countries. Our core business involves managing the entire vehicle life-cycle for our clients, taking care of everything from purchasing and maintenance to car re-marketing. With more than 50 years' experience, we are a trusted partner for our corporate and mobility service clients. Our mission is to provide what's next in sustainable mobility, so our customers can focus on what's next for them. Find out more at www.leaseplan.com