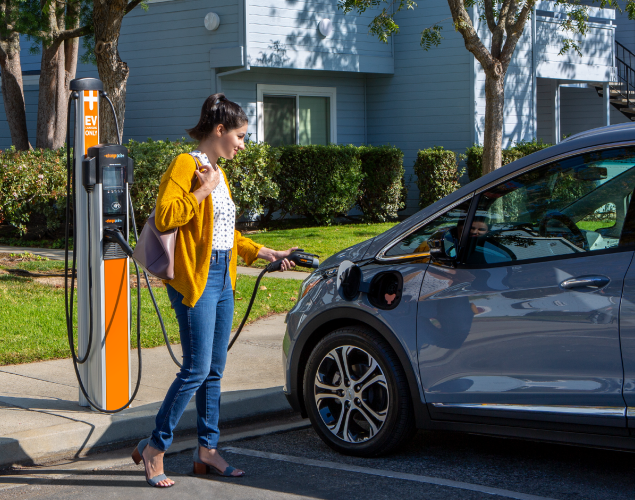 EV charging for condos
How to get your HOA or property manager to
say yes to electric vehicle charging
Turn your parking spot into your own personal fueling station
Most electric vehicle (EV) charging takes place at home or work, so why shouldn't you be able to charge where you live?

With EV charging solutions from ChargePoint, you'll wake up recharged knowing you'll always be able to get to wherever the day takes you.
Find the right EV charging options for your property
Four easy steps to get started
Getting EV charging at your condo doesn't have to be hard. Set yourself up for success by following these simple steps:
EV charging for any scenario
Charging at your condo is easy and convenient, no matter where you park. Take these options to your HOA or property manager to get started.
ChargePoint makes condo charging make sense
ChargePoint is the leading and most open EV network in North America. 
Property advantages
Increase property value.
Help owners sell their properties fast.
Manage energy usage and costs.
Reach property sustainability goals.
Comprehensive guidance
Access financing options that make any project attainable.
Get industry-leading advice on incentives. 
Make installation a breeze for your electrician with detailed specs — or use one of our validated teams for quick and painless installation. 
---
"The real decision point [for going electric] was when my condo building installed four ChargePoint chargers into our underground, making charging my car a breeze. ... Plugging in my car is just as easy as plugging in my phone at night."
Trevor
EV driver and condo owner in Canada, Trevor
---
What to tell your HOA or property manager about EV charging
Charging attracts residents, increases satisfaction and meets sustainability goals.
Approximately 59% of Gen Z, 56% of millennials and 48% of Gen X members want to buy an EV.
More than 50% of residents think EV charging is required infrastructure.
Incentives are available to fund EV charging at multifamily properties.
Ready to talk to your HOA?
Let us help. Personalize the attached letter (or write your own). You can also share this page so they can see the benefits for themselves.
Download this letter
Dear [HOA BOARD MEMBER/COMMUNITY MANAGER],
I hope you're well. My name is [YOUR NAME], and I live at [YOUR ADDRESS]. I truly love living in this community, which is why I feel compelled to write to you today. I've always been impressed with your timely responses to resident needs, so I hope you can help me regarding my current situation.
Like me, you've probably noticed a lot more electric vehicles (EVs) on the road lately. In fact, with all the new incentives available and rules designed to phase out gas-powered cars in the coming years, I can't imagine purchasing anything other than an EV for my next car. I know many of my neighbors feel the same way. That brings me to my question. Have you thought about offering EV charging to residents?
According to my friends who already drive electric, one of the main advantages is being able to charge their car at home. (In fact, statistically, most people do just that — upward of 90% according to most sources.) Most of the people I've spoken to would even be willing to pay a little extra for the privilege. Also, with the recent EV incentives from the government for both cars and charging infrastructure, it may make sense from a business perspective to consider offering it sooner rather than later too.
I'd love to hear your thoughts and to chat more about this. Since it looks like EVs are here to stay, I really believe this could be a win-win for everyone. Thank you and I look forward to hearing from you soon!
Sincerely,

[NAME]
[PHONE]
[EMAIL]
---
EV charging for condo owners: FAQ
Getting EV charging at your condo can be complicated. We're here to help. Here are answers to some questions that condo owners like you frequently have about EV charging at home.