ChargePoint Receives CDFA Division of Measurement Standards' Type Approval for Publicly Accessible EV Charging Stations
California drivers have access to certified commercially available Level 2 stations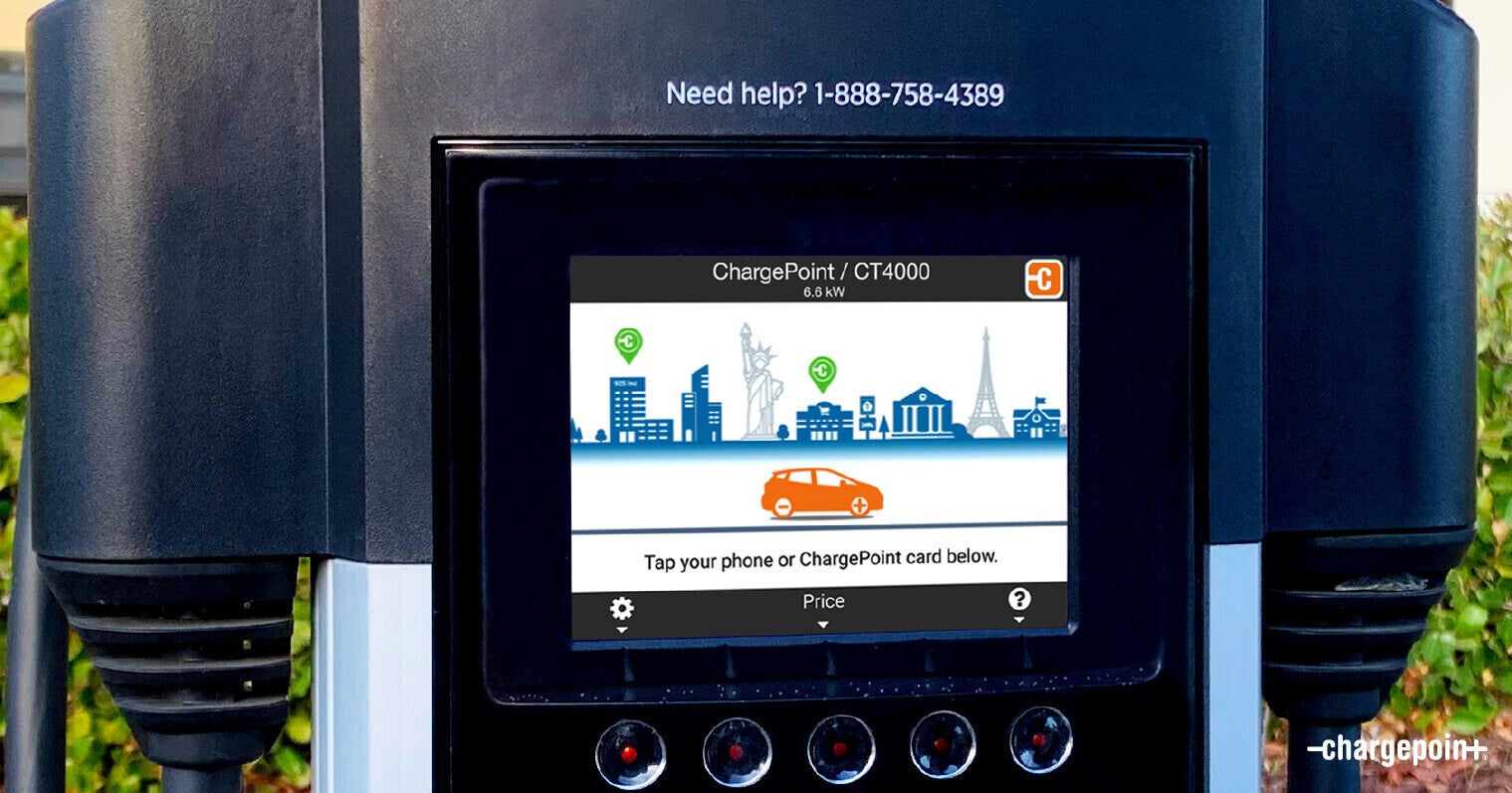 The display on a Level 2 ChargePoint charging station.
Campbell, Calif. – May 20, 2021 - ChargePoint, Inc. (NYSE:CHPT) a leading electric vehicle ("EV") charging network, announced today that it is among the first electric vehicle supply equipment (EVSE) providers to be awarded the California Department of Food and Agriculture's (CDFA) Division of Measurement Standards (DMS) California Type Evaluation Program (CTEP)  approval for Level 2 charging stations. Drivers on the ChargePoint network now have access to publicly used commercial charging stations that, through the requirements laid out in this approval, ensure those drivers receive the number of kilowatt-hours (kWh) for which they pay.
"At ChargePoint, we believe that consumers have a right to know what they're paying for, and that's why we've helped to draft the original national guidelines adopted by the National Conference on Weights and Measures, and why we've made sure our solutions can meet the California Electric Vehicle Fueling Systems Specifications" said Eric Sidle, Senior Vice President, Engineering, ChargePoint. "Looking beyond California, ChargePoint will promote adoption of similar regulations across the nation. These regulations are good for the industry and good for consumers."
ChargePoint's charging solutions are in full compliance with the California Electric Vehicle Fueling Systems Specifications and comply with the following guidelines:
Each of ChargePoint's charging stations in California has received a safety certification by a nationally recognized testing lab

All publicly used commercial charging stations  include an easy-to-read user display

Pricing is clearly displayed and easily understood

Stations display voltage ratings, type of current and max power, and temperature limits

Stations display the quantity of electricity delivered
About ChargePoint 
ChargePoint is creating a new fueling network to move people and goods on electricity. Since 2007, ChargePoint has been committed to making it easy for businesses and drivers to go electric with one of the largest EV charging networks and a comprehensive portfolio of charging solutions available today. ChargePoint's cloud subscription platform and software-defined charging hardware are designed to include options for every charging scenario from home and multifamily to workplace, parking, hospitality, retail and transport fleets of all types. Today, one ChargePoint account provides access to hundreds-of-thousands of places to charge in North America and Europe. To date, more than 90 million charging sessions have been delivered, with drivers plugging into the ChargePoint network approximately every two seconds. For more information, visit the ChargePoint pressroom, the ChargePoint Investor Relations site, or contact ChargePoint's North American or European press offices or Investor Relations.