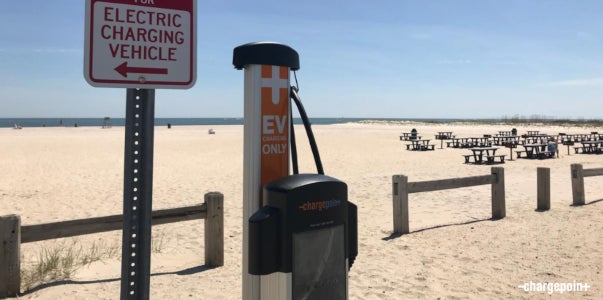 As an EV driver, you probably already appreciate the environment. But even if you're not much of a tree hugger, you likely love the beach in summer. Here are 13 cool beaches you can check out this summer in your EV, each with a convenient place to charge nearby.
Does it take too long to charge up at home before you head out? Consider getting a faster home charger, at 20% off for a limited time.
Canada
West Coast
East Coast
Canada
Shawnigan Lake, BC
Shawnigan Lake Community Centre on Vancouver Island, British Columbia, offers a convenient charge for anyone who wants to swim or boat in the lake. The nearby Shawnigan Lake Museum showcases the area's history and the Village Chippery offers a place to grab a bite.
Charge at Shawnigan Lake Community Centre
2804 East Shawnigan Lake Road, Shawnigan Lake, British Columbia, Canada
West Coast
Long Beach, WA
No, not that long beach. Long Beach, Washington, is a small beach town perfect for summer trips in the Pacific Northwest. Washington beaches aren't always balmy, so warm up at Long Beach Coffee Roasters if you're brave enough to brave the water. If swimming isn't your thing, rent a kite after getting inspiration at the World Kite Museum or check out Washington State International Kite Festival is the third week of August. Film fanatics can make a 20-mile trip down to Astoria, Oregon, to see the Oregon Film Museum in the city where Goonies and Kindergarten Cop were filmed.
Charge at Long Beach 
406 Oregon Ave S, Long Beach, WA
Lincoln City, OR
This Oregon Coast city is breathtakingly beautiful and brings together culture and commerce. Take in amazing artwork at the Jennifer Sears Glass Art Studio or get a deal on new threads at the Lincoln City Outlets. You also get two beaches in one: face the mighty Pacific or turn inland for a warmer swim at Devil's Lake State Recreation Area. Starting in October, you can participate in Finders Keepers by looking for a glass float on the beach.
Charge at Lincoln City Parking
1601 NE 15th St, Lincoln City, OR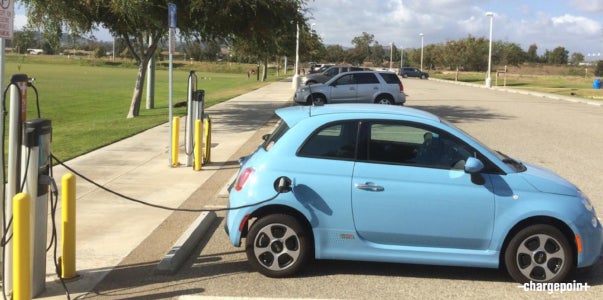 Ventura, CA
Ventura is a cute beach town with great views of the beautiful Santa Barbara Islands. The stations pictured above are near the Ventura Aquatic Center.
Charge at the Ventura Aquatic Center
901 S Kimball Rd, Ventura, CA 93003
Santa Barbara, CA
Pull up and park near Santa Barbara Harbor, then set sail on a fun adventure: rent a boat, surf or just relax on Leadbetter Beach, get your fun on at Stearns Wharf or look to the past at the Santa Barbara Maritime Museum or Museum of Natural History. No matter which option(s) you pick or when you go, you'll have a beachin' good time in Santa Barbara.
Charge at the Santa Barbara Harbor Parking Lot
401 Shoreline Dr, Santa Barbara, California, 93109
Pismo Beach, CA
Walk straight from your room to the beach while charging up at the Kon Tiki Inn or get out and explore the Pismo Beach area: hide in a dinosaur egg at Dinosaur Caves Park or get some sand between your toes at Oceano Dunes Natural Preserve. Although the swimming's great in summer, October through February is the right time to go to the monarch butterfly garden. As this location offers a fast charger, it's also a good chance to add range on a road trip along the 101.
Charge at the Kon Tiki Inn
1621 Price St, Pismo Beach, CA
Carlsbad, CA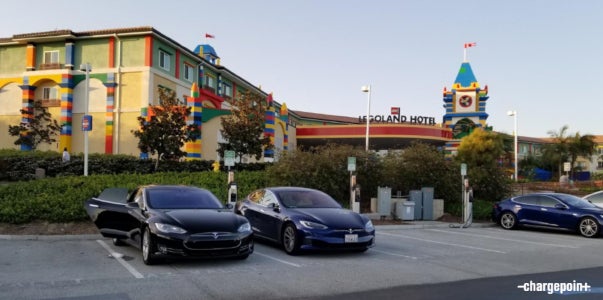 Carlsbad has beautiful and warm beaches for surfing, biking or just strolling. It's also minutes from Legoland to keep the kids entertained. Charge your car while the kids play with Legos or build sandcastles: let them pick or do both on your trip.
Charge at Legoland
1 Legoland Drive, Carlsbad, California 92008
East Coast
Cape Cod, MA
Get your beach on at Sandy Neck Beach in Barnstable. This six-mile barrier beach has fabulous views, but it's rather rocky, so keep your shoes on. If soft sand's what you need, give Breakwater Beach a try. First, get a fast charge at Whole Foods while you stock up on snacks.
Charge at Whole Foods Market
990 Iyannough Rd, Barnstable, MA 02601
Nantucket, MA
For the full Cape Cod experience, take the ferry from Woods Hole or Hyannis Port to Nantucket, where you can do absolutely everything New England, from sample fresh lobster rolls to visit a historic lighthouse. There are also plenty of beaches, such as Madaket and Jetties, for catching some rays on Nantucket.
Charge at White Elephant Village
19 N Water St, Nantucket, MA
Jersey Shore, NJ
This is a convenient place to charge on your way to or from a weekend of partying on the Jersey Shore. Check out a show at the Stone Pony, where Springsteen and Bon Jovi got their start, or just soak in the sun and sand on the beach. (Sorry, Snooki sightings not guaranteed.)
Charge at Neptune Township - Midtown
1155 Corlies Ave, Neptune City, New Jersey 07753
Virginia Beach, VA
Dolphins, adventure courses, boat rides: Virginia Beach has it all. Oh yeah, and charging too. You'll never be bored or run of range here.
Charge at Virginia Beach EVSE
4505 Main Street, Virginia Beach, VA
Outer Banks, NC
North Carolina's Outer Banks are a little-known beach treasure. Get your #OBX on at the shore or visit Kitty Hawk, where the first manned flight occurred, and dream of an eVTOL ride. This station is at an outlet store, so it's also a chance to stock up on any beach gear you need.
Charge at Tanger Outlet Center at Nags Heads
7100 S Croatan Hwy, Nags Head, NC 27959
Miami, FL
Welcome to Miami, where you can charge your car while you hit the beach, till the break of dawn or until a kiddie meltdown, depending on your situation.
Charge at Whole Foods Market South Beach
1020 Alton Rd Miami Beach, FL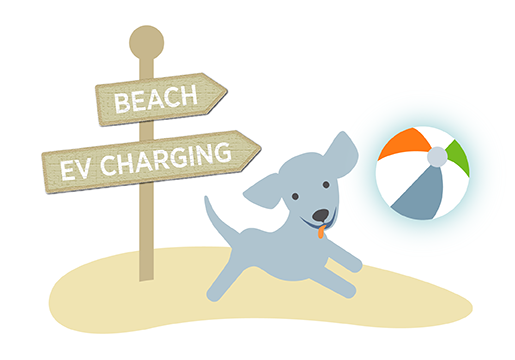 Don't see a beach near you? Search for your favorite beach in our app.
(Remember, you'll have no problem leaving home for your beach trips with a full battery if you get a faster home charger—available at 20% off for a limited time.)