Does your sustainability program include electric vehicles (EVs)? If not, why not? In my experience working with organizations of all kinds and sizes, workplace EV charging can be one of the best and fastest ways companies can achieve their business goals. EVs can reduce harmful greenhouse gas (GHG) emissions by 50% or more compared to internal combustion engine (ICE) vehicles. As more people begin driving EVs, they'll need a place to charge. By offering EV charging at your workplace, you'll not only provide your customers and employees a much-needed service, you'll involve them in your sustainability initiatives. Here are five great reasons to make EVs a part of your sustainability plan:
1. EV Adoption Is Exploding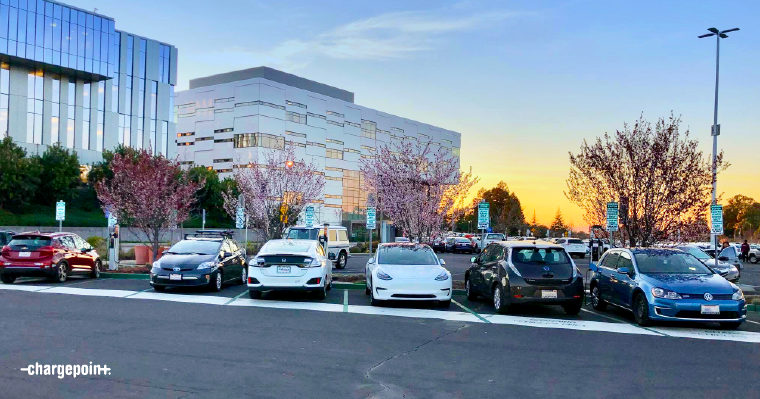 In the coming decade, 25% of all vehicles sold worldwide will be EVs. By 2040, that number will be more than half. The U.S. Department of Energy found that having EV charging at work makes people 20X more likely to switch to an EV. As a green leader, you'll be leading the transition to e-mobility, while demonstrating your brand's innovation and foresight.
2. EVs Are Good For The Planet
The transportation sector generates nearly 30 percent of the GHG emissions in the U.S. EVs help slow climate change by cutting emissions in half (or more when using renewable energy sources). ChargePoint® solutions help eliminate around 10 metric tons of CO2emissions per station, per year. By being at the forefront of EV adoption, you are helping accelerate these positive environmental impacts.
3. EVs Are Good For People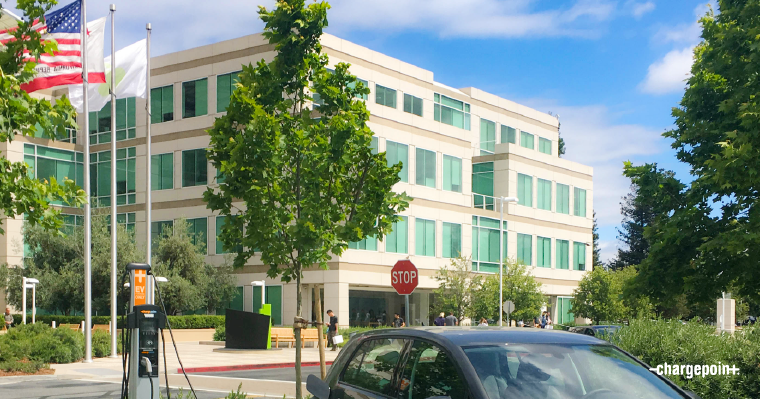 Electric vehicles are not only less expensive to fuel and maintain than traditional ICE cars, a recent study found that people are happier, calmer and more focused when driving an EV. With access to the HOV lane in some areas, EVs can even reduce commute time. With all these benefits along with an improved brand image, EV-friendly businesses like yours attract and retain better employees, residents and customers.
4. EVs Are Good For Your Company
By championing EVs, you'll be making a visible commitment to sustainability and influencing customers and employees to go green as well. You can even get a head start on complying with emerging regulations, achieving your LEED certification and taking advantage of lots of government and utility incentives.
5. EV Charging Helps You Track Your Progress (As Long As It's Smart)
ChargePoint smart networked charging solutions let you easily track costs, revenues and energy use. Powerful reporting features allow you to measure your ROI and environmental impact. By managing who can charge and when, you'll also be able to participate in utility demand response and time-of-use programs, which can help you avoid expensive demand charges and reduce your overall electricity costs. There's a reason why 4 out 5 of the U.S. Environmental Protection Agency's (EPA's) top green power partners are ChargePoint customers! EVs not only help reduce harmful and polluting greenhouse gas emissions, they're less expensive to fuel, maintain and operate than their ICE counterparts. By making EV charging part of your sustainability initiatives, you'll be demonstrating to potential customers and employees that your company is forward-thinking, innovative and responsible. In short, EVs aren't just good for the planet, they're good for business. For more information on developing your own sustainability plan, visit the U.S. General Services Administration (GSA) webpage or download a template here.
To discover how ChargePoint smart networked solutions can help you take advantage of the new era of e-mobility, visit us at chargepoint.com.
.blog-author-info{ margin-bottom: 15px; }