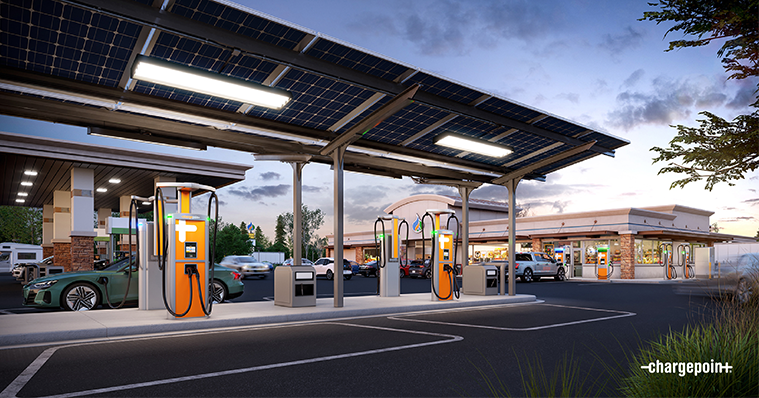 As the electric vehicle (EV) industry continues to grow at an unprecedented rate, with EVs expected to account for nearly 30% of new vehicles sold by 2025 in the U.S. and Europe (BNEF), it's crucial for all types of businesses to think about how they can become part of the new fueling network. Fuel retailers face a particularly urgent need to modernize their operations to remain relevant and expand revenue-generation opportunities in a changing mobility landscape. 
Organizations need to carefully choose and design their fuel retailing sites, especially when it comes to DC fast charging (DCFC). Sites must be designed to scale with the EV driver base, consider the types of vehicles being charged, be accessible to all drivers and provide a top-of-the-line customer experience. 
At ChargePoint, our years of experience developing EV charging sites have shown us what's required for successful site design. Before even getting started with site design, though, you'll want to make sure you fully understand what to plan for. How many EVs are registered in your area and nearby states? How will that grow over time? How do you ensure the infrastructure you invest in today will accommodate the vehicles of tomorrow? Where should you place the chargers on the site? What is the optimal power level for the chargers? What funding assistance is available? Luckily, ChargePoint has an experienced team that can help you evaluate your fuel retailing sites for all of these questions. 
1. How much electrical supply will you need? 
One of the first steps in EV charging implementation is ensuring sufficient electrical supply at the site. Based on your location and the volume of EV charging you expect, your charging partner and utility can help you estimate and request the type of electrical service and amount of power you will need from your utility. High-speed DC fast charging requires 480 volt, 3-phase electrical service, and we can help you contact your utility as soon as you begin to consider fast charging at your site. Remember, EV sales are expected to continue to grow, so even if you don't plan to install a large number of chargers right now, you may want to invest in appropriate electrical service and underground infrastructure now to avoid having to excavate again to add capacity in in the future. 
2. How much space do you have available for infrastructure?
Along with evaluating your electrical needs, you'll want to consider the amount of space you have available at your location and where that space is relative to other infrastructure. As you scale to serve and provide fuel for a whole new set of drivers, think about where you will put new electrical panels, remote power cabinets, conduit runs and the charging stations themselves. Tap our experts to assist with or review your site level planning, site selection and management of available space. 
3. What are the accessibility laws in your area? How will you account for path of travel? 
Make sure to understand the accessibility requirements for the jurisdiction where you are installing DC fast charging. In some cases, you'll need to ensure appropriate access aisles as well as clear pathways into a convenience store from at least one of your charging stations. You may want to think about wheelchair-accessible charging stations, addressing curbs and eliminating tripping hazards to ensure convenient and safe customer flow. ChargePoint can help you understand and navigate accessibility requirements to ensure that your EV charging stations are easy for everyone to use.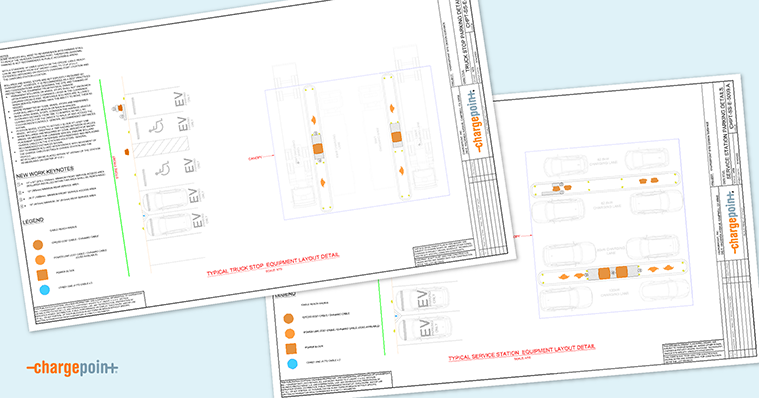 4. How can I make it easy to find and use my chargers? 
Lighting and signage are important considerations for charging locations. If you already sell gas, you probably have these in place for your gas fueling forecourt. ChargePoint stations are already equipped with LED lighting to make them easy to find and use once a driver is onsite, but you may consider additional signage for wayfinding. Even better, we make it easy for drivers to find your location through our mobile app, in-dash integration with many vehicles, and integration with Apple Maps and Google Maps.
5. How will you serve both commercial and passenger vehicles? 
EV adoption is growing by leaps and bounds across both passenger and commercial vehicles. As larger EVs visit your location, consider whether you would like to allow vehicles of all types to access EV charging stations. How you configure your site will depend on what types of vehicles you want to charge and where the charging ports are located. For most passenger vehicles, simply pulling or backing into a spot is the most desirable configuration.  
For larger vehicles, commercial vehicles or vehicles towing trailers, you may consider pull-through configurations for EV charging. Significant space is needed to accommodate a pull-through configuration, so that can also factor into the layout you choose. It is important to understand the cost and space trade-offs when choosing an installation configuration. Whatever your charging station layout, we're here to help ensure efficiency. 
6. What will be your next phase of fast charging site development?  
By now, you might have a good sense of what you want your charging to look like today — but what about tomorrow? Keep in mind that while new technology will enable future EVs to charge at higher speeds, you'll want to be able to continue supporting older EVs as well. ChargePoint can help you analyze EV adoption trends in your area, as well as evaluate your sites overall. Costs to put in fast charging infrastructure are high, so avoid overbuilding your site from the start, but put in a flexible solution that can expand over time when there are enough drivers to support payback on your investment.
We advocate for future-proofing infrastructure upfront and using scalable solutions to simplify expansion, leveraging data from the ChargePoint Cloud Dashboard to let you know when it's appropriate to add additional chargers. This helps avoid stranded capital and assets. Modular solutions (being able to add power or stations as needed) help you easily scale up charging as demand and your driver base increase. In most cases, it's best to do as much as you can to prepare the site today, so you will be ready for tomorrow. 
7. How will you fund your project and what can impact your return on investment? 
EV charging is the future of fueling. As more federal and state funding becomes available to support EV charging projects, you'll want an experienced partner to help you identify these funding opportunities — and ensure your project meets funding requirements, from where stations are made to how fast they charge. Many fast charging funds require that charging sites be located in specific areas, offer a minimum charging speed and more. Let us help you navigate these grant requirements as well as explore financing options. 
To be ready for the acceleration of EV adoption, you need to start now. View a summary of these steps in our infographic and get in touch so we can help you build your strategy.