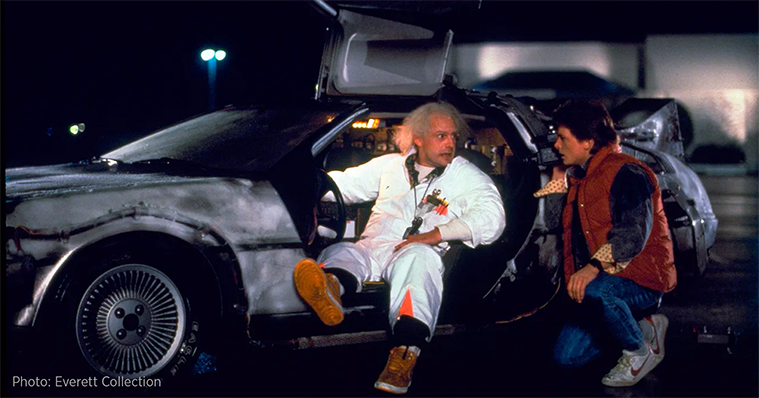 In the classic 1985 movie "Back to the Future," our intrepid hero, Doc Brown (Christopher Lloyd), attempts to send his DeLorean back in time by charging it with 1.21 gigawatts (GW) of electricity. Then, the notion of delivering a lightning bolt's worth of energy to a vehicle was science fiction. Today, it's a technical challenge the electric vehicle (EV) industry is just beginning to overcome. While today's megawatt (MW) charging may not enable time travel, it does have a future in electric fleet fueling.
Why do we need megawatt charging?  
 The core principle of DC fast charging is to minimize downtime. Current technology allows passenger vehicles to quickly charge in around 15 minutes using kilowatt (kW) level technology. Unfortunately, that won't scale as the industry moves into medium- and heavy-duty vehicles. A long-haul truck can spend more than four hours fueling on today's highest-power EV charging systems. The most direct solution is to increase the power capabilities of the EV and charging infrastructure from today's 400-kW to tomorrow's 4-MW technology, thus reducing charge dwell times for these medium- and heavy-duty vehicles by up to 90%. 
OK, I'm sold. Should I demand 4-megawatt charging in my next RFP?  
The simple answer is no. Over the past 40 years, the fleet and transportation industries have been improving efficiencies across the supply chain to remain competitive in a highly demanding and competitive business. As with most applications, faster is better — but only when necessary. This holds true for higher levels of fast charging. Having access to megawatt charging will be the exception and not the rule in transportation. Over-the-road trucking with EVs is not only many years away but also likely not practical given the weight restrictions of heavier EV tractors compared with their diesel or hydrogen counterparts. A commercial network of megawatt chargers is farther away still. At ChargePoint, we think the best approach is to scale into the technology as the standards and industry begin to solidify.
Is megawatt charging important to the EV industry? 
Megawatt will be the future of EV charging for large commercial battery-electric vehicles (BEVs). The industry is working to develop the standards and technology to support this class of vehicle. With those new standards come opportunities to support our growing EV fleet and transportation customer base globally. The role of ChargePoint is to make electrification easy for fleets. That means advancing new technology and standards so we can give customers confidence no matter what the market brings. ChargePoint is always on the cutting edge of standards, hardware, software and support. ChargePoint customers can feel confident that, as their EV deployments grow and charging applications expand, we will always have their business in mind.
If megawatt is not ready for today, then what is ChargePoint doing to prepare for it? 
ChargePoint continuously strives to take the most logical approach to ensure electrification is easy for all our customers, including fleets. Across a broad range of fleet applications, we see the market continuing to expand depot (return-to-base) charging practices. The theory of more power is not only a costly decision but a very complex solution to truly realize full return on investment on the transition to electric vehicles.
ChargePoint is developing modular, scalable solutions that will allow today's fleet operators to seamlessly expand the hardware infrastructure they install today into the megawatt charging of tomorrow. As one of the world's largest EV fleet providers, we constantly make investments to prepare for the future. We are active members of several committees and regulatory bodies around the world and we have research grants to explore future technology.
ChargePoint is always prototyping and, one day, you can bet we'll help bring that 1.21-gigawatt idea to life. In the meantime, we're here to provide assurance that the hardware and software you purchase today will always be future-proofed to protect your investment tomorrow. You could call it the ChargePoint version of "back to the future."