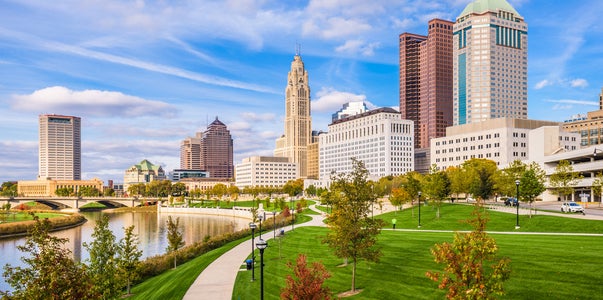 It's all systems go for Columbus, Ohio. According to TechCrunch, the city is on track to become the Midwest's capital for tech startups. Columbus not only topped the list of best cities to work in tech in a 2017 SmartAsset study, it was recently awarded a $40 million Smart City grant from the U.S. federal government to "build out tools and techniques that will define the city of the future." The city was also awarded an additional $10 million by Vulcan to accelerate transportation electrification. So, perhaps it won't come as a surprise to learn the heartland's best-kept technology secret is fast becoming a leader in electric vehicle (EV) charging infrastructure as well. That notoriety is accelerating thanks to a rebate plan developed by American Electric Power (AEP) Ohio and recently approved by Public Utilities Commission of Ohio (PUCO).
Expanding EV charging around Columbus
The AEP rebate plan allows business owners and property managers to reduce some of the cost of installing charging stations at businesses, condos and apartment complexes. Government agencies and publicly accessible stations will receive larger rebates than those in the private sector or for workplace applications. The AEP Ohio rebate covers the utility's service territory which includes all of Columbus, as well as parts that extend from the northwest part of the state through southeast Ohio.
Under the rebate program, Ohio will add at least 375 new EV charging stations over the next four years, boosting the current number of 700 stations in the state. 150 of those new stations are slated for workplaces, while an additional 60 will be located in multifamily residences. In addition to the AEP rebate, a portion of the Smart City grant, known as Smart Columbus, will go toward projects to develop smart electric grids in the city, including installing additional EV charging stations, setting up microgrids and decarbonizing the grid. The grant specifies that 165 stations must be available to the public and 10 percent of the new stations are reserved for low-income areas of the city. Any money left over can be used to add additional stations.
A new template for utility EV charging programs
At ChargePoint, we know there's a connection between visibility of charging infrastructure and people adopting the technology. Programs like AEP Ohio's work because they make it easy and affordable for communities to invest in EV charging solutions. They also promote competition among electric vehicle supply equipment (EVSE) vendors and, when they're done right, give EV drivers a positive charging experience, further accelerating the inevitable shift to e-mobility. The AEP Ohio rebate is the first program of its kind in the Midwest and we strongly believe it has the potential to serve as a template for the rest of the country.
The benefits of EVs for Ohio and the nation
Today, there are around 9,400 EVs in Ohio, a number that has increased by roughly 30% in one year. More charging stations mean more options for current drivers to charge and more opportunities for the EV curious to discover the advantages of driving electric, which include everything from environmental benefits to cost savings versus traditional cars. Businesses and property owners often use EV charging solutions to attract better employees and residents and, as many retailers have discovered, draw desirable customers to their establishments. That's because EV drivers tend to stay longer and spend more than other consumers.
ChargePoint applauds AEP Ohio
Electric utilities are essential in supporting the transition to e-mobility. That's why ChargePoint applauds the AEP Ohio rebate program as a template for other initiatives around the nation. By helping to accelerate the deployment and adoption of EV charging solutions, AEP Ohio is laying the groundwork for competitiveness, customer choice and sustainability. With ChargePoint, EV drivers are connected to the world's largest and most open EV charging network (49,000 spots in the U.S. alone), while station owners and managers have access to the important data and reporting that allows them to increase efficiency, meet sustainability goals and save money.
With over 10 years of experience, we've partnered with utilities around the country to change the conversation around EVs from "When?" to "Where?" With Ohio's smart city and utility programs as examples, the answer might just be "everywhere."