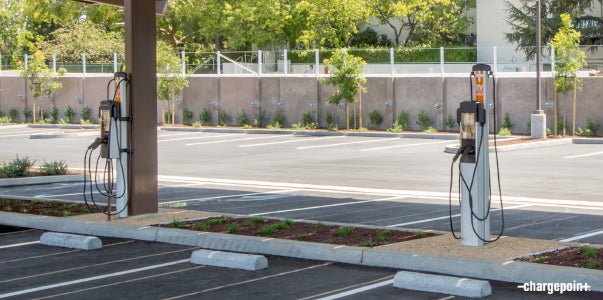 EV penetration is growing fast, especially in New England. Boston alone saw an impressive 46 percent growth in EV drivers in the third quarter of this year compared with Q3 2016. More EV drivers increase demand for EV charging, so it's great news that Eversource Energy, the main power distributor in Massachusetts, has received formal approval to launch a program in 2018 that will greatly expand access to EV charging for businesses. Eversource's program will increase the availability and visibility of EV charging in the state, which will help the Commonwealth meet its energy and environmental goals. Additionally, the program design will attract and encourage competition in the region, accelerating the development of a sustainable market that will continue long after the utility program is complete.
On November 30, the Massachusetts Department of Public Utilities (DPU) approved a proposal by Eversource to support the deployment of EV charging stations throughout its service territory in Massachusetts. Eversource will install more than 4,000 Level 2 AC charging spots at businesses where drivers are able to leave their vehicles parked for a few hours, as well as 67 DC fast charging stations along major roadways for those in need of a quick charge on the go.
We've worked closely with electric utilities for many years to help design EV charging programs and have found there are three key ingredients that make these programs work for drivers, utilities and the broader EV charging market: simplicity, ongoing vendor competition and provisions for site host control at the charging location. These elements support a growing market for EV charging, while making sure that station owners can maximize utilization and that drivers have a positive charging experience. We strongly supported the Eversource program throughout the DPU proceeding, and now we applaud the Department's ruling and expect the program will be successful in supporting the expansion of EVs in Massachusetts.
To participate in the Eversource program, businesses are required to purchase and install a qualifying EV charging solution that is capable of sending important charging data back to the utility and maintain the stations for at least five years. Throughout the program, site hosts retain full operational control over their stations, offering them the flexibility to make important business decisions such as who can charge at the stations and determine costs for EV drivers. The program also designates that 10 percent of stations be located in environmental justice regions to encourage the equitable distribution of EV charging infrastructure across the Eversource service area.
Electric utilities play a vital role in supporting the transition towards electric mobility. They have a unique opportunity to leverage their experience and size to maximize ratepayer benefits, reduce costs and plan for a more efficient grid. ChargePoint welcomes continued utility involvement in electrification and encourages more programs like this one from Eversource that seek to accelerate the deployment of EV charging solutions in a manner that not only fosters a sustainable, competitive marketplace, but also supports customer choice. We look forward to supporting the Eversource program to offer EV drivers in Massachusetts, and around the world, a better experience every day.
ChargePoint solutions are an excellent choice for participants in this program: our solutions meet all the design requirements and give station owners control over how charging works at their location. Today, there are already over 1,600 ChargePoint charging spots across the Bay State out of more than 43,000 nationwide, helping to support EV drivers as they journey from home to work and around town.