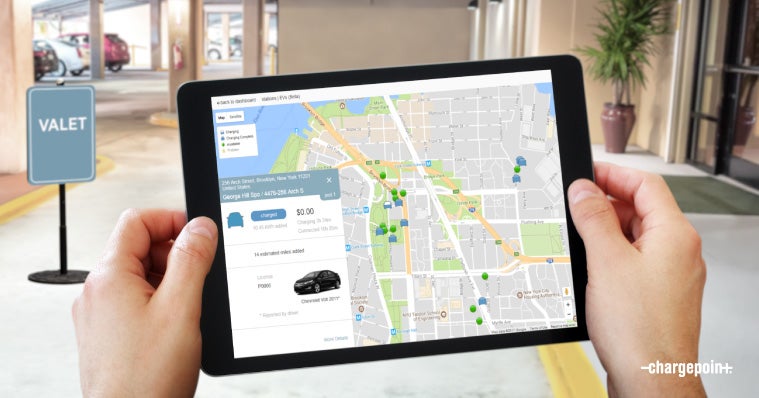 Seeing an influx of electric vehicles (EVs) at your parking facility lately? Well, you're not alone, and the numbers are likely to keep increasing. BloombergNEF predicts that by 2030 EVs will make up more than 40% of all new vehicle sales in North America. With this kind of growth, it's no surprise many parking centers are responding to this new market by turning some of their parking spots into multi-use EV charging spaces.
That's great news for EV drivers, but what does it mean for your valet parking services?
Most valet teams have their parking operations honed to a finely choreographed dance, allowing them to run smoothly and deliver impeccable customer service. Adding electric vehicle charging to the mix is another layer of service to manage.
Maintain smooth operations
ChargePoint networked charging solutions gives valet teams the cloud-based tools they need to continue efficiently managing parking operations while serving the growing demand for EV charging. The comprehensive solution also gives you the ability to manage pricing, track energy usage and station activity using the ChargePoint Cloud Dashboard.
The Valet feature within the ChargePoint Cloud Dashboard was designed specifically for your valet staff to make rotating vehicles at your charging spots easy.
Using the Valet feature, team members can:
Quickly see how many charging ports are available.
Get real-time visibility into the charging status of all plugged-in vehicles, including how much power has been added.
Identify unauthorized vehicles plugged in or other service needs.
Use one login so they can easily display the charging status of all vehicles on one shared device such as a tablet.
Opt-in for text or email notifications for your team to stay updated on vehicle charging status no matter where they are on the lot.
With Valet, you can customize pricing options and add charges to the driver's bill. Your valet team can use the charging map view to easily locate charging cars and available chargers. Your parking operations keep running smoothly, your valet team can charge and park more cars, and your customers receive a seamless parking experience.
For more information about Valet, check out our FAQ.