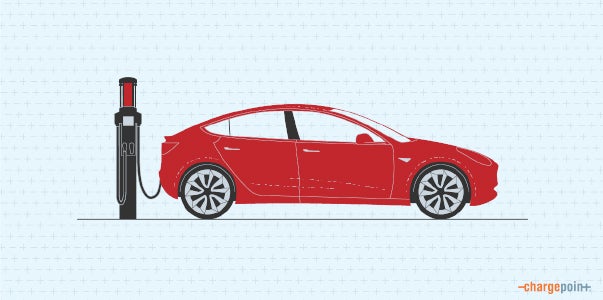 At last, the long-awaited Tesla Model 3 all-electric vehicle is in production, bringing Tesla's longer range, power, peace of mind and spaciousness to the masses for the first time. By July 28, we'll know the final details about the more affordable Tesla, and the first 30 reservation holders will be behind the wheel of their Model 3.
Tesla expects to produce 1,500 cars per month in September and 20,000 a month by December, beginning to chip away at the vehicle's enormous reservation list. If you, like me, are among the approximately 400,000 dedicated fans who already pre-ordered a Model 3, you're probably anxiously waiting to put one in your garage. (I've already cleared a spot for mine.)
With 215 miles of promised range and MSRP starting at $35,000, this car has generated incredible enthusiasm. I've talked about the Model 3 with lots of friends, co-workers here at ChargePoint, my former colleagues at Nissan and even total strangers. Everyone agrees the Model 3 release is an important milestone and reminder that we've fully entered the era of EVs.
Whether you have a reservation (did I mention I do?) or are just curious about this breakthrough EV, here are three things you need to know about charging the Model 3.
1. Top Off Everywhere to Go Anywhere
Getting behind the wheel of the Model 3 might be the first time you drive electric. From my own experience with my BMW i3 and Nissan LEAF, driving electric completely changes the way you refuel, for the better. EVs are convenient to top off anytime they're parked: in your garage, at the office and at stores. Outside of work, I do a lot of my charging while I'm at Nordstrom, which is not always good for my wallet (I'm thankful I still save on gas). Unlike how you may fill up your gas car once a week, you will charge the Model 3 every day: at home, at work and around town. Since it will, like other cars, be parked about 95% of the time, you'll have time to add range while the car is sitting, unused.
It's easy to charge at all kinds of Level 2 charging stations, which will add about 25 miles of Range Per Hour to your Tesla. All you need to do is use an adapter like this Model S driver. If you plug your Model 3 into a Level 2 charger at work, for example, you can get a full charge in about eight hours. If you're like me, you'll love leaving work to a fully charged car and never having to go to the gas station again.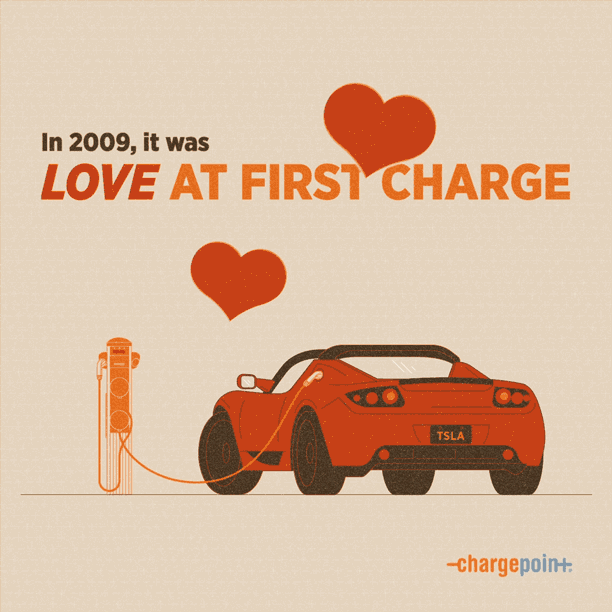 Plugging into a wall outlet will add about 4 miles of Range Per Hour to your Tesla Model 3. This can be okay if you're parked for a long time, but is just too slow to help you make the most of your 215-mile battery. And that's a big part of why you waited for this car, right?
2. Fast Charging Is "Super"—Especially for Long Trips
When you hear Tesla, you might think Supercharger, and these fast chargers are great for getting back on the road quickly on long trips. Tesla says, "our intention has always been for Supercharging to enable long distance travel… we believe the best way to charge your car is either at home or at work, during the hours you're not using it," and ChargePoint network data confirms that fast charging is not used for everyday driving needs.
So far in 2017, the average Tesla Model S driver on ChargePoint has used a DC fast charger about nine times and a Level 2 charger about 18 times.*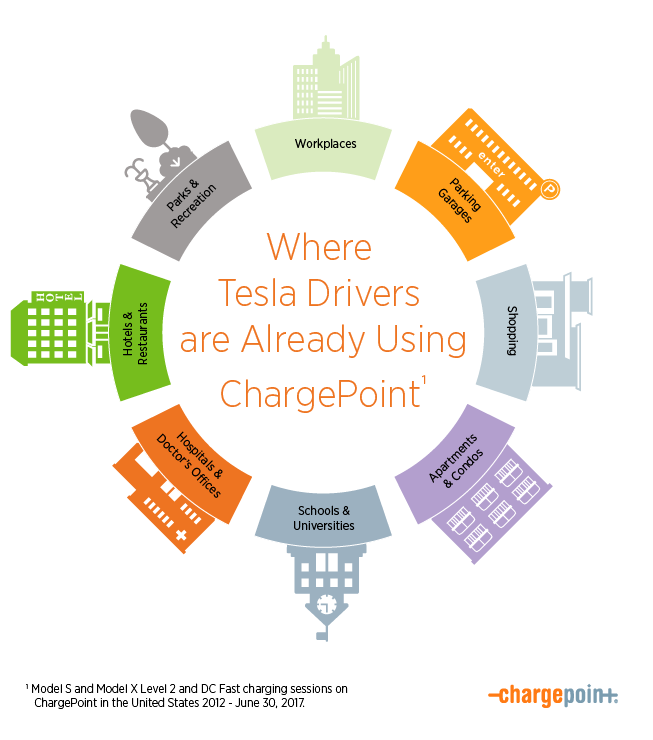 ChargePoint DC fast and Level 2 charging spots at work, around town and at destinations like hotels, parks and restaurants make great companions to Tesla Superchargers, extending your range with more places to charge. Our charging spots open up even more parts of the country to road trips or let you grab a quick charge between errands if you're in a pinch. You can find both ChargePoint Express chargers and Superchargers side by side in the ChargePoint app.
3. Find Free and Affordable Charging Where You Need It with the ChargePoint App
Tens of thousands of Tesla Model S and Model X drivers already use the ChargePoint app to find stations and charge up, whether it's Level 2 or DC fast charging at ChargePoint or Tesla stations.
Tesla drivers have charged on ChargePoint more than 1.4 million times.*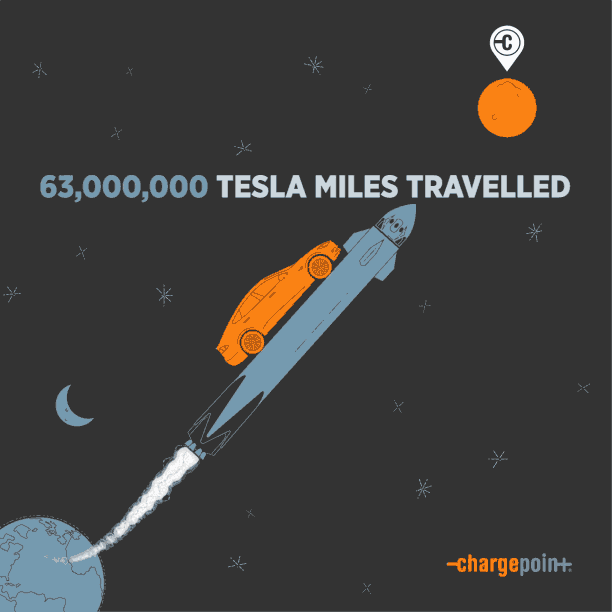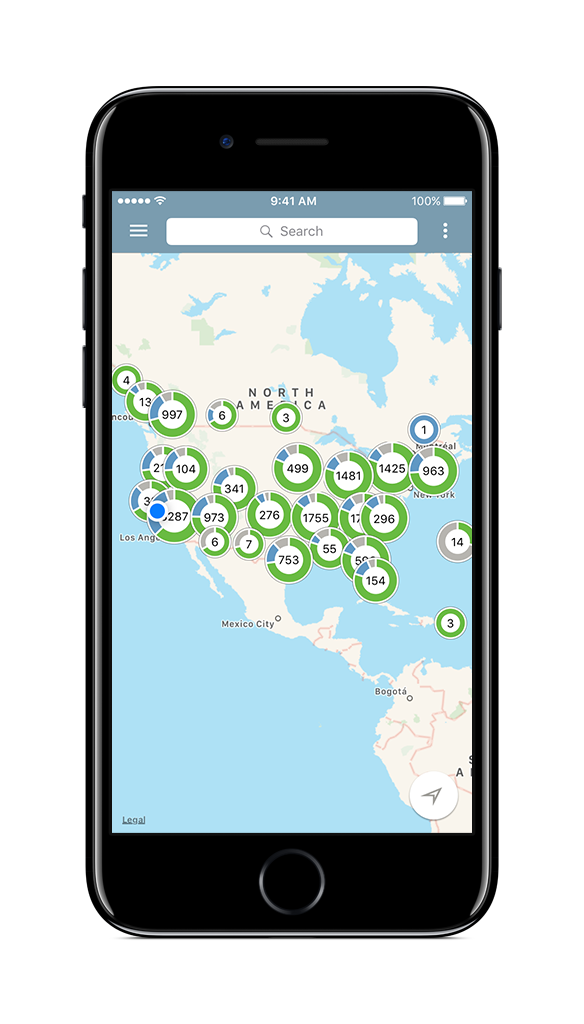 I've found that people sometimes think there aren't many public charging spots near them, because charging stations aren't always as obvious as gas stations. When that happens, I just show people our mobile app and they're usually surprised by how many charging stations they can find nearby: there are over 38,000 places to charge on the ChargePoint network, as well as thousands more Tesla Superchargers and destination chargers. If you don't see many stations near you, ask your favorite restaurants or stores to add charging.
Note that each ChargePoint station owner sets the price for charging, so check pricing on the station or in the ChargePoint app before you plug in. It's easy to find free ChargePoint stations near you by filtering in the app. More than 80% of Tesla Model S charging sessions on ChargePoint have been totally free.
Based on our data, here's what Tesla Model S drivers have been paying to add about 50 miles of range on ChargePoint:
| | | | |
| --- | --- | --- | --- |
|   | Level 2* | DC Fast* | Gas*** |
| Average Cost to Go 50 Miles  | $1.00 | $0.80 | $4.76 |
| % of Sessions with No Fee | 81% | 88% | 0 |
Ready to make the most of your Model 3 by charging up in more places? (I know I am.)