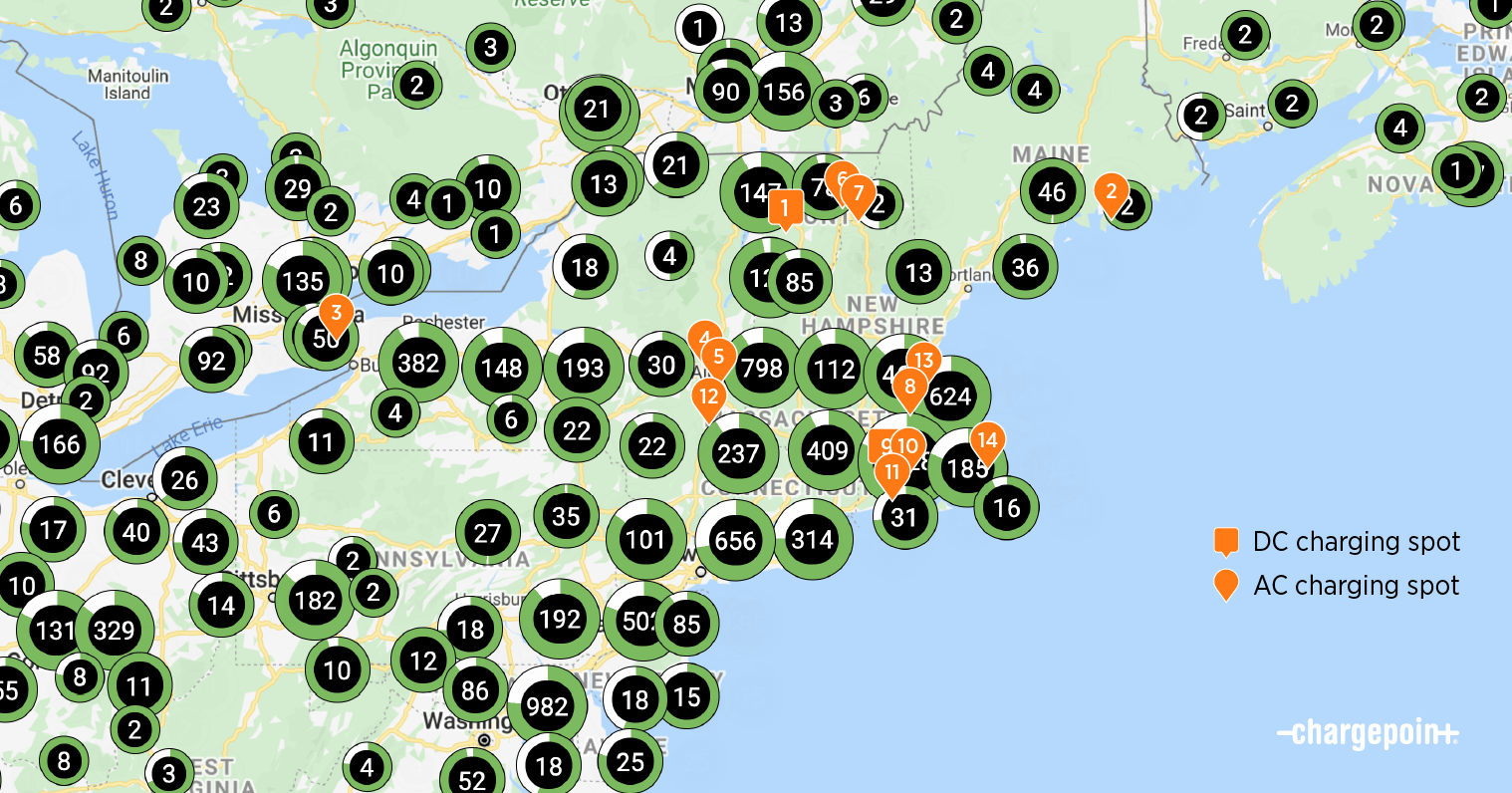 After more than a year of being mostly cooped up inside, you might be itching to take a road trip if you've been vaccinated. We recommend following the CDC's safe travel recommendations, packing your masks and hand sanitizer, and planning ahead to charge your electric vehicle (EV). We've discovered some beautiful and eco-friendly destinations, where you can stay charged up while taking in the sights around the Northeast. For example, our new long-distance travel corridor along the Maine Turnpike features ChargePoint charging as well as roaming partner locations. For the full New England experience, you can check out routes like AAA's Southern New England trip, but below we've compiled some appealing places to charge with a clean twist. 
First, let's give you some tips for having a great EV road trip. 
Check the weather. Heat can challenge batteries, and using the AC can also reduce range. That's not to say you need to sweat it out, but don't expect to be able to go as far as normal when the weather is hot, so choose your charging stops accordingly. (Or get your driving done early in the morning or late at night when it's cooler, and enjoy some sightseeing or maybe even go for a swim during the warmest part of the day!) 

Consider elevation. If you're from a relatively flat area, you may not be used to how quickly climbing hills can eat up your range. Keep an eye on your range estimates to make sure you can get to your destination. (The good news is you'll get a lot of that range back when you're coming down!) 
Have backup options. When driving long stretches, you might want to pick two possible fast charging spots that can help you reach a destination. One can be a "sure" spot that you're certain you can reach, the other can be a "stretch" spot that you can try to get to if you arrive at the first city with range to spare. You never know exactly how high the temperature will climb or how conditions will affect your range! 

Cruise along and don't push the limit. Driving at a consistent, legal speed will get you farther than erratically speeding up and slowing down or exceeding the speed limit.  

Pick the right place to stay. Being able to get a full charge overnight at your destination makes EV road trips a snap. Most hotels will tell you if they offer charging, and Airbnb now offers the option to look for stays with EV charging (though you may have to ask your host what kind of charger it is). When in doubt, just check the ChargePoint app for places to charge near your destination, either on the ChargePoint network or with roaming partners. 
On to the charging locations! 
Get a taste of Vermont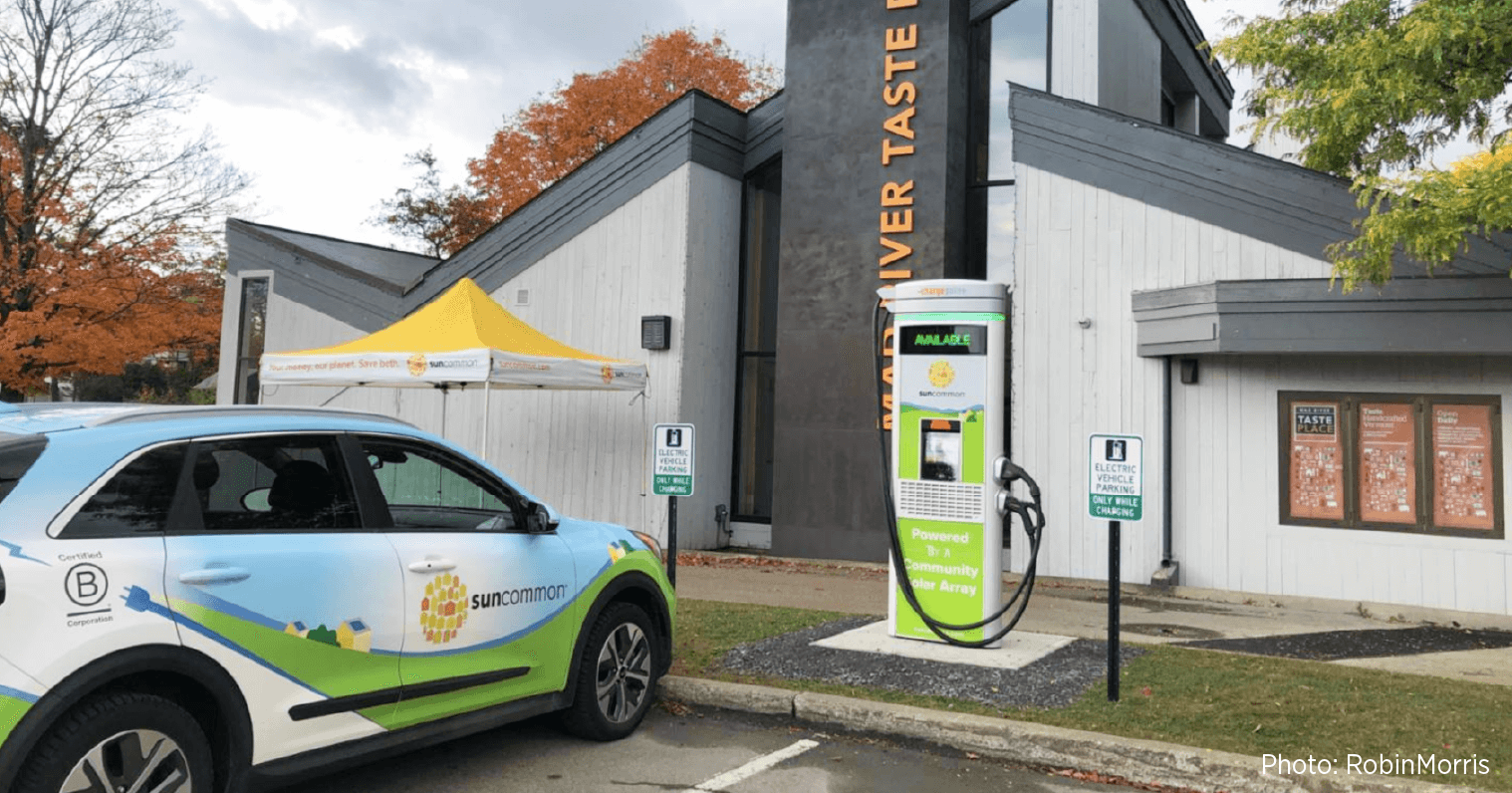 Just down the road from eco-conscious icon Ben and Jerry's in Waterbury, Vermont, is the Mad River Taste Place (pictured above), where you can sample delicious Vermont products like naturally leavened bread from solar-powered bakery Green Rabbit or maple syrup from Tonewood, where you can adopt a sugar maple. While Ben and Jerry's is not giving tours until Fall 2021, you can still visit the Flavor Graveyard and pay your respects to your fave flave in person (RIP Wavy Gravy). Charge up at the SunCommon-owned DC fast charger that's powered by community solar. 
DC fast charging spot: Mad River Taste Place, 59 Mad River, Green Waitsfield, VT 05673
Bike Acadia National Park in Maine 
Beautiful Acadia National Park encompasses a diverse terrain of lakes and forests, and it's enjoyable to tour by car, bike or foot (and even horse if you're up for it!). You can take a ferry out to explore the beautiful Cranberry Isles or rent bikes at Island Bike Rental to explore Acadia National Park while your car charges up at the marina in town.  
Charge at: NEH Marina, 40 Harbor Dr., Northeast Harbor, ME 04662
To make it from other states into Maine, top off your car with a fast charge at the Kennebunk Service Plaza Northbound or Southbound: 25.5 Mile Maine Turnpike, Kennebunk, ME 04043. While you're near Kennebunk, consider stopping at the Seashore Trolley Museum, the first and largest electric railway museum in the world, to marvel at early electric travel. 
Ride the falls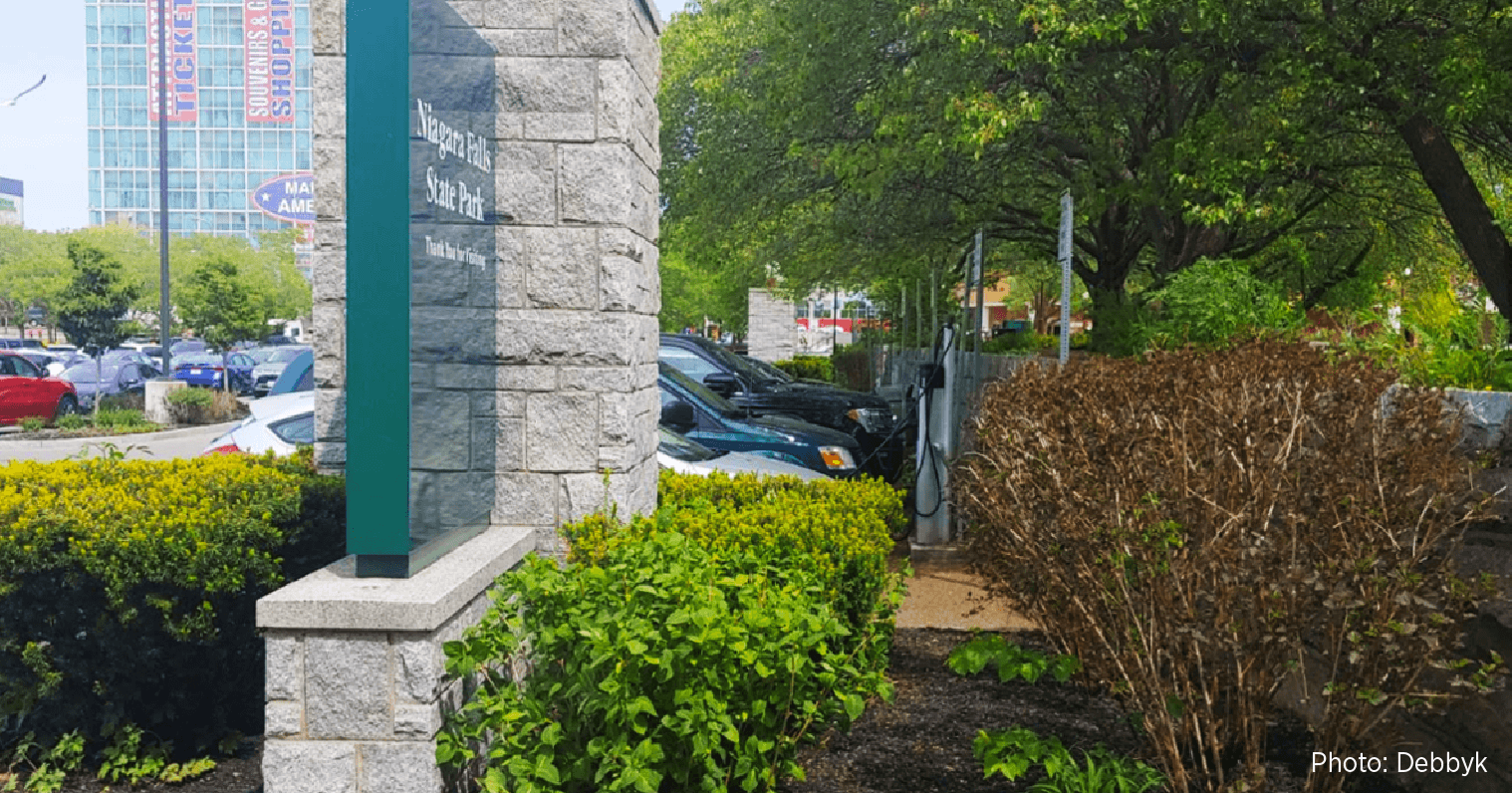 Niagara Falls may be famous for its volume, with more than 6 million cubic feet (168,000 m3) of water flowing each minute, but did you know the Maid of the Mist boats that take visitors into the deluge are all-electric? Rush through the American, Horseshoe and Bridal Veil Falls knowing that your exhilarating ride on the water is generating no emissions. You can also check out the Old Falls Street entertainment district while you're in the area for some family friendly fun or geek out at the ruins of the Schoellkopf Power Plant, which was once the world's largest hydroelectric power station.  
AC charging spot: National Grid Niagara Falls, 350 Prospect St., Niagara Falls, NY 14303 
Electrify central New York  
Schenectady's Museum of Innovation and Science (miSci) opened up to the public on June 5, making this summer a great time to learn about the science of fear (of electric cars, perhaps?) or how Schenectady inventors contributed to power generation.  
AC charging spot: National Grid miSci, 15 Nott Terrace Heights, Schenectady, NY 12308 
Which came first, demand charge reform or EV adoption? EV adoption, of course, but when you're in Albany, you can still thank Governor Cuomo for signing demand charge reform legislation that will make EV charging easier. And as long as you're there, check out The Egg, an architectural marvel that hasn't yet created a chicken.
AC charging spot: Albany County Times Union Parking Garage, 100 Beaver St., Albany, NY 12207 
"Climb" Mount Washington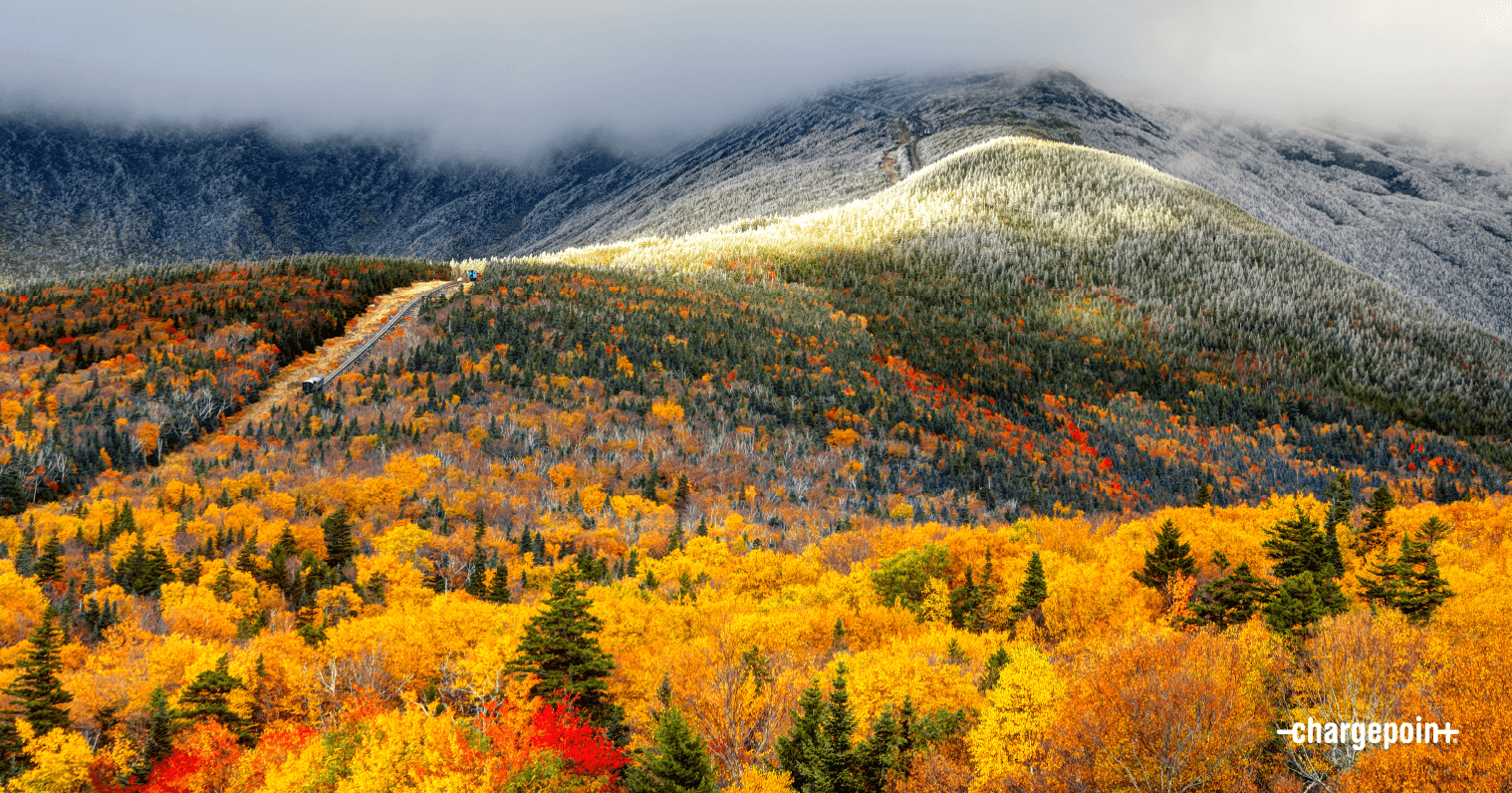 Just like there are many ways to make it up Mount Washington (by foot, car or bike... whew), the highest point in the Northeast at 6,288 feet, there are a few places to charge on your way to this impressive spectacle. Ensure you have enough charge to reach the top and enjoy the view — if there's no snow, which is possible all year round — by visiting a charger nearby.
The education-oriented can check out the Fairbanks Museum & Planetarium in St. Johnsbury, Vermont, where you can experience Vermont's only planetarium and explore special exhibits. Join the 21st annual Seek the Peak on July 16–17 to scale.
If you're hungry and need a closer stop to Mount Washington, nothing says New Hampshire like poutine ... okay, maybe that's Canadian, but the gravy-topped fries at Vulgar Display of Poutine will fill your belly while you fill your battery. Don't worry, vegan options are available.
AC charging spot: Fairbanks Museum, 10 Thaddeus Ln., St. Johnsbury, VT 05819
AC charging spot: Vulgar Display of Poutine, 26 Thayers Ln., Littleton, NH 03561
Take a new look at Boston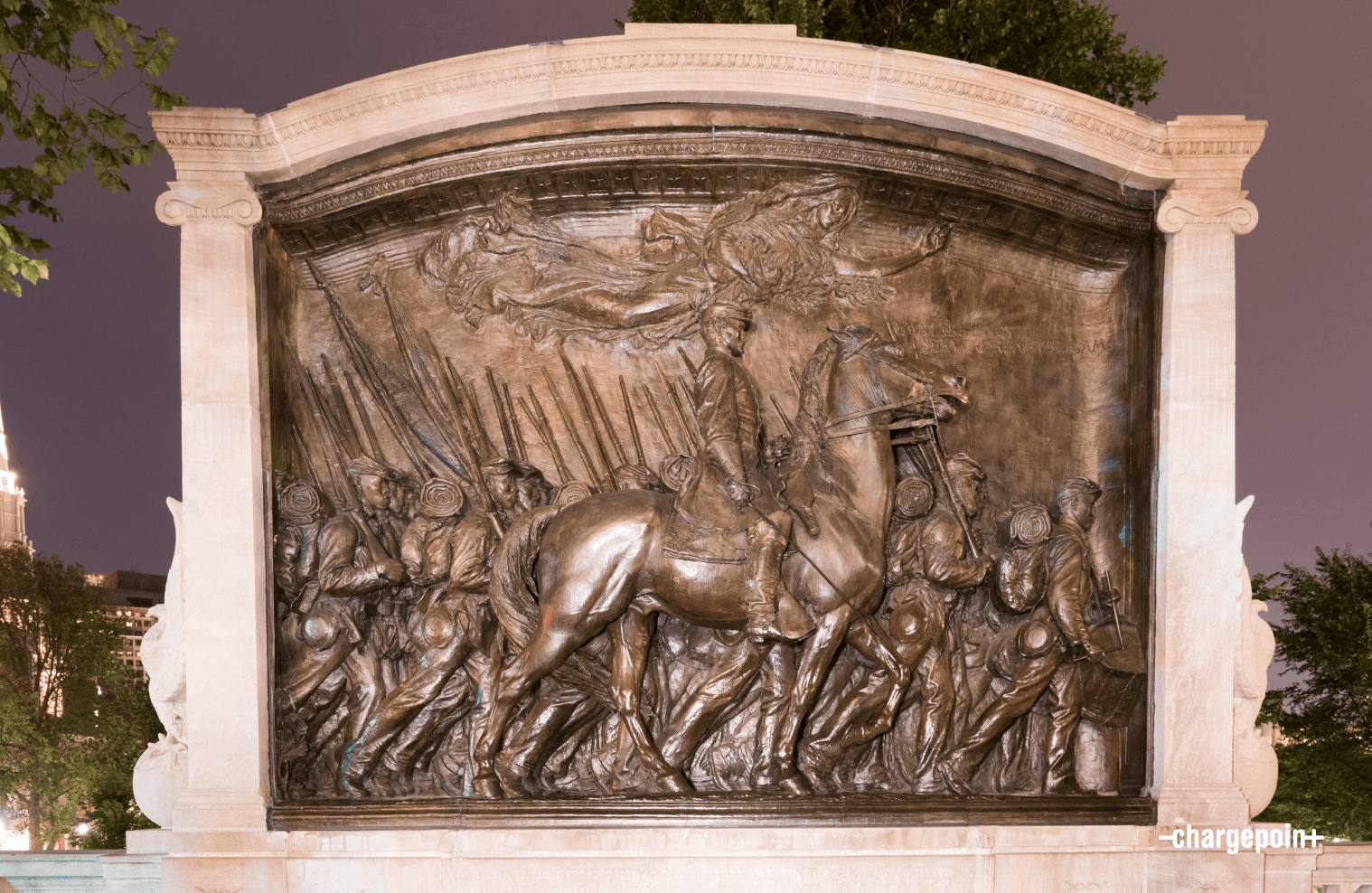 Okay, you know about the Red Sox and Paul Revere, but there is a lot to Boston that you may not be aware of. Travel the Boston Black Heritage Trail to learn about the African Americans who settled the area, and visit the largest collection of historical sites related to the largest pre–Civil War free black community, including the Robert Gould Shaw and Massachusetts 54th Regiment Memorial and the African Meeting House. Once you recharge your mind, your car should be ready to go. 
AC charging spot: Boston Common Gargage, 0 Charles St., Boston MA 02116
Cheers to Rhode Island
You might not need to charge up to get through America's smallest state, only 48 miles (77 km) long and 37 miles (60 km) wide, but you'll still want to take time to appreciate the sights. Enjoy delicious cider at Sowams Cider Works in Warren or visit the Roger Williams Park Zoo and Botanical Center in Providence, and then plug-in the car and stretch your legs at Newport's Cliff Walk. 
Barrington (DC fast): Police Cove Park, 283 County Rd., Barrington, RI 02806
Providence (AC): Roger Williams Park Zoo, 1000 Elmwood Ave., Providence, RI 02905 
Newport (AC): Gateway Center, 1 W Marlborough St., Newport, RI 02840 
Enjoy the view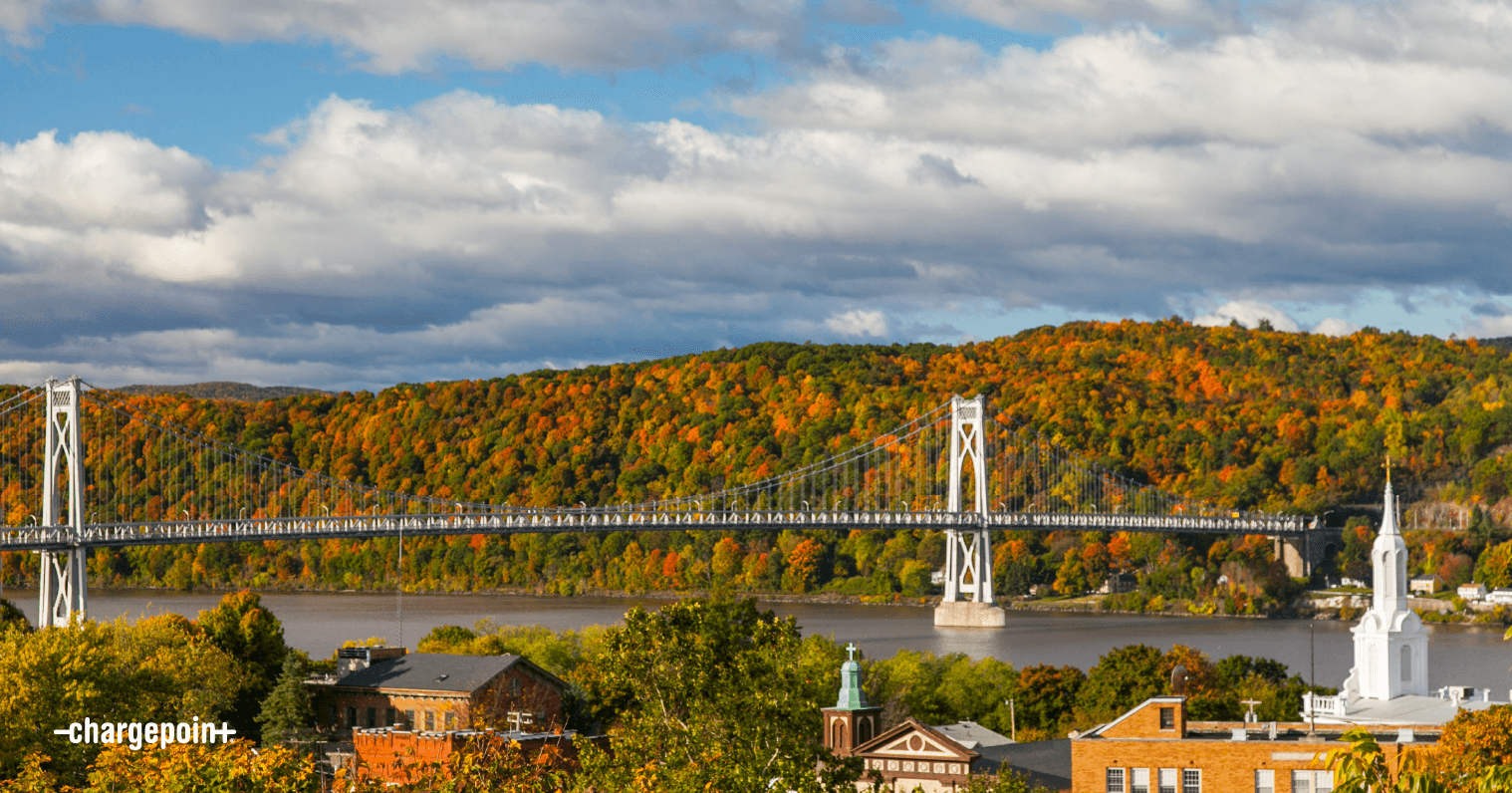 Learn a little art history at the Thomas Cole National Historic Site in Catskill, New York. Thomas Cole was "an artist who cared passionately about the American landscape and founded this country's first major art movement, now known as the Hudson River School," and the historic site will teach you about his art and the region's beauty and ecology. Cole moved from industrialized New England to the pastoral landscapes of the Hudson Valley, and this shift inspired his art and preservation efforts alike.
AC charging spot: Thomas Cole Historic Site, 218 Spring St., Catskill, NY 12414
Hike Ipswich River Wildlife Sanctuary 
The Ipswich River Wildlife Sanctuary offers 12 miles of trails so you can explore nature while charging your vehicle. Take a walk or paddle the Ipswich River while you observe the diversity of wildlife in this section of the Eastern Essex County Interior Forest Important Bird Area.
AC charging spot: 87 Perkins Rd., Topsfield, MA 01983
Bike the Cape Cod Rail Trail
Cape Cod is a beautiful place to see by car, but even better on foot or bike! Rent a bike if you don't have a roof rack or just park the car to charge while you explore the beautiful coastline. The Wellfleet Drive-In is a fun and COVID-safe way to catch a flick without getting out of your EV. Just make sure you are well-charged so you can crank the AC if you need to, and get tickets now for the Provincetown Film Festival running June 16–26. In July and August, you can visit the Jonathan Young Windmill: the original wind power! And if you still need more charge after working up a sweat on the trail, grab some candy-covered chocolate Sparrow Pizza at Hot Chocolate Sparrow across the street. 
AC charging spot: 4 Old Colony Way, Orleans, MA 02653 
If you need navigational help on your trip, check out the Google Map we made to guide you to charging locations. Download the app to find these and other places to charge, then tell us how it felt to get out of the house for the first time in a while!