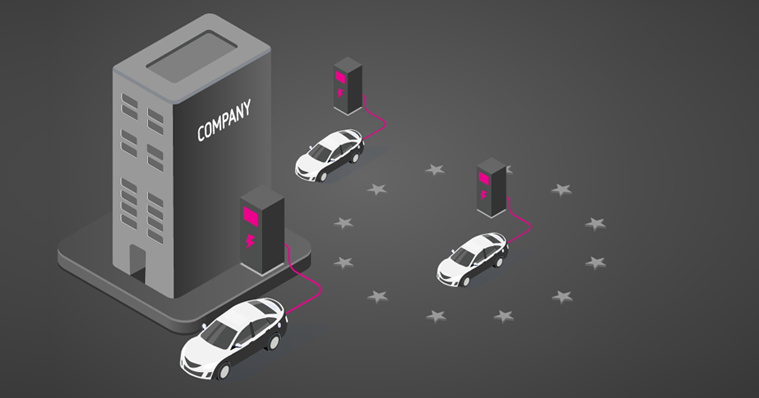 Achieving Climate Targets 2020 – Swift and Practicable Fleet Transition with Corporate.CHARGING
The ongoing debate about global warming is not only sensitising car drivers and consumers in their purchasing decisions, but is also increasingly causing companies to rethink.
An obvious solution is the "electrification" of the company fleet. With its Corporate.CHARGING solution, one-stop provider has·to·be gmbh makes the conversion of company fleets fast and practical.
Alongside setting up the necessary infrastructure at the company premises, the problems one encounters when converting a corporate fleet to e-vehicles include billing, controlling, and off-site charging. Thanks to the experience that has·to·be has gained through its involvement in the major eMobility projects of recent years and motivated by numerous customer enquiries, has·to·be now offers Corporate.CHARGING, its first "full-service package" for companies.
eMobility Service for Companies
"The interest in converting company fleets to eMobility is huge, but so is the respect for the amount of new systems involved. In developing Corporate.CHARGING, we collaborated closely with our customers to seamlessly integrate the key procedures into their existing processes," says Martin Klässner, CEO of has·to·be gmbh.
Corporate.CHARGING enables eCar users to charge at the company premises and on the road throughout Europe easily and swiftly – always at transparent costs via a mobile app.
The charging cycles run in the background, allowing employees to concentrate on their core activities. The fully automated billing data records of all loading cycles are delivered by has·to·be once a month, individually for each cost centre and including plausibility checks. This means that no additional administrative effort is required, neither of the employees nor in terms of accounting and controlling.
In order to achieve the company's climate goals through fleet conversion, has·to·be also assumes the handling of CO2 balance compensation for the company car fleet upon request.